Theatre Reviews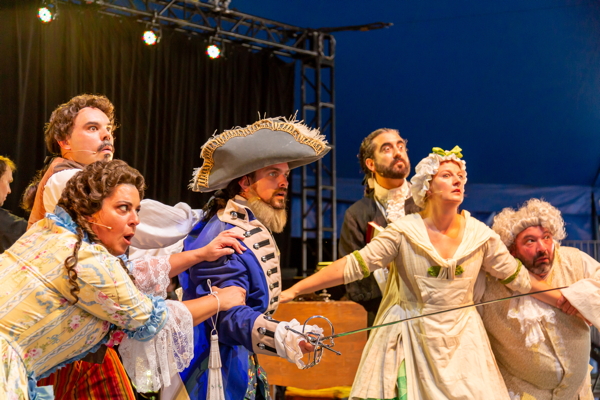 Opera Review: Gioia in abundance in Union Avenue's 'Barbiere'
Written by

Chuck Lavazzi
Back in 2015 I asked Michael Shell, who was directing Opera Theatre's production of Rossini's "The Barber of Seville," why he thought this comic opera had remained so popular over the centuries. His answer: "I think I can sum that up with one word : JOY. There is so much joy in the spirit of the piece that I think that is why it has stood the test of time."
L-R: Pedro Barbosa and Andy Papas
Photo by Ron Lindsey
If you were looking for a good word to describe what made Union Avenue Opera's production of "Il bariere di Siviglia" such a success, you could do far worse than "joy." Or, since this was sung in the original Italian with English supertitles, "gioia." There was certainly plenty of that to go around, thanks in large measure to the outstanding performances of the principal cast members.
Baritone Robert Mellon schemed cheerfully as Figaro, taking uproarious pleasure in every trick he played on baritone Andy Papas's brilliantly befuddled Dr. Bartolo. Tenor Pedro Barbosa's Almaviva loved wooing mezzo Janera Kellerman's Rosina as much as he did putting one over of Bartolo. And bass-baritone Isaiah Musik-Ayala's Don Basilio was happy to work both sides as long as someone crossed his palm with oro.
The singing was on the same high level as the acting. Mellon's "Largo al factotum" (perhaps one of the most famous baritone arias of all time) was polished and funny, even though he and the orchestra came perilously close to getting out of synch towards the end. Kellerman's "Una voce poco fa" was a masterful mix of comedy and coloratura, and Barbosa displayed a heavenly bel canto-style voice in "Ecco, ridente in cielo," the elaborate cavatina in which Almaviva extols the virtues of Rosina.
Robert Mellon, Janara Kellerman, Pedro Barbosa
Photo by Ron Lindsey
Basically, everyone was having a good time. And that included the audience, who laughed and applauded frequently and with enthusiasm
Union Avenue's "Bariere" was less hampered by the shallow staging area at the Big Top than its "Les contes Hoffmann" since "Barbiere" doesn't really require much in the way of scenery or stage effects, so the emphasis was on the impeccable singing and comic abilities of the cast. Stage Director John Truitt even made a virtue of necessity by using the orchestra and conductor Stephen Hargreaves (who also played the recitativo secco passages on an electronic keyboard) as "props" for some of the comedy. The staging got a bit overly busy at times—most notably during the "Fredda ed immobile, come una statua" ensemble at the end of Act I, when time stopped for everyone except Figaro—but it generally worked quite well.
The cast of Il barbiere
Photo by Ron Lindsey
The continuing popularity of "Il barbiere" (Operabase consistently shows it in the "top 10" list worldwide) is remarkable when you consider that the composer dashed it off in three weeks. He didn't even have time to write an original overture, choosing instead to recycle one he had used for two previous operas, "Aureliano in Palmira" and "Elisabetta, regina d'Inghilterra." Which is why none of the engaging tunes in the impeccably-played overture appear in the actual opera. I guess it comes back to that infectious sense of joy. Congratulations to Union Avenue for capturing it so effectively.
Union Avenue Opera's "Il barbiere di Siviglia" ran in alternating repertory with Offenbach's "Les contes d'Hoffmann" July 21 through 25. For information on upcoming Union Avenue Opera productions, visit the company's web site.
Related Articles