Theatre Reviews
Theatre Reviews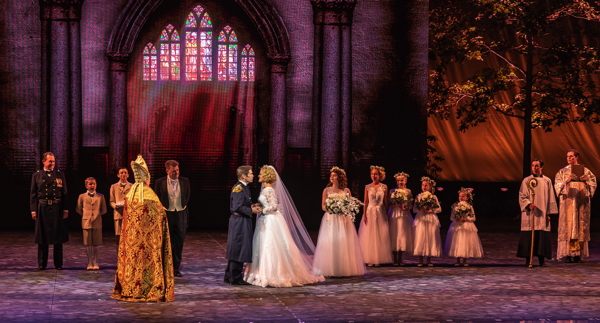 Family favorite 'The Sound of Music' at The Muny is sure to make lasting memories
By Chuck Lavazzi
When it comes to classic American musicals, Rodgers and Hammerstein's "The Sound of Music" springs to mind an among the best. Set in Austria at the time of Germany's invasion of the country. The Muny's family friendly production effectively mixes romance, history and faith with a long list of memorable songs.
Captain Von Trapp needs to find a governess for his seven children. The mother abbess needs to solve her dilemma with Maria, a novitiate nun whose spirit cannot be contained by the confines of a convent. Initially skeptical, the children soon warm to Maria's unwavering cheerfulness, joie de vivre and songs. Both problems appear solved -- until love, war and questionable allegiances shake things up.
Kate Rockwell, as Maria, overflows with enthusiasm and affection. Her voice is clear and bright, her range effortlessly strong and true. She's an effervescent presence, a bubbling fountain of kind words, simple truths and contagious melodies. Rockwell expertly handles Maria's demanding range, from the opening verse of the titular song, through the charming "My Favorite Things" and "Do-Re-Mi" to the delicate harmonies of "Edelweiss" and haunting goodbyes in "So Long, Farewell."
The Von Trapp children are individually and collectively delightful, successfully stealing hearts and scenes while adding humor and honesty at every turn. Elizabeth Teeter, Victor de Paula Rocha, Amelie Lock, Parker Dzuba, Jillian Depke, Abby Hogan and Kate Scarlett Kappel harmonize with ease. Their choreography is accomplished and engaging, and their expressions telling and authentic.
The powerfully voiced Bryonha Marie Parham has several show-stopping moments as the mother abbess and her strength at the higher end of the soprano range is spectacular. Andrea Jones-Sojola, Leah Berry and Beth Kirkpatrick are clear and distinct as sisters of the convent, and there's a wonderful ethereal quality to the nun's chorus.
Jenny Powers and John Scherer have a lot of fun playing the scheming, self-absorbed Elsa Schraeder and Max Detweiler. Powers has perfect vocal control as she skips across the comically exaggerated "How Can Love Survive" and she and Scherer peel back their friendly, patriotic veneer without entirely losing their appeal. As Captain Von Trapp, Michael Hayden is complimentary to Rockwell. The reprise of "Something Good" highlights a pleasant voice, but there's something bland about the performance. Captain Von Trapp is more milquetoast than commander of the navy, and he comes across more disconnected than usual.
Among the ensemble, April Strelinger and David Hess add comic commentary as Frau Schmidt, the housekeeper, and Franz, the butler. Andrew Alstat is compelling as Rolf Gruber, moving from likeable teen to suspicious true believer to confused but sincere young soldier. The familiar and always reliable Michael James Reed and Jerry Vogel, Ta'Nika Gibson, dance captain Emma Gassett, Taylor Tveten and Julie Hanson are well cast in featured moments.
As to be expected, director Matt Kunkel, music director Ben Whiteley, choreographer Beth Crandall and the company hit every note just right. Attention to detail and a reverence to the original production ensure the family friendly musical remains a favorite of the American canon for generations to come. The scenic design by Paige Hathaway, lighting design by Shelby Loera and video design by Caite Hevner create a world rich with painterly attention to detail. The costume design by Tristan Raines and wig design by Katie Adams add important finishing touches, while the sound design by John Shivers and David Patridge perfectly integrates the score and story.
When it comes to family friendly entertainment, you can confidently return to the classics. "The Sound of Music" continuing through August 9th at The Muny in Forest Park features songs, dancing, action and romance; a little something for everyone. The story moves quickly and includes enough plot and intrigue to hold interest, and the songs -- one after the other -- offer fantastic, hummable melodies that linger long after the applause has faded.
Related Articles