Theatre Reviews
Theatre Reviews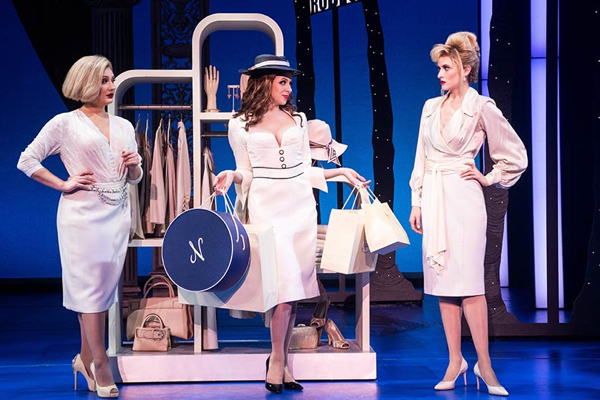 We've Grown Accustomed to the Story: 'Pretty Woman the Musical' at the Fox Theatre
By Chuck Lavazzi
The Fabulous Fox is back! Its first production since the 2020 lockdown has opened, bringing back the lights, the music, the costumes, and a full audience, albeit with vaccinations checked, purses examined, weapons-wand wiped, and (well, they tried) to get the entire audience to stay masked throughout. They REALLY did try.
A version of what I believe to be George Bernard Shaw's 1913 play "Pygmalion" has arrived at the Fabulous Fox Theatre in the form of "Pretty Woman the Musical". In essence, a "guttersnipe" of a woman has been transformed by two men into the person she comes to believe she was meant to be. Oh, but the men do show some positive self-reflection from the process.
Garry Marshall's 1990 movie, "Pretty Woman," starring Richard Gere, Héctor Elizondo, and Julia Roberts, has been rendered here as a splashy take on "My Fair Lady," with nearly two dozen original songs written by Bryan Adams and Jim Vallance. Olivia Valli as Vivian Ward is an Eliza Doolittle, morphing, with help and money, from cocky streetwalker to sophisticate, at least externally. Adam Pascal's powerfully-voiced Edward Lewis acts as her Henry Higgins, expecting Vivian—with his credit card rather than speech lessons—to shape up into someone he feels comfortable being with in polite society. A delightful Kyle Taylor Parker—as a hotel manager in one of his many onstage roles—fills in as a singing, dancing Colonel Pickering who facilitates the process of Vivian's metamorphosis.
What I really liked about this production is that it wasn't all about Vivian and Edward; many in the cast played excellent supporting roles that stood out in a big way. Jessica Crouch, in a loud, brash, Alfred P. Doolittle role, was great as Vivian's friend Kit. Matthew Vincent Taylor stole the show when he was on stage as a ballet dancing bellhop. Christian Douglas and Amma Osei were impressive in voice in their "La traviata" roles in the opera scene (they really should build in a hold for their spontaneous applause!). Again, Kyle Taylor Parker, playing several roles, acted as a key link that connected the entire production.
Was the production, in my opinion only, entirely successful? Well, is it musical theatre, only about two hours on stage, and shifts in character evolution, if they occur, have to happen unbelievably fast. One moment Edward is cold, unemotional, and all business, and in seemingly the next moment he's written as lying shoeless on the floor giddily spouting sonnets; too far! One moment Vivian is happy plying her "trade" in a blond wig, thigh-high boots, and mini-skirt, the next singing a heartfelt "I Can't Go Back" to that; too fast! A few dropped sound cues had some dialogue unheard. And, unfortunately, only hours after seeing it, I can't recall a single song that lingers in my memory, even though in the moment they suit the production. But, I must say, judging by their applause, the audience was totally on board with the night, even joining in enthusiastically when Roy Orbison and Bill Dees's 1964 song "Pretty Woman" finally broke out at the end of the night.
Technically, I was impressed with the set. A lighted proscenium was needed to box in the show on the massive Fox stage; but not only did that work well, but the silhouette technique they took advantage of throughout was excellently done. I was surprised to find what seemed like a massive orchestra was only six people making beautiful music.
"Pretty Woman the Musical" clocks in at approximately two hours at the Fabulous Fox Theatre through November 28th, 2021. For tickets and more information visit the Fox web site.
Related Articles