Theatre Reviews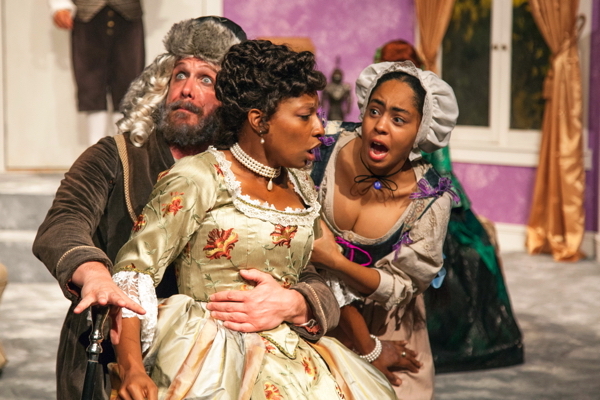 Cleverly comic and visually appealing, 'The Heir Apparent' is a beguiling farce
Donna Northcott, St. Louis Shakespeare's founding director, and at the helm for their latest production, has always had a fondness for farce. When armed with a witty, rhyming script and a standout cast that's ready for any challenge, she's an unstoppable force. As a result, The Heir Apparent is a fabulously good time even when the audience generally knows that a happy ending is certain. The fast-paced, spirited production delivers constant laughs through interpretation and innuendo, physical comedy, the controlled chaos of a chase scene, and a couple impromptu but well-executed dance numbers.
Lisette and Crispin are servants to the aged and wealthy Geronte and his young, fashionable nephew Eraste. Eraste is in love with Isabelle, but her mother, Madame Argent, will only allow her to marry a moneyed man. She doesn't entirely object to Eraste, and would happily give her daughter's hand if he were to inherit his uncle's wealth. A lawyer has been summonsed to document the will, but there are concerns over the claims of some distant cousins and uncle's quickly failing health. Geronte's sudden and impetuous desire to marry Isabella himself significantly complicates the proceedings. 
The tangled plots and loosely tied knots of the story arc are easily followed, and often anticipated, but that doesn't diminish the fun or the sense of the ridiculous that infuses this show. As servants Lisette and Crispin, Britteny Henry and Isaiah DiLorenzo are affectionate and amiable, and each excels in playing off the other and the rest of the ensemble. Their movements and reactions always well timed and with the appropriate exaggeration for comic effect. The relationship between the two is not only believable, it's fun to watch them flirt and plot and plan. Both actors have great physical control, and can handle the quick pace and intricate movements with ease, adding fluidity that makes the comedy seem spontaneously generated.
Scott McDonald and Jeanitta Perkins sparkle like expensive costume jewelry as the young lovers Eraste and Isabelle. McDonald brings just the right amount of flounce and petulance to his character, while Perkins' reactions and hesitation show just a touch of wealthy Valley girl amongst her good manners and poise. The two marvelously translate contemporary teen attitudes to their 18th century characters, one of many touches that help the show feel current and fresh.
Margeau Steinau is by turns delightfully dismissive and obsequious as Madame Argante, and her arched eyebrows and extended gestures are as delightfully sharp as her character's calculating moves. Shane Signorino is a dirty, earthy old man, and Anthony Winninger is so committed to his character's description that it simply works, humorously and effectively. In short, the ensemble truly captures the spirit and joie de vie of Norhtcott's farcical vision and the result is terrifically enjoyable. 
Farce by its very nature relies on contrived situations, exaggerated behaviors and reactions, and heightened emotions. The story and characters are generally transparent, oftentimes down to their name, romance and courtship are almost always parts of the equation, and generation gaps are frequently poked to humorous effect. The rogues are charming and flirtatious, with trickery employed in the service of a positive outcome for the appealing pranksters and opportune servants alike. 
Northcott and the cast succeed in ensuring The Heir Apparent feels fresh and witty by emphasizing not just comic timing, but the rhythm and cadence of playwright David Ives sharply observant, rhyming dialogue. The characters are well-articulated types, with pointed gestures and intonation, and they all play delightfully off each other. There's abundant room for interpretation and sub-context in the script, and the actors maximize their opportunities with innuendo and double entendre, and the show often reaches levels of controlled chaos that are both visually entertaining and laugh out loud funny. 
Both the costumes, by Michelle Siler, and set design, by Chuck Winning, are appropriately fancy and elaborate, and the lighting design, by James Spurlock, enhances the sparkle of the metallic threads, fancy brocade, and jewels. From a technical standpoint, my only point of contention is that I wish the double doors center stage were a bit more embellished to emphasize and frame the scene.
Farce can be tricky to perform. If the delivery is too slow or the timing of reactions lags, the show falls flat. If the show moves too fast, or there's too much mugging or set-up for punch lines, it feels forced and loses its appeal. Director Northcott and the talented cast have no problem avoiding those traps, however, paying attention to the details that elevate good farce to an art. As a result, St. Louis Shakespeare's The Heir Apparent, running through September 4, 2016, is a fast moving, laughter inducing farce with spectacularly engaging performances.
Related Articles