Theatre Reviews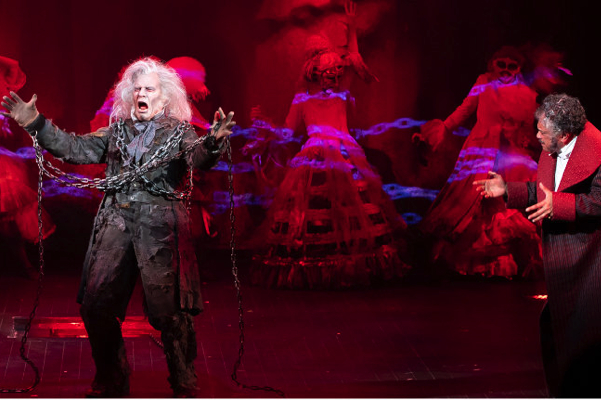 Death on a Hoverboard: A Reworking of "A Christmas Carol" at the Rep
Written by

Laura Kyro
True to its description in their program, The Repertory Theatre of St. Louis has mounted a new adaptation of Charles Dickens' "A Christmas Carol," appearing at the Rep through December 23. My role here is not to judge the value of what is offered to us in the production—every person in the audience can and should decide that for themselves—but I must admit to some confusion as to this particular telling. I came thinking of seeing a more Dickens-faithful "Carol" as I've experienced throughout my life in watching movies, television, and other stage productions (last exemplified at the Rep in 2016), but this was not that.
As the story goes, Ebenezer Scrooge (Guiesseppe Jones), the most unpleasant businessman in London, makes no friends during the Christmas season, coldly snubbing his Nephew (Raffeal Sears), charitable solicitors (Melissa Harlow, J Samuel Davis) and street urchins looking for a handout, and abusing his humble clerk, Bob Cratchit (Armando McClain), a married man with four children, one of whom is the ailing Tiny Tim. The night before Christmas, Scrooge is visited by the ghost of his deceased partner, Jacob Marley (Michael James Reed), who is being tormented in the afterlife because of his selfish existence while alive. In an effort to warn Scrooge off the same fate, he reports Scrooge will shortly be visited by three ghosts: the Ghost of Christmas Past (Laakan McHardy), the Ghost of Christmas Present (Paul Aguirre), and the forbidding Ghost of Christmas Yet To Come (Eric Dean White). All will endeavor to turn Scrooge from his present path to everlasting damnation. By showing Scrooge the mistakes of his past, the unpleasantness of his present, and his dismal and frightening future, they succeed, and Scrooge lives the remainder of his life a changed man.
I don't know why the Rep felt it meet to have Michael Wilson so generously adapt what perhaps is usually more "traditional" this time of year (directed by Hana S. Sharif), but that was their election. However, I admit to being puzzled by some of the choices made for the adaptation. Meaning, costumes ranged from Victorian garb to some getups that would not be out of place at a Met Gala. Glitter abounded. Eerie "Ghost Dancers" were added and used many times, along with an aerialist. Musical stylings ranged from traditionally-rendered Christmas Carols, to a rap number, and even what I took to be tribal drums. Enigmatic video clips were played over the stark and cold base set. The Ghost of Christmas Yet To Come sported lighted shoulder pads and rode a hoverboard. Characters not in the original story were added. A patron I queried for a comment following the show indicated they were "flummoxed" by what they had witnessed. It seemed as though excess (for example, a fluorescent drink fountain, Jacob Marley suspended 15 feet in the air) and padding (for example, Scrooge's servant, Scrooge now inviting the town to his home) were in play here, which, as I was often thinking "Why?," distracted me from what I thought I was to be seeing.
I believe I understand—hours later, and after much reflection on what I saw—that it was intentional that the portrayal of the base "reality" "Carol" story was designed to appear more traditional (the Victorian garb, the drab and dinge of a cold and struggling London), while the supernatural elements were to be VERY VERY fantastical in contrast. However, in the moment, this stratagem (if, indeed, stratagem it was) was not obvious to me, and I felt the juxtapositions were just confusing.
Unfortunately, problems with low actor volume and microphone placement made some of the production difficult to either hear or understand.
I applaud the Rep for trying to be more inclusive, including collaboration here with the Center of Creative Arts (COCA), and to try something different to perhaps better address an older story for our time. I just wonder if making a holiday staple the vehicle was the best choice. But, again, each audience member needs to decide if they enjoyed it and if it was worth the price of admission. If applause speaks, the audience my night appeared to appreciate the work.
"A Christmas Carol" runs for approximately 2 1/2 hours, including a 15-minute intermission. It will be performed at The Repertory Theatre of St. Louis in Webster Groves through December 23, 2021. For more information, repstl.org
Related Articles