Theatre Reviews
Theatre Reviews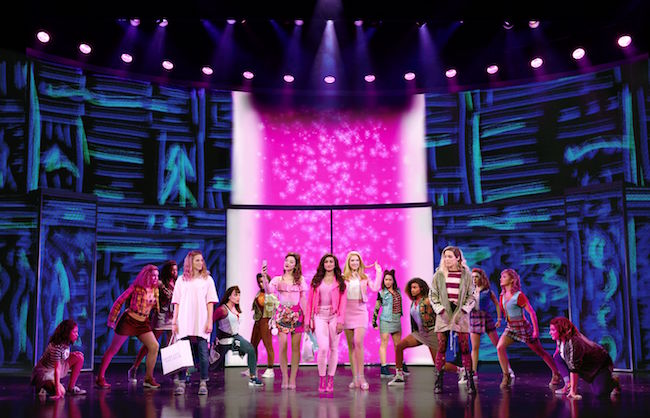 No burns here, the musical "Mean Girls" at the Fox is better than fetch
By
Writer and comedian Tina Fey teams up with Jeff Richmond and Nell Benjamin to bring the hit movie "Mean Girls" to the stage in musical form. If the enthusiastic and often pink clad audience at the fabulous Fox Theatre is any indication, the results are a hit (and this reviewer concurs).
"Mean Girls" takes the prototypical high school story about a fish out of water among the popular girls and notches everything up a level or two. The Plastics, the popular girls, are more than simply perfect -- they're also in charge. The musical succeeds in seeing these women as unique, individual humans, with strengths and flaws, power and insecurity. The show and the performances in the current touring production are celebrated for not always being perfect, not always having the right answer, and not always being kind without actually being mean.
Cady Heron, a bright and compelling Danielle Wade, is the new girl in town and today's her first day at the local high school. It's also her first day in class with other students, as she was previously home schooled. And her first day in an American school, she and her parents just returned to the states from Kenya. She's completely lost. Wade effortlessly expresses the uncertainty of change and the fear of not fitting in. Though she may be a bit naïve, she's quick and, eventually she even comes to embrace her smarts and see herself in a new light. Wade navigates the emotional highs and lows as easily as she captures Cady's wistful, plaintive vocal qualities.
Luckily, Damien, an always over-the-top theater student, and Janice, the school's artsy feminist, step in to show Cady the ropes. Eric Huffman provides a lot of humor and plenty of heart as Damien. Mary Kate Morrissey, as Janice, shares the lead in this show with Wade and it's a fabulous pairing. Morrissey has a powerhouse voice you can't forget, with the control to find harmonic balance in duets and smaller group numbers. Morrissey and Wade create a believable friendship, with an easy chemistry that compliments their well-matched vocals. Each hits their persona with the right mix of doubt and confidence.
Nadina Hassan, as Regina George, is a spot on diva with a boss attitude that's, honestly, admirable. Her final scenes with Wade's Cady reinforce the importance of owning your power and seeing other's power without jealousy. The moment is light, but the message is clear and welcomed. Olivia Renteria, understudy for Megan Masako Haley, gets all the needy moments right as Gretchen Wieners, revealing her insecurity without delving into self-pity. Jonalyn Saxer, as Karen Smith steals several scenes with flawless timing and a perfectly unaffected tone. She reminds us that people aren't always what they first appear without losing her sunny disposition or comic touch.
Then, there's Aaron Samuels, played with the right mix of awkward charm by Adante Carter. He's Regina's ex-boyfriend, but Cady doesn't know that until after she falls for him. Throw in a couple eager teachers and other classmates, including the endearing math club, stir with Cady's prodigious abilities and longing to fit in, and "Mean Girls" serves up a satisfying musical treat with plenty of humor.
The choreography, by director Casey Nicholaw, is fun and energetic. And it's great to see a chorus that's filled with variety, including differing sizes of women, hitting the marks every time. The songs pack a lot of emotion, with an intense, confused teenage angst, while remaining light and poppy. The sincerity works particularly well on "Stupid with Love," What's Wrong with Me?," and "Fearless." The group dynamic captivates in catchy songs like "A Cautionary Tale," "Apex Predator" and "Whose House Is This" perfectly capturing the energy, hierarchy, and enthusiasm of high school.
Scenic designer Scott Pask, lighting designer Kenneth Posner and video designers Finn Ross and Adam Young create a quick moving, brightly colored world that's enhanced by sound design from Brian Ronan. Each character has a distinct yet instantly recognizable look, thanks to costume designer Gregg Barnes, hair designer Josh Marquette and makeup designer Milagros Medina-Cerdeira. The pieces fit together perfectly, while the show feels fresh and vibrant throughout.
Tina Fay's movie script struck a perfect balance of comedy, heart, and acceptance. The musical version of "Mean Girls," continuing through February 27 at the fabulous Fox Theatre, embraces the best parts of the movie, with updates that keep the message and the people at the center of the story. Director Nicholaw and music supervisor Mary-Mitchell Campbell succeed with this funny, but never truly mean tale of longing, belonging, and being true to your self. Fetch may never catch on, but "Mean Girls" is here to stay.
Related Articles