Theatre Reviews
Theatre Reviews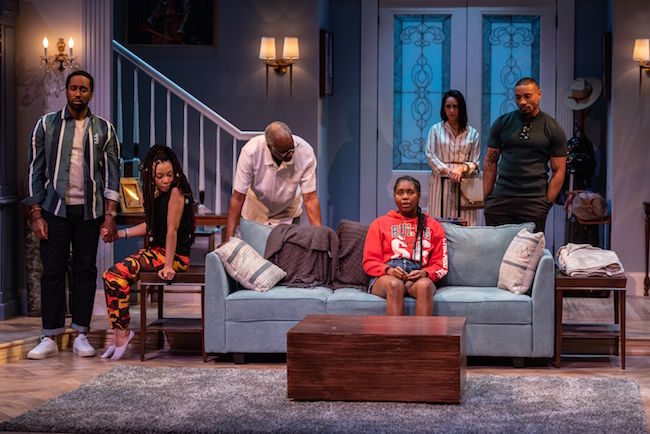 'Stick Fly' hits home with family secrets, relatable comedy and the trappings of success
By
With performances in the Berges Theater at COCA, the Repertory Theatre of St. Louis season continues with "Stick Fly," an ultimately heartwarming tale of family secrets and social dynamics that's often laugh out loud funny. Written by Lydia R. Diamond and directed with a steady hand by Chanel Bragg, the show feels relevant 15 years after its debut.
Family almost always provides great fodder for playwrights, stuffed as they generally are with quirks and nuances that are at once individual and universal. Playwright Diamond expertly captures both familiarity and change in the captivating and funny script that also looks at race, class and what success means. There's a lot of ground to cover in the two-hour show, Bragg's focused direction and Diamond's smart script keep the audience interested in every twist and turn.
Dr. Joseph LeVay, his wife and two sons, Flip and Kent, are an affluent Black family. With a prominent lineage and history that includes the distinction of being the first African American family to own vacation property on the Vineyard. We meet them as they gather at the vineyard house to which both of the boys are bringing their significant other. Joining the family for their stay is Cheryl, the daughter of Miss Ellie the long time housekeeper, cook and generally the one who oversees the family's property. 
Cheryl is the first to arrive, naturally, and begins taking the covers off the furniture, stocking the kitchen and such. Then, Kent and his fiancée Taylor arrive. She's nervous about meeting his family -- and also a bit awestruck by the house, its original artwork and the family's obvious wealth. Next, Flip arrives. His girlfriend Kimber will follow later, allowing him to "lay the groundwork." Which is to say he wants to let everyone know his girlfriend is white, Italian he clarifies, before she arrives. Finally the patriarch, Dr. LeVay arrives, without his wife, whom he says will likely be there tomorrow.
Ron Himes is stoic, stubborn and suffering the consequences of his thoughts and actions as Joseph LeVay. He can be presumptuous and difficult to crack at times, but his heart seems to be moving in the right direction. Bobbi Johnson is thoroughly sympathetic and believable as the teenaged Cheryl. She wears her heart on her sleeve while facing entirely realistic hopes and fears. Ricardy Fabre and Amber Reauchean Williams are well matched as younger son Kent and fiancée Taylor. Their relationship is solid in ways the audience can root for, even when tested. And Williams burns with an infectious "kinda weird but I like it" fire as the brilliant but deeply insecure Taylor.
DeShawn Harold Mitchell is deceptively smooth and self-assured as Flip. He shares his father's egregious presumptions though he's not as shallow or unaffected as he puts on. Much of that may be due to girlfriend Kimber's brutal honesty. Blair Lewin navigates the role with skill. She's clearheaded, aware how she may be perceived and still wants to be here. As the girlfriends brought home for parental inspection, Lewin and Williams instantly suspect, challenge and lean on each other. Diamond's script and the evocative, fully connected performances by the cast are highly entertaining and thought provoking.
There are many secrets, most of which are revealed over the course of the visit. Passion and jealousies are stirred, unlikely -- nonetheless genuine -- bonds are formed and those secrets just keep spilling out. Everyone in the room is well above average intelligence but not everyone has the same advantages, ensuring a variety of topics and opinions emerge and sometimes clash. Conversation about racism is natural to the characters, and integral to the themes.
Ever present, but significantly less openly discussed, are classism and misogyny. These issues present themselves in almost common ways until a shocking revelation shakes the family's peace and oblivious complacency.
Every character has something to say and a need for growth if this story is to resolve in a satisfactory fashion. That's key to the beauty of Diamond's compelling and still quite funny script. Bragg's direction provides space for the story to develop and each actor commits to the complex, realistically conflicted characters. Life for the family will likely return to normal on the surface, but the cracks and fissures of certain change begin to expose themselves before the last line is delivered. Your mileage may vary; this reviewer left with room for hope and positive new beginnings for the family.
The Rep's production of "Stick Fly," continuing through March 6, rings as authentic, at times uncomfortable and, ultimately, hopeful. Strong direction and crisp, captivating performances draw you in to every facet of the story. It's a satisfying arc that doesn't look certain from scene-to-scene, creating theater you are thoroughly invested in and want to continue thinking about long after the curtain.
Related Articles