Theatre Reviews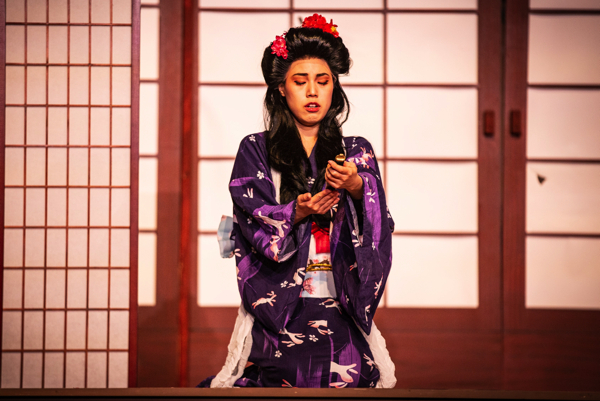 Opera Review: Lovely to look at, delightful to hear: 'Madama Butterfly' at Winter Opera
Written by

Chuck Lavazzi
This Friday and Sunday March 25 and 27, Winter Opera presents a polished, musically impeccable production of the 1907 version of Puccini's "Japanese tragedy" "Madama Butterfly." Beautifully sung and respectably acted overall, with fine playing by the orchestra under the baton of Ed Benyas, this might not be the best "Butterfly" I've ever seen, but it's good one and should appeal to those who love this popular opera.
I, alas, am not one of those people.
Seon Duk Kim, Jonathan Kaufman
Photo Riq Dilly
My issues are mostly about the libretto by Giuseppe Giacosa and Luigi Illica, based on a play by David Belasco. On the one hand, I have always regarded Pinkerton, the sailor who seduces and abandons the title character, as arrogant, self-centered, and chauvinistic. On the other hand, the Geisha Cio-Cio-San (a.k.a. Madama Butterfly) displays a degree of naiveté that, despite her youth (she's supposed to be fifteen when she marries Pinkerton), borders on the delusional.
As a result, this tragedy has always struck me as a bit forced. The libretto also spends far too much time (two entire acts) chronicling Cio-Cio-San's decline and fall. Citing Butterfly as an example, Dr. Ross Hagen has observed that there is "an impulse towards sadism in Puccini's treatment of these ill-fated heroines that he has supposedly come to empathize with." I'm inclined to agree.
Winter Opera has, in any event, assembled a strong cast here, headed by Seon Duk Kim in the title role and tenor Jonathan Kaufman as the appalling Pinkerton. Their voices blend beautifully in the long and rapturous Act I love duet "Bimba, Bimba, non piangere" ("Sweetheart, sweetheart, do not weep") And a good thing, too, since the contrast between the diminutive Kim (who really does look like a teenager in the role) and the imposing Kaufman tend to give the entire business a creepy, child molester vibe. Legally, after all, Pinkerton is committing what in our day would be statutory rape.
L-R: Michael Nansel, Jonathan Kaufman
Photo: Riq Dilly
Both singers have strong individual moments as well. Kim's small but crystalline singing makes her "Un bel dì vedremo" (the opera's Big Hit) a lovely thing and Kaufman's big, clear voice drives home the nationalistic braggadocio of "Dovunque al mondo" ("Throughout the world"), his Act I duet with the American Consul Sharpless (baritone Michael Nansel, in another solid performance).
The best combination of acting and singing skills, though, can be found among the supporting roles. In addition to Nansel's compassionate Sharpless, we have mezzo Sara Louise Petrocelli's tragically loyal Suzuki, bass-baritone Joseph Park as the romantically disappointed Prince Yamadori, and tenor Marc Schapman as the scheming marriage broker Goro. Director Mark Freiman also has an impressive moment in the cameo bass role of The Bonze, who self-righteously excoriates Butterfly for converting to "the American God."
The Winter Opera chorus continues their unblemished record of producing a small but mighty sound while still creating individual characters in the process.
Seon Duk Kim and chorus
Photo: Riq Dilly
Freiman and his team have put a lot of care into making this "Madama Butterfly" look and feel authentic—which is considerably more than Puccini and his librettists did.  Lauren Smith Bearden's costumes and Scott Loebl's simple but effective set firmly establish the Japan of the librettists' imagination, assisted by Jessica Dana's wigs and makeup.
In the 2020/2021 season, "Madama Butterfly" was the 6th Most Performed Opera in the world according to Operabase, so my disdain for it puts me in the minority. If you're in the majority, I don't think you can go wrong with this production. Winter Opera continues to maintain a high standard of quality on a relatively low budget, and that is most admirable.
Winter Opera presents "Madama Butterfly" Friday at 7:30 pm and Sunday  at 2 pm, March 25 and 27, at the Kirkwood Performing Arts Center. For more information, visit the Winter Opera web site.
Related Articles