Theatre Reviews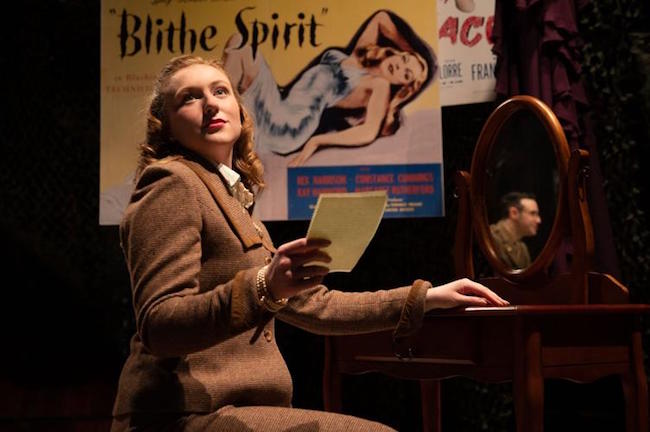 Charmingly authentic, 'Dear Jack, Dear Louise' is a timeless romance told in letters
Written by

Tina Farmer
Ken Ludwig pays tribute to romance in "Dear Jack, Dear Louise," a warm, well-crafted love story set against the backdrop of World War II. New Jewish Theatre's production, starring Molly Burris and Ryan Lawson-Maeske and directed with finesse by Sharon Hunter, is an intimate yet brilliant little gem that's sure to lift audience spirits.
While most of the audience is too young to distinctly remember WWII, it is easy for anyone who's felt the pangs of love to relate to the young couple at the center of the play. With a gentle touch and perceptive bent, director Sharon Hunter adroitly leads Lawson-Maeske, as Jack, and Burris, as Louise, through a story delivered in a series of letters based on actual correspondence between the playwright's parents.
Jack is a young doctor and service member currently stationed on the west coast. Louise is an aspiring performer of about the same age living in New York City. Both come from traditional, American Jewish families, their parents are friends and suggested they connect via the U.S. Mail. Initially cautious and cordial, we learn much about each character and their growing feelings as the tone and contents of their letters become more personal and revealing. The back and forth keeps our interest, well executed performances keep us captivated.
The couple's correspondence begins in June 1942 and concludes in May 1945, a pivotal span in our country and world history. Though they try to meet in person several times, though their letters are sometimes delayed for weeks, though the two keep missing each other -- they never give up. It's enough to make an audience member wonder if they will ever get together, even as we know, cognitively, that they did. Their son wrote the play after all!
Hunter and the cast focus their attention on the characters and the truth of their story, told through everyday banalities. Professional highs and lows as well as sharing daily routines deliver their concern for each other, their faith and the world in conflict around them. The script is inherently authentic and delivered with an attention to context and nuance that enables audience members not familiar with the period and history to connect with the story.
The production is enhanced by an attention to period and technical details, including the muted but patriotic color scheme and 40s-era music selections. Scenic designer Dunsi Dai, lighting designer David LaRose, costume designer Michele Friedman Siler and sound designer Amanda Were have once again captured the important little details that draw the audience into the story's world. Finally, intimacy coordinator Jamie McKittrick is to be commended, along with Hunter and the cast, for helping to create a fully engrossing story that touches on multiple emotionally sensitive and vulnerable themes with dignity.
Because the story is set during the United States' participation in a war, the script includes references to all aspects of war. There are some detailed descriptions and emotionally painful recollections as well as scenes set at the European front that may be triggering. The show is also based on actual correspondence between two independent young adults, so there are references to mature subject matter and adult activities including drinking, sexual situations and innuendo. Both the war and the intimate matters are treated thoughtfully.
Burris and Lawson-Maeske create lovely, believable chemistry while establishing individual depth and an emotional connection that feels as genuine and as true as the letters they exchange. And they do all of this without locking eyes until the final moments of the play. Lawson-Maeske has a flair for accents and impersonation that serve the storytelling well and Burris has an infectious affinity that helps the characters mesh seamlessly though physically separated. When they finally meet, their desire to see and touch each other at last is palpable throughout the theater.
Hunter has essentially choreographed the staging and it works marvelously, in a fluid manner that ebbs and flows with the emotional context of the script. Smart exits and entrances, though brief, build tension and create little moments of catharsis that, when combined with the distance and time between the lovers first letters and first meeting, makes for an incredibly welcome and memorable final scene that's truly and perfectly romantic.
"Dear Jack, Dear Louise," continuing at New Jewish Theatre through June 26th, oozes with charm and the enticing possibilities of romance. Hunter and the two-person cast employ thoughtful restraint and nostalgic mannerisms effectively; ensuring the show never becomes neither maudlin nor overly sweet. Sincere and often quite funny performances by Burris and Lawson-Maeske keep the audience captivated from the first letter through the uncertainties of war and home again for happily ever after.
Related Articles