Theatre Reviews
Theatre Reviews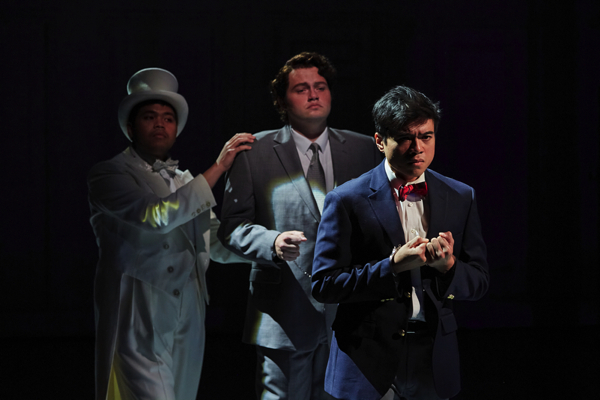 Out of the closet and on to the stage: Opera Theatre re-imagines 'Harvey Milk'
By Chuck Lavazzi
To quote Walt Kelly's Howland Owl paraphrasing Kipling, "the tumult and shouting has died." After being postponed for two years due to the pandemic the third and leanest version of Stewart Wallace and Michael Korie's 1995 opera "Harvey Milk" (now titled "Harvey Milk Reimagined" according to the libretto) has, at long last, had its world premiere at Opera Theatre of St. Louis. And my fellow critics could not be happier.
Above: Kyle Sanchez Tingzon
Below: Thomas Glass
Photo: Phillip Hamer
Widely praised both far and near, there's little doubt that "Harvey Milk" will soon be showing up at opera companies everywhere. And while I'm not quite as enthusiastic about it as everyone else seems to be, I'm in complete agreement with my fellow St. Louis Theater circle member Gerry Kowarsky's assessment of "Harvey Milk" as "a piece that deserves to be heard." The Opera Theatre production runs through June 25th and really demands to be seen.
Librettist Korie—whose many credits include the stunning "Grapes of Wrath" seen at Opera Theatre in 2017—was a working journalist when San Francisco Mayor George Moscone and Harvey Milk, the first openly gay member of the Board of Supervisors, were shot to death by fellow board member Dan White. Although he had already abandoned that career when he began working on "Harvey Milk" in 1995, Korie writes that he was "excited to be able to bring together journalism with the power of opera." Not surprisingly, then, his libretto combines the hard-hitting intensity of a documentary with poetic imagery and a fluid story line that moves back and forth in time.
Repeated shifts in perspective between the hard reality of San Francisco politics and Milk's memories add a dream-like feel to many scenes, an effect enhanced by the frequent appearances of the character of "The Messenger." Decked out in a white drum major outfit and sung by a countertenor, the Messenger serves as a kind of Greek chorus/narrator/prophet
Thomas Glass (C) in "Harvey's Walk-In Closet"
Photo: Phillip Hamer
Korie's inventive combination of comedy, drama, and Blitzstein-style agitprop combines with Wallace's eclectic mix of musical styles to create a fast moving and hard hitting opera/musical theatre hybrid. A fanciful "Walk-In Closet" filled with gay stereotypes, for example, is used to depict Milk's early years playing it straight on Wall Street. The Stonewall Uprising scene includes a Drag Queen kick line and triumphant chants of "out of the closets and into the streets"¬ to powerful dramatic effect. Dan White gives voice to his resentment over the gay gentrification of the Castro Street neighborhood in an aria that obliquely mocks Irish-American vaudeville songs like "Mother Machree."
And so it goes, hitting the highlights of Milk's impressive and tragically brief life. Milk is presented as a heroic figure, certainly, but also a very human and flawed one. This is tragedy, not hagiography, and Milk emerges as a victim of not only the sexually neurotic resentment embodied in Dan White, but also of his own hubris.
Thomas Glass and Company
Photo: Phillip Hamer
More importantly, though, the opera is a testament to the ability of one person to be a catalyst  for change. "I am just one person," Milk asserts, "but I have power. I remember who I am. My name. My people. Our histories. I remember." At a point in our nation's history when authoritarian voices try to convince us that we are helpless pawns whose only salvation lies in blind obedience to a Fearless Leader, Milk's story reminds us that each of us can, in fact, make a difference.
"If a bullet should enter my brain," Milk declares just before his murder, "let it shatter every closet door."
OTSL has once again put a strong cast on stage. Baritone Thomas Glass captures every one of the title character's many facets and does so with great vocal authority. Jonathan Johnson's lyrical tenor enhances the role of Scott Smith, the activist who becomes Milk's lover and helps bring him out of his walk-in closet. He and Glass conclude the first act with a touching love duet in which we see Milk emerging from his political closet as well.
L-R: Jonathan Johnson, Thomas Glass
Photo: Phillip Hamer
Tenor Alek Shrader's Dan White has an intensity that is unnerving, especially when contrasted with the sweet, John McCormack-esque sound he uncorks in his lament for the Good Old Days in the first act. There was a time when I would have seen the character's combination of bullying arrogance and insight-free self-pity as overdone, but these days it looks almost restrained.
Bass-baritone Nathan Stark's back-slapping flamboyance is perfect for George Moscone, but he shows impressive range as both Horst, the cartoonish German inhabitant of the Walk-In Closet, and a tough-talking Teamster backing Milk's election. Countertenor Kyle Sanchez Tingzon brings an appropriately unearthly quality to the role of the Messenger.
The strong supporting cast includes Soprano Raquel González as politically savvy (and ethically flexible) Dianne Feinstein, soprano Xiao as Milk's friend and political ally Henrietta Wong, and mezzo Elizabeth Sarian as Milk's mother, constantly warning of "Golems everywhere" and invoking memories of the Holocaust while gay men are being beaten by police in Central Park.
Nathan Stark, Alek Shrader
Poto: Phillip Hamer
Unusually for opera, the performers all wear wireless body mics, but my impression was that they were only turned on when special electronic effects such as reverb were employed. For much of the evening, the singers' voices sounded entirely unplugged.
The OTSL chorus has to work especially hard here, taking on a wide variety of small but important roles, from cops to teamsters to protestors to drag queens. That they do it all so convincingly is a testament to their skill as both singers and actors.
A special laurel wreath is in order for conductor Carolyn Kuan and the members of the St. Louis Symphony Orchestra. Composer Wallace's mix of musical styles, spoken word segments, and various electronic elements sounds like a challenge for both the conductor and the musicians, but it all came together perfectly on opening night.
Co-directors James Robinson and Seán Curran have done a splendid job of choreographing the cinematic shifts of mood and scene in this fast-moving work, assisted by Christopher Akerlind's lighting and the documentary feel of Greg Emetaz's videos.
Allen Moyer's set includes a bit of subtle visual subtext in the form of a rank of grey closet doors stretched across the back of the set. At the beginning of the opera, they're closed. Later they're open but filled with clothes. By the end they're both open and empty, echoing the triumphant chants of "out of the closets and into the streets"¬ that conclude the stirring Stonewall Uprising scene in Act I.
Back: Thomas Glass
Front: Mishael Eusebio as
Young Harvey
Photo: Phillip Hamer
The only real fly in the operatic ointment here is Wallace's score. Yes, it's inventive and generally supports the story, but like far too many recent opera scores it often feels disconnected from the text. Korie's libretto contains a mix of prose and poetry, but the music makes no distinction between them. The result is a kind of generic "contemporary opera" sound with no distinctive character of its own.
It made me think—and not for the first time—that contemporary composers should seriously consider studying the scores of Sondheim before taking on an opera.
That said, "Harvey Milk Reimagined" is a worthwhile addition to the opera stage and a reminder of not only how far we have come over the last four decades in this country, but how precarious that progress is as well. The importance of the message overcomes any minor complaints I might have about the medium.  
"Harvey Milk Reimagined" continues through June 25th at the Loretto Hilton Center on the Webster University campus in rotating repertory with the rest of the Opera Theatre season. To get the full festival experience, come early and have a picnic supper on the lawn or under the refreshment tent. You can bring your own food or purchase a gourmet supper in advance from the OTSL web site. Drinks are available on site as well, or you can bring your own.  For more information, visit the web site.
Related Articles