Theatre Reviews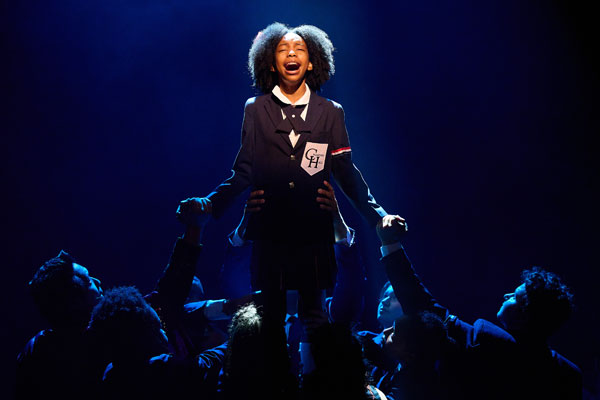 It Had It's Ups and Downs: 'Matilda the Musical' at COCA
Written by

Laura Kyro
The Center of Creative Arts (COCA) in University City staged "Roald Dahl's Matilda the Musical" July 22 through 24. This "Matilda" was adapted from Dahl's original 1988 children's novel by Dennis Kelly, with music and lyrics by Tim Minchin.
Anyone familiar with the work of Roald Dahl knows of his absurdist humor. In books such as "Charlie and the Chocolate Factory," and "James and the Giant Peach" (to name a few), the world is depicted as not altogether normal; strange things happen, people are mostly slightly out of kilter, good is greatly rewarded, while bad is terribly punished, and life is just intensified. Well, that's all definitely true here.
In "Matilda the Musical" Matilda Wormwood (a lovely Riley Carter Adams) is a precocious nine-year-old girl, unexpected and undesired by her parents from birth. Matilda's mature sense of the world makes her desire to fix anything that's just "not right." Her parents (Dustin Petrillo, Tyler White, both perfectly cast) ignore her and ship her off to a British school whose students and staff cower under the thumb of the tyrannical Agatha Trunchbull (a stingingly effective Will Bonfiglio). While at the school, Matilda befriends the kind librarian (Margery A. Handy), whom Matilda regales with a melancholy story of an acrobat and an escapologist (Rebecca Hartman, Michael Thanh Tran). Matilda also meets and connects with sweet teacher Miss Honey (pure-voiced Alicia Revé Like). As expected from a Dahl work, at the end Trunchbull is vanquished, the students are freed from her tyranny, the neglectful parents get their just desserts, and Matilda finds a new home and love from Miss Honey. Yeah!
Now, as to my title for this review, I perceived the production on the whole as a mix of "wow" and "oops." There were definite highs that included several of the solo musical numbers, some very pleasing acting performances, an impressive set (David Blake), innovative lighting techniques (Jayson Lawshee), interesting choreography (Chris Page-Sanders), nice costumes (Shevaré Perry), several nice British accents, and a general spirit of "we're here and we're having fun" from the cast as a whole. However, there were also some definite lows, such as microphones and light cues frequently behind the action or missing altogether, a loss of unity and lyrics when more than one person was singing at the same time, and extended scene change times.
That said, the night ended on the up side because of what I mentioned earlier, that the cast, AND the bulk of the audience, were all demonstrating "we're here and we're having fun." Yes, of course, the bulk of the audience appeared to be families of the nearly thirty-member cast, but still, there was a lot of joy in the room.
Information on future productions from COCA is availble at their website.
Related Articles