Theatre Reviews
Theatre Reviews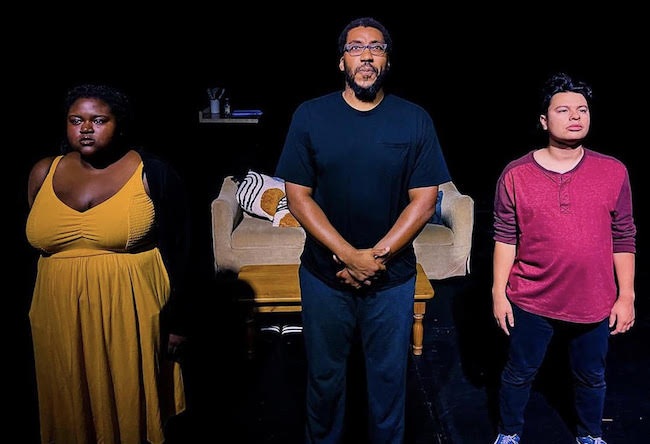 Powerful and affecting 'All That Remains' is a modern tragedy with a sliver of hope
By
Local playwright JM Chambers "All That Remains," closes Tesseract Theatre Company's Summer New Play Series with a moving contemporary drama that doesn't shy away from harsh realities. Strong performances and smart directorial choices by Brittanie Gunn keep audiences invested even during uncomfortable scenes.
The story centers on Gary and Elaine, a couple whose life has been turned upside down by loss and pain, leaving deep scars and trauma in its wake. Gary is a teacher who survived a school shooting and he's struggling to process the unimaginable and find some sort of path forward. In addition to being shot and seriously injured, he lost his best friend Melody, a fellow teacher, and Alejandro, a promising student, died in his arms. He and his wife Elaine also recently lost a pregnancy, compounding the couple's grief.
Though his body has recovered from the bullet's wounds, Gary's psyche is far from healed and his troubled sleep finds him reliving the day of the shooting over and over in persistent nightmares. He is reluctant to leave his couch much less the house, and the ghosts of Melody and Alejandro frequently speak to him. Their friends in the small town were also affected by the senseless tragedy. Elaine wants to turn to them for shared support; Gary turns inward, becoming reclusive.
His hesitance to leave the house leads to loud arguments with his wife Elaine. Early in the show we see just how volatile the situation is. Elaine tries her best to help Gary through it all. When he tells her he's speaking with the ghosts of the victims, it's too much. Gary needs more serious help than she can provide, and despite his resistance something has to change.
Director Gunn elicits well-connected performances from a strong cast that includes Sherard E. Curry as Gary and Melody Quinn as Elaine, with Nyx Kaine, Victor Mendez, Luis Aguilar and Morgan Maul-Smith in supporting roles. The sparse set, by Gunn, combined with the minimalist approach in Kevin Bowman's lighting design and Taylor Gruenloh's sound design, add just enough detail to establish the environment. The focus here is on the characters and story.
Chambers has packed a lot into the script, making it heavy with emotion and content. At times, the play feels almost hyper-realistic, with tragedy piled on in ways that become overwhelming for the audience to process. Though true to life and its painful, ironic twists, 90-minutes simply isn't enough time to sufficiently connect all the threads and tie up the story. Each scene is strong on its own, there's just too much left underdeveloped. The result is that the ending, and the hope it offers, feels a bit unearned. Judicious editing to tighten the show's focus and framing could take this effective show to the next level without losing its immediacy.
The play opens during an argument between the couple that quickly escalates into an act of violence and is immediately followed by repeated nightmares of Gary reliving the shooting. Additionally, the loss of a pregnancy and the death of another young boy at the school, as well as his twin brother's struggles, are discussed in a frank and touching manner by two grieving mothers. While staged with a carefully considerate eye, these are among the scenes that may be triggering for sensitive audience members.
JM Chambers' promising "All That Remains," continuing through July 31 at the Marcelle Theater, is an intensely emotional play that is at times powerfully unsettling. The story is raw and visceral, as the serious drama touches on domestic violence, the loss of a pregnancy and a devastating school shooting. The subject matter is important and relevant, however – as a society we need to see and acknowledge the truth in Chambers' well-constructed if at times dense script. Theatergoers interested in thought-provoking, contemporary drama are sure to find plenty to discuss in this compelling new play.
Related Articles