Theatre Reviews
Theatre Reviews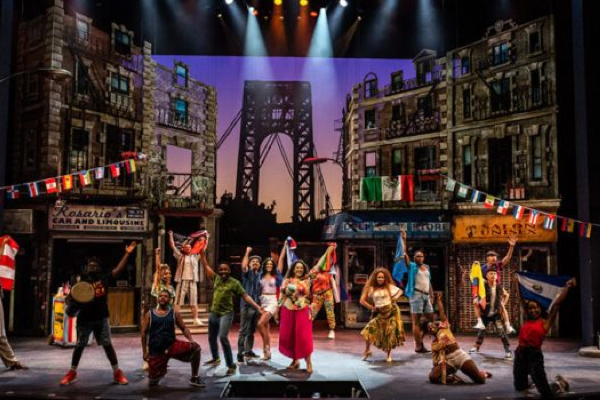 'In the Heights' at Stages: There's no place like home
By Chuck Lavazzi
The summer musical scene really heats up with Stages St. Louis' production of Lin-Manual Miranda and Quiara Alegrìa Hudes evocative "In the Heights." Engaging performances, memorable music and smart direction take the show over the top, ensuring the musical captivates the audience from start to finish.
Usnavi runs the neighborhood bodega with his cousin Sonny, struggling to keep the store open and his equipment running. He knows everyone who comes by, and notices the other shops near him closing up -- including Daniela's salon, where Vanessa, the woman he'd like to ask out, works. His close friend Nina Rosario has just returned from her first year away at college in California. Though everyone is happy to see her, she's apprehensive and harbors a few secrets including recently realized feelings for her father's employee, Benny.
Abuela Claudia, whom Usnavi has known his whole life, struggles in the heat but still tries to care for Usnavi and Sonny like they were still little boys. Even the power grid succumbs on the eve of July 4, plunging the Heights into darkness and confusion. Usnavi seems ready to give up and move as far away from the Heights as he can get until Sonny helps him regain his perspective. The story is filled with universal truths told through the experiences of immigrants and first generation citizens with Latin American and Caribbean heritage, without losing sight of the realities, challenges, and possibilities their still tenuous future holds.
As Usnavi, Ryan Alvarado guides through the musical with charm, confidence and just enough humbling awkwardness to keep the audience cheering for him. His rich, mellifluous voice easily covers the range, both in terms of hitting the notes and fluidly handling the many contemporary and traditional musical styles in the score. Tami Dahbura is the sympathetic and charismatic grandmotherly figure Abuela Claudia. Her featured song "Paciencia y Fe" is breathtakingly graceful, marred only by the fact the performer is so far upstage we lose some of the immediacy and emotional impact. Jahir Lawrence Hipps and Isabel Leoni ensure that we are invested in Nina and Benny's romance, and their voices shine best in their duets together. Amanda Robles, Ariana Valdes and Tauren Hagans standout among the uniformly excellent ensemble while Luis-Pablo Garcia captivates in every one of his scenes as the good-natured and resourceful Sonny.
The hard-scrabble working class ethic of the urban neighborhood is clearly communicated well before Graffiti Pete makes his first tag. The set design gives us tightly packed streets filled with signs of life, color and activity, even as some of the businesses shutter while the costumes help set the time and place, offering important socio-economic cues. Considering the visual environment, the show presses a little too hard to establish its point of view in the first few opening numbers and exchanges. Once the performers get through that first rush of energy however, they begin to breathe with their characters, delivering one mesmerizing, fully connected scene after another.
The show effortlessly mixes English and Spanish without leaving the audience behind and is smartly framed and guided by director and choreographer Luis Salgado. Similarly, musical director Walter "Bobby" McCoy seamlessly blends hip hop, pop, familiar refrains and traditional Broadway musical styles into a cohesive, story-enhancing score. "Breathe," "When You're Home" "Sunrise," "Carnival de Barrio" and "Alabanza" are among the surprising standouts in the uniformly excellent production. While not as fantastical as a trip over a rainbow, Usnavi's journey through his changing neighborhood is equally entertaining and revealing. Filled with interesting characters and unexpected twists and turns, the story leads him to realize he's been right where he belongs all along.
Filled with lively, inviting music, compelling characters and a warm hug of a resolution, the Tony-winning musical "In the Heights," continuing through August 21, is an enchanting production suitable for the entire family. The authentically derived story captures audience hearts and the richly textured score holds our attention from the first note, with songs and themes that linger well past the curtain. At its heart, the evocative and vibrant show takes Usnavi on an uncertain journey that reminds us, once again, that there's no place like home.
Related Articles