Theatre Reviews
Theatre Reviews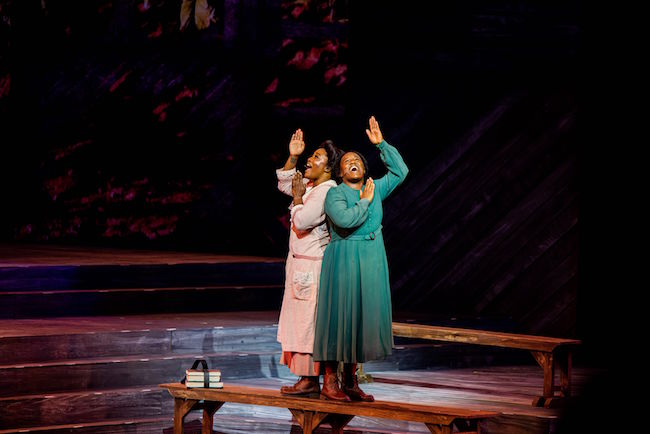 'The Color Purple' at The Muny: moving truths and superb storytelling yield a phenomenal show
By
The story of Celie, an undereducated Black woman growing up poor in the southern half of the United States in the early 1900s, has moved audiences ever since Alice Walker first penned "The Color Purple" in 1982. The Muny's premier production is visually, musically and theatrically stunning storytelling.
By the time she was 14, Celie had already given birth to two children, babies her Pa quickly snatched from her arms and disappeared with into the woods. Abused and berated for not being as outwardly attractive as her sister Nettie, whom she loves dearly, Celie learns to make the best of her situation by staying quiet and not complaining. She becomes more resourceful and hardworking instead, saving her troubles for her conversations with God.
Anastasia McCleskey is captivating, resonant and sympathetic as Celie, her exceptional voice a natural compliment to a Grammy winning score that effortlessly incorporates gospel and R&B influences. Nasia Thomas is radiant and pitch perfect as Nettie. McCleskey and Thomas harmonize easily, in ways that deepen the sense of their sisterhood. Nicole Michelle Haskins is charismatic, with a soulful voice, as Sofia, Tracee Beazer brings sensuality and heart to Shug Avery, and Erica Durham finds just the right balance of endearing and annoying for Squeak. Shantel Cribbs, Alexis J. Roston and Melanie Loren are church ladies Darlene, Doris and Jarene, this show's Greek chorus, and they, too, are flawless. From intonation to reactions to occasional humor, the trio consistently adds just the right finishing touch to the ensemble.
"The Color Purple" captivates attention with a focus on the Black women at the center of the story, but there are a number of important men as well and, once again, director Lili-Anne Brown, music director Jermaine Hill and executive producer Mike Isaacson succeed fantastically. Evan Tyrone Martin is hard to watch at times, but always compelling as the cruel and conflicted Mister. Gilbert Domally adds smooth, pleasant vocals and hope for the future as Mister's son Harpo. He makes plenty of mistakes but, like Celie, we want things to work out for him. Duane Martin Foster, Omega Jones, Jos N. Banks and Sean Walton provide solid support and excellent harmonies, with Jones vocals as the Preacher standing out among the early crowd-pleasing moments.
Spanning almost 35 years, Celie's story of enduring love, unfailing resilience and self-discovery is at once brutal and beautiful. Though staged for broad audience appeal, the musical, with a book by Marsha Norman and music and lyrics by Brenda Russell, Allee Willis and Stephen Bray, never shies away from the plot's more uncomfortable truths. At the same time, the tone and resolution offer the warmth and hope audiences crave, enabling them to wholeheartedly embrace Celie and her life's story with heartfelt applause and more than a few tears.
The evocative musical is also an acknowledgement and celebration of the too often overlooked kinship of Black women. Borne from necessity, the power of sisterhood is expressed, literally and figuratively, in Celie and Nettie's relationship. First shown in the prologue -- when young Celie and Nettie introduce us to the sister's favorite game -- their love, support and unwavering belief in each other is the heartbeat of this stirring story. Celie's relationships with other women in her life, particularly Sofia and Shug Avery, are equally important. They shape the story and Celie in ways that resonate with the pain and elation of authenticity. Celie finally finds financial security and personal success creating tailored pants for women, offering a fitting and satisfyingly hopeful conclusion to an often unbearable story arc.
The songs propel the show forward while adding texture, context and a sense of time's progression. "Mysterious Ways" kicks the story off with its high notes and gospel sway, while "Our Prayer" is a more simple expression of faith that features pleasing harmonies. Sofia commands the stage in "Hell No!" Exuberant in its delivery, the song deftly foreshadows the realities of the Jim Crow era that constantly threaten the characters. "Too Beautiful for Words" is introspective and sad, "Push Da Button," sexy and fun; both showcase Beazer's alluring Shug Avery. "What About Love?" is a tender, bittersweet duet, "African Homeland" a musical juxtaposition of contrasting worlds and similar challenges. "The Color Purple" and "I'm Here" close the show with stirring anthems that reinforce Walker's central themes with a touch of understated joy.
Though serious topics are broached, including domestic and racial violence and overt sexuality, actions are generally stylized and suggested, ensuring the impressive and affecting show is suitable for all but the very youngest audiences. The Muny artistic team keeps the staging unobtrusive and flexible for its production of "The Color Purple," continuing through August 9. The choice is smart and effective; audience focus is directed entirely to the moving and mesmerizing story unfolding on the stage.
Related Articles