Theatre Reviews
Theatre Reviews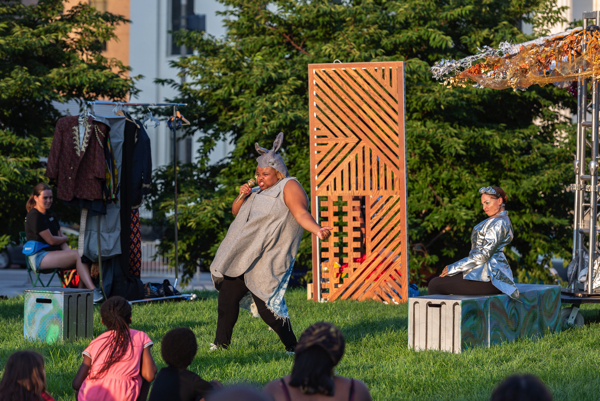 Shakespeare Festival St. Louis tours Modern 'Midsummer Night's Dream'
By Chuck Lavazzi
The St. Louis Shakespeare Festival's Tourco provides a free, hilarious, accessible, and inclusive production of "Midsummer Night's Dream," likely coming to a park near you through August 27th!
This touring show, playing 24 neighborhood parks across St. Louis and Southern Illinois (see www.stlshakes.org for locations), is a portable party with electronic dance music by director Tre'von Griffith, colorful costumes by Brandon Vaughn, and an energetic cast that makes the Shakespeare's comedy sparkle.
The production design by Laura Skrowska elegantly incorporates half a dozen blocks, an umbrella-like tree, and a couple art-deco patterned flats to provide a flexible – and portable – playing space. The highlight of the design is the costumes by Brandin Vaughn. Each actor plays several characters in three interwoven plots, and the costumes function to keep the characters clear as the stories intersect. On top of basic blacks, the Athenian characters wear multicolored, patterned accents; the actors in the play within the play wear flowing, solid-colored garments; and the fairies don steam-punk inspired chrome pieces. The costumes not only brought clarity to the story telling, but also provided much of the production's spectacle.
The other highlight of the production is the fantastic ensemble cast. The six actors play two or three parts each, and the casting is notable for being all Black and allowing actors to play multiple genders. The entire ensemble works fantastically together as a unified whole to make the audience guffaw, but the work of Rae Davis particularly shines as Hermia, Tom Snout (the Wall), and Titania—each of the characters differentiated, but each equally hilarious. Ricki Franklin's Nick Bottom is bombastic and I'll remember Bottom's extended, and extended, and extended sidesplitting death scene for a long time. Tiélere Cheatem's work is great in all three of their roles, but particularly late in the play as an insulted Helena batting away would-be suitors as if they were mocking flies.
Tre'von Griffith, as director, did a fantastic job bringing this cast together, working with the designers to create an open space for the cast to play in, and wringing every last joke out of this script. For me the production was at its most effective when it was at its most modern, such as when Mel McCray as Francis Flute used a cell phone to take selfies, or when Franklin's Nick Bottom used a microphone during a song and dance. Griffith very much opened up the script in those moments, and folks sitting around me commented after the show how well the play translated into the modern age.  
All in all, this accessible and hilarious adaptation of "A Midsummer Night's Dream" presented free in parks around the region is another great example of the St. Louis Shakespeare Festival living up to their mission of "art for all."
Related Articles