Theatre Reviews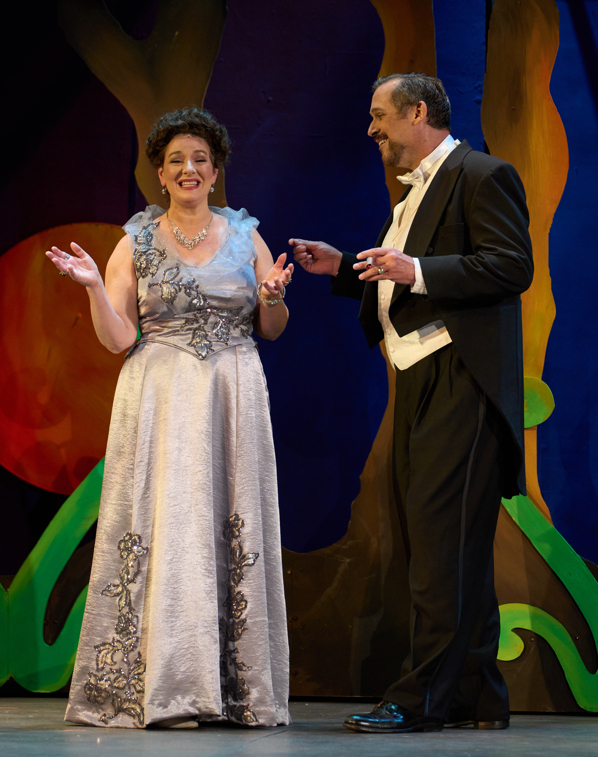 No Clowns Here: 'A Little Night Music' at Union Avenue Opera
Written by

Laura Kyro
St. Louis' Union Avenue Opera (UAO) is currently featuring a production of "A Little Night Music" as the third and last show of their 28th season. The musical—music and lyrics by Stephen Sondheim, book by Hugh Wheeler—debuted on Broadway in 1973, winning the Tony Award for Best Musical that year.
Informed by a 1955 Ingmar Bergman film, "Smiles of a Summer Night," "Night Music" is a few days in the life of a raft of dysfunctional people who, IMHO, it would take a team of psychiatrists years to sort out. As probably the most risqué of Sondheim's offerings, most characters are preoccupied with sexual encounters (or bemoaning the lack of) and sexual one-upmanship. The males disparage women as frivolous and of little consequence, yet it's obvious the women are controlling every situation.
Desirée Armfeldt (Debby Lennon), a fading actress, reconnects with lawyer Fredrik (Peter Kendall Clark) with whom she "liaised" (if you catch my drift) years earlier. Widower Fredrik has recently taken a teenage bride, Anne (Brooklyn Snow), with whom he has yet to "liaise" months after the wedding due to her hesitation. Seeking out Desirée, whom he begs to "liaise" with him, he runs afoul of Desirée 's current "liaisee" Count Carl-Magnus (Eric J. McConnell), whose wife  (Leann Schuering) blithely accepts his infidelity. Added to the mix are Fredrik's "frustrated" son (James Stevens), promiscuous maid Petra (Amy Maude Helfer), Desirée's mother (Teresa Doggett), a former courtesan, and Desirée's daughter (Arielle Pedersen), a result of Desirée's earlier "liaising" with Fredrik. Frequently joining in to "invisibly" comment on the going's on is the "Liebeslieder" quintet (Grace Yukiko Fisher, Gina Malone, Sarah Price, Joel Rogier, and Philip Touchette). Director Annamaria Pileggi chose a fine cast from new and returning UAO talent.
The original "A Little Night Music" cast album was an early purchase of mine, and I have since loved the haunting melody of the "Night Waltz," the counterparts of "Soon/Now/Later" (here, for some reason, "Later/Now/Soon"), "The Miller's Son," and, of course, the seminal "Send in the Clowns." All were nicely rendered here with the assistance of the excellent Orchestra (Conductor Scott Schoonover).
Technically, the production had many pluses, but a few not so pluses. Pluses included the costumes (Teresa Doggett), simple yet effective set backgrounds for both acts (C. Otis Sweezey), and some very fine voices. Not so pluses included some voices that didn't quite fill the space (there were no personal microphones, but I can't help but think that perhaps a few discrete mics would have helped balance things), the supertitle screens above the stage were very distracting, and, unfortunately, the frequent stops of the show to bring on and take off set pieces crashed dead any moods or emotions that were being generated by the actors.
"A Little Night Music" is being performed at UAO's home stage, 733 N. Union Avenue in the Central West End. The production runs about 3 hours, including a 20-minute intermission. For more information, unionavenueopera.org.
Related Articles