Theatre Reviews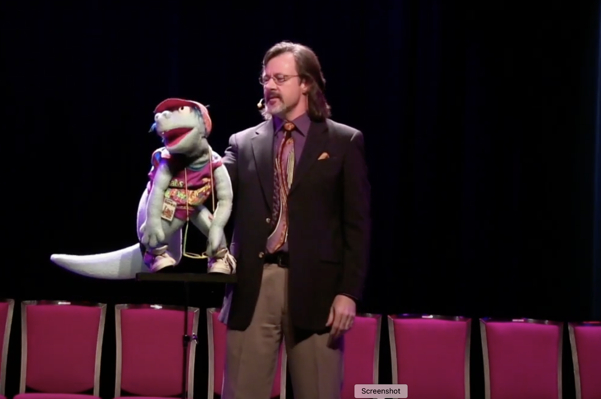 Cards, characters, and comedy at the Blue Strawberry's 'Magical Mondays' series
Written by

Joanne Fistere
At The Blue Strawberry Monday night, September 19th, the small crowd was treated to an evening of ventriloquism and illusion served up with aplomb by old school professionals Steve Corbitt and Keith Haddrill. This latest offering in the "Magical Mondays" series was all that and more due to these two fellows' talents, skills, and delightful senses of humor.
Magician Steve Corbitt started the evening early with pre-show audience visitations of close-up magic making his way from table to table. Our party was entertained with perfectly delivered vaudevillian jokes and various coinage pulled from my ears (and no, that NEVER gets old!). Watching him make every patron feel like a dearly loved family member warmed my heart even more than the 95 degree heat we had left on Boyle Street.
Ventriloquist Keith Haddrill's impressive credits include a stint on the Tonight Show, entertaining 911 survivors, and a Master's Degree in Aerospace Engineering. Keith took the stage at 7pm introducing the first of his three characters, Jeremy, the teenage blue dinosaur. Jeremy was a typical teenager and Keith had trouble, as one would, keeping him in check. A few highlights for me were when Keith and Jeremy's voices went deliberately out of sync mimicking an early dubbed Godzilla movie (talk about MAGIC!) and when they sang a duet of "Pick-a-Little, Talk-a-Little".
The second character was a "try out" of Roberta, a five-year-old Girl Scout who was, in fact, a reincarnated mobster. Her throaty voice was a delightful contrast to her little girl persona and her story of taking over the sales of Girl Scout cookies was an absolute hoot.
Keith's final character, and he clearly saved the best for last, was Grandpa. As you would imagine he was a surly old guy and poked fun at Keith at every turn. Twice when Keith took sips of water, Grandpa pointed out that no one was speaking… to be honest I needed the reminder that we were watching a ventriloquist because he really is that good. Grandpa's song parody of "Stayin' Alive" was hysterical and on point. This was Keith's first appearance at The Blue Strawberry, and I hope it won't be his last. His spectacular talent and whimsical characters are a fabulous addition to the St. Louis art scene.
When headliner Steve Corbitt took the stage, I immediately knew we were in for a treat. Steve is a terrific performer and has the uncanny ability of appealing to everyone. There was a great melting pot of people in the crowd Monday night and Steve managed to make everyone feel right at home. He brought up a couple of the younger members of the audience to help out a few times and we were all enchanted. He completely boggled all of us by producing the card one of his volunteers had chosen (she had signed the card to ensure it wasn't switched) from the back of his throat! Don't worry, he gave her disposable gloves to take it from his mouth. He had fun with another young woman having her cut loop after loop of a rope only to have it end up not being cut at all, and giving her the rope as her reward. While his is not the spectacular magic of disappearing elephants or sawing people in half, Steve entertains with the classic showmanship of a seasoned illusionist: perfected card tricks with just enough nuance to keep you guessing, demonstration of the traditional handkerchief turning into a hollow egg which becomes an actual egg, and mysterious giant cards with changing faces. No trick Steve does will ever go out of style.
His delightful patter and perfectly delivered slightly off-color jokes made for an absolutely joyful evening. He ended it on a lovely note talking about the tapestry of life and how we are all intertwined and interconnected. At the end of the evening, I did indeed feel connected to this room full of strangers with whom I had just enjoyed a few hours of silliness and sleight of hand. It was, at least for me, a very magical Monday.
The Blue Strawberry Showroom and Lounge is at 356 N. Boyle in the Central West End. Information on upcoming shows is available at the Blue Strawberry web site.
Related Articles