Theatre Reviews
Theatre Reviews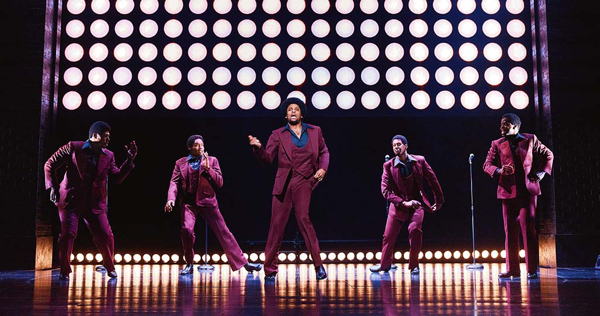 You'll do anything to hear them sing: 'Ain't Too Proud' at the Fox
By
"Ain't Too Proud: The Life and Times of The Temptations" arrives at The Fabulous Fox trailing clouds of glory—or at least clouds of hype. That cloud includes a dozen Tony Awards, a "Critic's Pick" listing by the New York Times's Ben Brantley, and a review by Tim Teeman in The Daily Beast  dubbing it a "gold-standard triumph."
[Listen to the Original Cast album on Spotify.]

Not every show can live up to expectations like that, but "Ain't Too Proud" can and does. This is a theatrical powerhouse that boasts a killer cast with enough talent and energy to light up several cities and, most importantly, a solid script that a makes it far more than a typical jukebox musical.
Photo: Emilio Madrid
Credit book author Dominique Morisseau for that. A well-established playwright and the recipient of multiple awards, including a MacArthur Genius Grant, Morisseau infuses the well-worn tale of the personal costs of stardom with a credibility and humanity that makes it relatable and mostly avoids the usual clichés of the genre.
Based on the memoir "The Temptations" by Otis Williams (the last surviving member of the original quintet) and Patricia Romanowski, "Ain't Too Proud" is essentially a memory play in which Williams tells the story of the triumphs and tragedies of the  first three decades of the legendary soul/R&B group. Still alive and singing after 62 years, The Temptations' roster has included 27 performers over the decades. But since only Williams, like Mehlville's Ishmael, is "escaped alone," it seems only fair that he gets to tell the tale.
It's a long and rocky road that The Temptations travel. It begins with Otis running afoul of the law on the Detroit streets ("Runaway Child, Running Wild") and finding a new path in music. He recruits baritone Paul Williams (James T. Lane) and tenor Eddie Kendicks (Jalen Harris), along with a rapidly changing assortment of basses and tenors, to form a series of groups with names that change just as rapidly: The Cavaliers, The Primes, and even, improbably, The Siberians.
Photo: Emilio Madrid
With the addition of tenor Elbridge "Al" Bryant (Brett Michel Lockley) and bass Melvin Franklin (Harrell Holmes, Jr.), who stuck with the group until just before his death in 1995, the Elgins (another name change) are still treading water until Otis arranges a "chance" meeting with Motown Mogul Berry Gordy (Michael Andreaus) in a backstage restroom ("When you hear Mr. Berry Gordy himself is headed to the bathroom," recalls Otis, "you suddenly have to pee real bad"). Gordy likes their sound but hates their name. They finally decide to call themselves The Temptations ("because once you hear us sing, you'll do anything") and the reset, as they say, is history.
For the members, though, it was often a turbulent history, both on a personal and political level. We see the group struggle with the impacts of racism ("Don't Look Back"), drug use ("Cloud 9"), the assassination of Dr. King ("I Wish it Would Rain"), and the 1967 Detroit riots, as well as with the clashing egos and emotional  problems that resulted in frequent changes in the makeup of The Temptations.  
Bryant was the first to go, cashiered for his violent outbursts ("I Want a Love I Can See"). He was replaced by David Ruffin (Elijah Ahmed Lewis, in a spectacular performance), whose gaudy stage presence and acrobatic dancing made him the ideal front man but whose inner demons eventually led to his departure ("I Could Never Love Another"). Others came and went over the years, but it was the team of Ruffin, Kendricks, Franklin, Otis Williams, and Paul Williams that created the classic Temptations sound.
Photo: Emilio Madrid
And it's that sound that permeates "Ain't Too Proud". The story of The Temptations' trials and triumphs unfolds amid a steady stream of their hits: "Shout," "My Girl," "I Can't Get Next to You," "Ain't Too Proud," "Papa Was a Rollin' Stone" (a song they all hated, which naturally became a #1 hit), and so many others. For anyone who loves their music, this show is a nonstop delight. More impressively, the songs are closely interwoven with and advance the story.
Accompanied by a quartet of touring musicians fortified up by a choice collection of local players and  conducted by Jonathan "Smitty" Smith (they're on stage, but hidden by the backdrop ), this amazing cast sings and dances its way through over 30 Motown classics. The many stunning performances include Holmes's stolidly loyal Melvin Franklin, (complete with a big, powerful bass voice), Lane's tragic Paul Williams, Andreaus's imperious Berry Gordy, and Traci Elaine Lee as the group's first (and least principled) manager, Johnnie Mae, whose noisy departure in their confiscated Cadillac is surely one of the best exits in musical theatre ("I've Been Good to You").
Lee returns later in the show with Amber Mariah Talley and Shayla Breille G. as The Temptations' top 40 rivals, The Supremes. The trio totally nails the sinuous moves and close harmonies of the original ("Supremes Medley").
Photo: Emilio Madrid
Last but certainly not least is Marcus Paul James as Otis Williams. Since Otis is our eyes and ears, the actor playing the role has to be immediately appealing and credible. James is certainly that, and (like everyone else in the cast) he's a damn fine singer as well. He lets us see the character's mix of pride, regret, and wry wisdom. He's an ideal guide on this musical odyssey.
Sergio Trujillo's choreography perfectly captures the flashy and fluid movement that became a Temptations trademark. Peter Nigrini's projections and Robert Brill's sets create rapid-fire scene changes, and Paul Tazewell's costumes colorfully evoke the changing styles of the late 20th century.
The bottom line is that "Ain't Too Proud" pulls off the neat trick creating a theatrical hybrid of the hit-driven juke box musical and the plot-driven musical drama. And it does so with a large and phenomenally talented ensemble cast and an eye-popping dash of technical flare. It runs close to three hours but moves so quickly and is so consistently compelling that it seems like the blink of an eye. This is one you don't want to miss.
The tour of "Ain't Too Proud" plays The Fabulous Fox through Sunday, October 2nd, after which it's off to other venues in the US and Canada. More information is available at the Fabulous Fox web site.
Related Articles