Theatre Reviews
Theatre Reviews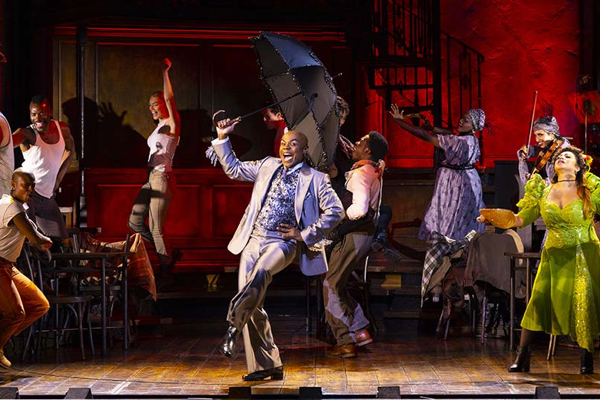 'Hadestown' at the Fabulous Fox: The irresistible power of hope and love
By Chuck Lavazzi
Through October 23rd the Fabulous Fox presents the local premiere of the Tony-award winning musical "Hadestown"
The mythological story of Orpheus and Eurydice gets a musical retelling, with Hermes as our narrator, and Hades and Persephone the hosts if a post-modern industrial underworld that looks a lot like New Orleans French Quarter, replete with a jazz band featuring a swinging trombonist.
In the underworld, Hades becomes more unhappy and angrily ambitious with each day Persephone lives above ground, causing him to cut short the seasons and bring her back to him with increasing frequency. This results in famine and unease for the people above ground.
On earth, the young poet and musician Orpheus struggles to complete a song to bring the unbalanced world back in harmony. Eurydice searches for food, fire and shelter. They find each other and fall in love but the struggle continues and, eventually, Eurydice signs a pact with Hades and becomes a worker in his underground enterprise. A distraught Orpheus sneaks into the underworld, finds and reawakens Eurydice and others with his music. Hades is so touched he offers a chance for the two to escape together, and there's just one catch.
The setting complete, the bittersweet story is told through a vibrant score that plays free and loose with the blues, jazz, a hint of gospel, ragtime, ballads and belted out rock and pop melodies to create a cohesive story arc with a satisfying emotional punch.
Nathan Lee Graham, as Hermes, and Dominique Kempf, Belen Moyano and Nyla Watson, as the Fates, guide us through the story with pointed observations and layered harmonies, as well as touches of humor and empathy. As Hades, Mathew Patrick Quinn's deep, resonant vouce is imperious and compelling and complimented by Shea Renne's effortless, soulful Persephone. However it is Hannah Whitley's impressively plaintive and evocative Eurydice and Chibueze Ihouma's flawless falsetto and aching as Orpheus that captivate and elevate the remarkable show.
"Hadestown" is a beautifully wrought rollercoaster ride that thoroughly entertains. Audiences may be moved to tears of sorrow and wish to rewrite the story's ending, but they will also feel the irresistible power of hope and love. Ticket information is available at The Fabulous Fox web site.
Related Articles