Theatre Reviews
Theatre Reviews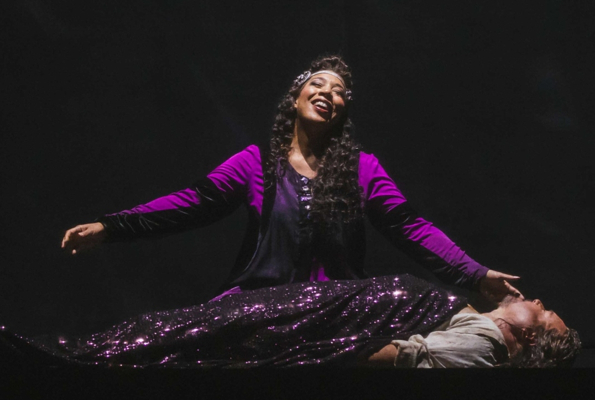 Opera Review: Wagner makes long-awaited return to Seattle Opera in a stunning 'Tristan und Isolde.'
By Chuck Lavazzi
The music drama of Richard Wagner returned at long last to Seattle Opera this month in a well-cast, sensitively presented, and thoroughly affecting staging of "Tristan und Isolde," seen on 15 October.
During the tenure (1983-2014) of Seattle Opera's indefatigable general director, Speight Jenkins, the company rightfully earned the moniker "America's Bayreuth," reflecting its prominence as the premiere location on this continent for presenting Richard Wagner's music dramas, even past other A-level houses. Wagner nerds converging on the Pacific Northwest became a rite of August, from fifty states and many countries, especially for "Der Ring des Nibelungen." Jenkins' successor Aidan Lang shelved the composer entirely, before departing for Welsh National Opera, the only Wagner production during his stay a legacy "Der Fliegende Holländer" in 2016, planned by Jenkins. As the most resource-demanding composer in Classical music, Wagner cannot simply be restarted instantaneously, and current (2019-) intendant Christina Scheppelmann necessarily took a few seasons to arrange funding and a world-class cast, resulting in a "Tristan und Isolde" worthy of any era. The prima unfolded on an unseasonably warm night in a house crackling with anticipation.
"Tristan" served as the best choice for this restoration. An entire library treats the subject of its anti-Semitic, political, and politicized composer, well beyond the scope of this review. Of the ten canonical Wagner operas, however, "Tristan," converses the least with Society, its artistic focus escaping, not least, considerations of German artistic nationalism ("Die Meistersinger von Nürnberg"), or Christianity ("Parsifal"), or whatever might the "Ring" have to say about 19C capitalism. Its romantic dyad speak of leave-taking of the world, in paradoxes of life and love-in-death, derived from Wagner's readings of philosopher Arthur Schopenhauer. Contrasting Wagner's toxic social stances in his essays, in his music dramas the answer is nearly always Love, and "Tristan" explores erotic love with an angularly personal lens: a woman, a man, and the lethal fallout of their attachment to each other. In German and Austrian houses, it's nearly a given that, post-WWII, "naïve" productions of Wagner simply won't do, and while for decades Seattle struck an admirable balance between representational and avant-garde approaches to staging of Wagner, "Tristan" is a work that could ethically be presented without actively engaging with thorny -isms. This production focused not on the composer, but wholly on the music drama and the performance.
And what a singer-focused performance. A Seattle Opera favorite, Mary Elizabeth Williams' role debut as Isolde stood as a comprehensive triumph of vocalism, attention to text, and acting. She made Isolde a real woman in love, located in complex human experience. Too often in Act I, Isolde presents a caricature of gendered anger, a screechy Teutonic Turandot. (The fault isn't all Wagner's, but in performance). Williams revealed Isolde's multifaceted humanity through the score and the text. Isolde, let's remember, is a princess and a sorceress; Williams projected majesty with her sizable lirico-spinto. Act I often drags as we await the greater glories of the score in Acts II and III; she delivered the most lyrical and affecting Act I have heard live. Never dull, she projected playfulness in needling Tristan about the superiority of her boyfriend Morold, whom he slew. While she eventually unleashed fury in delivering Isolde's curse, she engineered a slow buildup thereto, from her initial, supine appearance following the prelude. But she also communicated real compassion for Tristan, wounded, as she nursed him in the opera's backstory, and oft expressed a stance more wounded by than angry at her travails. In Act II she expanded the emotional spectrum, truly ecstatic at Tristan's appearance, and genuinely curious in the word-parsing "dieses wörtlein" passage, buoyed by her excellent German diction. By Act III, she assumed a hieratic gravity in her affect as she shrouded Tristan's body with her cape. Her superb pacing allotted plenty of vocal reserve for a Liebestod resplendent with spin, float, and a soaring final F#.
The casting of soprano Amber Wagner—who sings Senta, Sieglinde, Elisabeth in "Tannhäuser"—as Brangäne (usually a mezzo-soprano) proved both inspired and strange. In a way, her bright, dramatic soprano timbre and larger voice seemed to place two 'Isoldes' onstage simultaneously. Much of Act I juxtaposed their contrasting instruments, not to Williams' disadvantage, but with Wagner certainly sounding more "Wagnerian" and making Williams appear somewhat Verdian. Curious about this during the performance, afterwards I pivoted to a different understanding: this casting forces audience veterans to reexamine their assumptions about what, indeed, "sounds Wagnerian." She played Brangäne as motherly and protective towards Isolde and sang with fulsome tone. For my money, this character receives from the composer the most beautiful three minutes of song in his entire oeuvre; frequently she delivers "Eisnam wachend" from offstage or far upstage, but Wagner was situated downstage left, so Brangäne's warning to the lovers landed more fortissimo than usual. Wagner sang beautifully; one would like to hear her as Isolde.
A great Heldentenor is hard to find, and the role of Tristan qualifies as nearly impossible, requiring great flexibility, pacing, and fathoms of vocal resources. As Tristan, Stefan Vinke proved vocally overbabed by his counterpart. The voice simply sounded much healthier when he appeared as Siegfried in Seattle's last "Ring" (2013). His forte, not bad, was more anchored on the body; mezzoforte less stable, and piano ashen and vibratoless. This sort of worked in Act III, when Tristan lies dying, beset by hallucinations, but in Act I he sounded a bit wooden and no match for Williams' queenly force during their argument, and in act II his vocal labor distracted from the love duet as she bathed the audience in gorgeous sound. This opera often seems as though the title should have been "Isolde and Tristan," and his relative difficulties foregrounded not only Williams' standout performance, but also baritone Ryan McKinney's burnished Kurwenal and the sturdier Melot of tenor Viktor Antipenko, who might reasonably graduate to Tristan.
D'Angelo Barksdale of "The Wire" memorably observed that "The King stay the King," and in mid-career, Morris Robinson's bass remains an absolute marvel. Many basses wow with either the upper register or the lower, or they dazzle with force but not beauty, or beauty but not force, but as King Marke, Robinson delivered all of the above attributes. You'd never have guessed this was a role debut; in the monologue, his Marke led the audience on a developmental arc, through genuine confusion that Tristan would betray him with Isolde when it was Tristan who encouraged him to take a second wife, through loss of faith in honor and loyalty themselves, and then finally to personal injury. Often, King Marke will communicate the last of those throughout, in a woofy dressing down of the lovers, despite its appearance late in the text. Robinson's performance schooled them so thoroughly that when Tristan responded, "O King, I cannot tell you [why]," we understood Marke's questions to be philosophical and lack any answers at all. While the Liebestod hogs the attention, King Marke's monologue really serves as the very core of the opera, and here Robinson centered it appropriately.
Outside the preludes to Acts I and III, conductor Jordan De Souza led the orchestra as a true accompanist to the singers. Many maestros, Wagner included, have tended to regard the Wagnerian orchestra as the be-all end-all of performance, but for long stretches—this is high praise—I forgot there were there, so integrated were they with the vocal and stage action. Those preludes, and the entire performance, enjoyed great sonic balance and propulsive forward momentum that nonetheless didn't seem fast, giving the work the space it requires in order to distort time in the ways it aims to do. But when it was time to briefly feature individual instruments and sections, such as the English horn, great beauty stood out, and few operas feature the celli so winningly.
Like the orchestra, Marcelo's Lombadero's production team complemented and foregrounded the singers rather than insisting on their own work. Horacio Efron balanced low lighting with palpable warmth, especially on the principals—"Tristan" unfolds at night, after all. Set designer Diego Siliano achieved arresting effects with two relatively simple means, a foreground scrim on which many of Matías Otálora's projections appeared, including a panoply of Celtic knots and other images of twining and binding, and rear projections mostly of the sea. This created richly textured depth of field, in the midst of which the singers operated. In Act II's Liebesnacht, the sea gave way to a starry sky reminiscent of Millet and Van Gogh, the lovers appearing in rectangular frames, negative space physicalizing their impending entrapment. With Act II's deforestation, and in Act III as the background sea rose to punctuate Tristan's delirium, like Seattle's famed "Green" Ring (2001-13), gentle messages of ecological disaster were hard for a contemporary audience to ignore. A central platform rose and fell as needed to serve variably as Isolde's bed in Act I, the lover's lair in Act II, and very nearly an altar on which the lovers expire in Act III. Luciana Gutman's costumes also served to accent the singers when necessary and do nothing more. The men looked interchangeable, but for King Marke in a fur cloak, so the women really popped, Isolde in regal purples and blues, and Brangäne in an emerald shade. A pitch perfect staging in every way.
A last word on personnel. Certain corners of operatic repertory stay curiously whiter than others, and Wagner is one. In 2022, casting an African American Isolde or King Marke should not be noteworthy. But Grace Bumbry debuted at Bayreuth as Venus in 1964, and 2022 is too like 1964 in the notoriously retrograde business of Classical music; in two 2022-23 productions of Wagner, the Met advertises no principal singers of color at all. Seattle Opera has cultivated, relatively speaking, a reputation for inclusivity, and other companies would do well to follow.
The audience received this "Tristan" rapturously, especially the curtain calls of Williams, Amber Wagner, Robinson, and the production team. Wagner has come home to the Pacific Northwest.
"Tristan und Isolde" continues at Marion Oliver McCaw Hall in Seattle through 29 October, 2022.
Related Articles