Theatre Reviews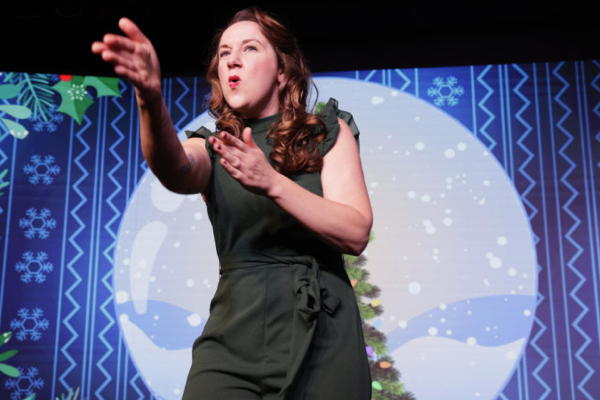 Jennifer Theby-Quinn is the Christmas Star in "The Twelve Dates of Christmas"
Written by

Joanne Fistere
Playwright Ginna Hoben's "The Twelve Dates of Christmas" had its world premiere in 2010 at the American Shakespeare Center in Staunton, VA. The one woman show revolves around thirty something Mary, who immediately comes across as strong, funny, and more than capable of taking care of herself. However, after seeing her fiance kiss another woman at the televised Thanksgiving Day Parade, Mary's life falls apart -- just in time for the holidays. The play then covers the next 12 months of Mary's attempt to find love. I had high hopes for this script walking in. I thought perhaps we were going to finally have a strong unmarried female protagonist who doesn't need a man to complete her. But by date three my hopes were dashed and I realized Mary was on the same journey we've seen in rom-com after rom-com where the smart and savvy single woman must find love in order for her to truly be whole. To her credit, Ms. Hoben does not end the play with any sort of sappy resolution. In fact, the ending of the play is so abrupt and unclear that the actor has to wink at the audience to let us know it's over.
Starring in this one woman show, Jennifer Theby-Quinn navigates approximately 20 different characters with such clarity and aplomb I could almost see the other actors on stage with her. She brilliantly tackles the very vanilla script adding glorious spices at every turn. Video design by Margery and Peter Spack enhance the set-free production and provide captivating visuals without overshadowing Jennifer's lovely performance. Director Lee Anne Matthews guides the production beautifully bringing all the elements together nicely. There are pre-recorded announcements and interactions of Theby-Quinn throughout which are sadly distracting because the sound is out of sync with the video which is a disappointment in the newly renovated Westport Playhouse.
The show is worth a night out this holiday season just for the joy of seeing a terrific comedic actor having some great fun playing lots of kooky characters. And it's always nice to have an alternative to the same old holiday fare.
"The Twelve Dates of Christmas" plays through December 30th at The Westport Playhouse. For Tickets and information go to The Westport Playhouse web site.
Related Articles