Theatre Reviews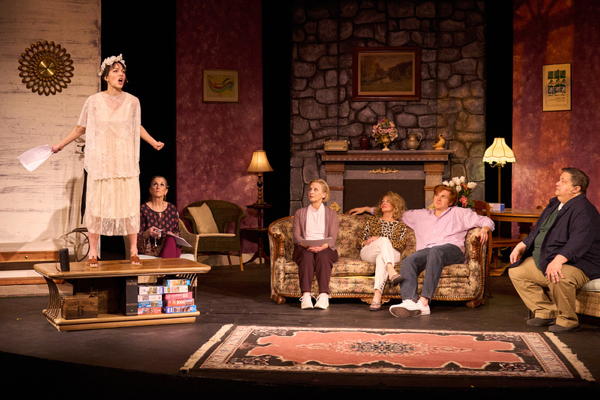 'Vanya and Sonia and Masha and Spike' is ABC (Anything BUT Chekhov) at KTG
Written by

Joanne Fistere
"Vanya and Sonia and Masha and Spike" by Christopher Durang, premiered on Broadway in 2013 and won the Tony award for Best Play that year. The comedy revolves around the relationships of three middle-aged single siblings, two of whom, Vanya and Sonia, live together, and takes place during a visit by the third, Masha, who supports them. They discuss their lives and loves, argue, and Masha threatens to sell the house. Masha, an aging, narcissistic, movie star arrives with her twenty-something boy toy, Spike in tow. There is a housekeeper, Cassandra, who frequently makes dire predictions that are repeatedly ignored, who stirs the pot from time to time. Finally, we meet Nina, the nubile, fresh faced aspiring actress neighbor who is enamored with Masha but Masha sees only as a threat. Hilarity, with a Durang sensibility and Chekhovian twist, ensues.
The Kirkwood Theatre Guild's production of "Vanya and Sonia and Masha and Spike" opened Friday night (January 20) at the Robert G. Reim Theater in Kirkwood. Director Rick Duplissie describes the play in his program notes as "Chekhov in a blender" and "a sunny play about gloomy people". Early on in the play the character of Sonia says "I don't think community theater should do Greek tragedy"; the same could be said about community theater doing Durang. And this particular Durang is a very tough nut to crack. Even though it won the Tony for Best Play it did not receive a lot of critical praise and was even considered some of Durang's "blander and thinner" work and "belabored" and "scattershot". But KTG gives it the old college try and for that I say GOOD FOR YOU!
Ken Lupinot, as Vanya, does a lovely job as the peace keeper between his sisters, Sonia and Masha. His monologue in Act 2 is well done and shows some nice range for the new president of the Guild. Annie Baker, as Cassandra, has a lot of fun showing off her Shakespearean over-the-top chops and physical comedy range with her character's unwanted sixth sense. Deborah Dennert's Masha is a little one note for my taste but that may have been opening night jitters as was I hope the constant lower lip biting.  Mason Ramsey plays Spike and is a recent musical theatre graduate. Mr. Ramsey seems somewhat uncomfortable on stage and very aware of the audience but I believe as the run of the show goes on he will feel at home and start to have more fun with the part. Ali Linderer is a delight as Nina and warms the stage with her presence. Jan Mantovani as Sonia steals the show with her nuanced phone call in Act 2. She is real and grounded which is the key to Durang humor and satire.
Rick Duplissie's direction is a bit uneven. The exit of Spike feels as if there wasn't enough time to rehearse that scene and it got shortchanged somehow. The lighting design by Stu Safranski works well but for the inconsistency in lighting changes for Cassandra's predictions. The set for this country house by Kent Coffel and Stephanie Robinson is perfectly designed. Costumes by former Guild president Cherol Bowman Thibaut are just right.
 
This will be a fun night out and you don't have to know anything about Anton Chekhov or Christopher Durang to enjoy yourself. "Vanya and Sonia and Masha and Spike" runs through January 29th at the Robert G. Reim Theatre in Kirkwood.
Related Articles