Theatre Reviews
Theatre Reviews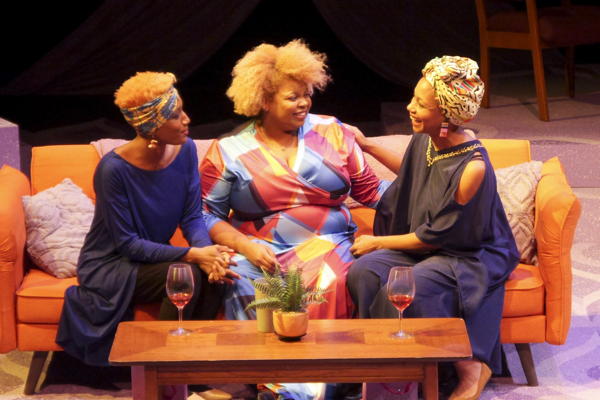 Mustard Seed Theatre is back with brilliant 'Feminine Energy'
By Jacob Juntunen
"Feminine Energy" is a new play by Myah Gary who, full-\ disclosure, is a grad student in playwriting of mine at Southern Illinois University. The script was originally commissioned by the St. Louis Shakespeare Festival, and now gets its world premiere from Mustard Seed after the theatre's four-year hiatus. The play is a triptych: it follows three Black women protagonists who are all best friends, sometimes featuring scenes of them together, sometimes following one of them on their particular journey. Together they navigate health issues—some medical, some societal—but all particular to women. By having three characters with different goals and circumstances, the play avoids polemics as it addresses difficult topics. Instead, the script invites discussion, and it impressively moves from humor to pathos to joy.
Director Jacqueline Thompson keeps all the story-threads clear, weaving together a lovely tapestry. Thompson has assembled an all-star cast—Rae Davis, Michelle Dillard, Ricki Franklin, Joshua Mayfield, Claire Louis Monarch, Andrea Purnell, and Erin Renee Roberts—and their performances individually and as an ensemble create a world that feels real and full of love between friends and family that leads to the completely apt exuberant ending.
The script follows Soleil, Monique, and Debra, three longtime friends navigating very different troubles in their lives. Ricki Franklin, Andrea Purnell, and Erin Renee Roberts play these roles and anchor the production. Rae Davis, Michelle Dillard, Joshua Mayfield, and Claire Louis Monarch play a host of roles, and each of them creates specific, recognizable characters, never relying on cheap stereotypes. The acting is a huge strength in this production.
The costumes by Shevaré Perry, a multi-faceted artist of fashion design, go a long way towards defining each character and their journeys. The set design by Patrice Nelms and lights by Michael Sullivan keep areas of the stage isolated for the play's many locations.
I can understand why Mustard Seed Theatre would come back to do this play, and why Jacqueline Thompson would champion it after directing a reading of it for the St. Louis Shakespeare Festival. This production brilliantly puts onstage struggles and joys of Black women that I have never before seen portrayed in the mainstream, and it does so while making the audience laugh out loud and collectively catch our breath, sometimes in the same scene. This is powerful stuff.
Performances of "Feminine Energy" continue through February 19th at Fontbonne University Theatre. For more information, visit the Mustard Seed Theatre web site.
Related Articles