Theatre Reviews
Theatre Reviews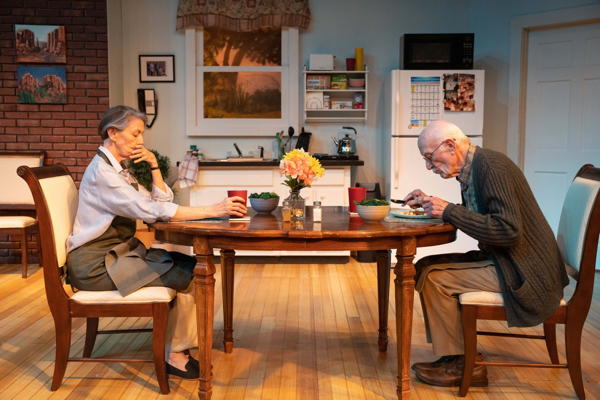 Moonstone's "Grand Horizons" is a well-cast, intriguing look at relationships, family
By Michelle Kenyon
What happens when a long-married couple suddenly declare that they're planning to divorce? That's essentially the premise of Moonstone Theatre Company's latest production, Bess Wohl's "Grand Horizons," directed by Sharon Hunter. This well-cast, characterful comedy-drama explores the effects of such an announcement on a couple's family, as well as revealing difficult truths about their relationship with one another, and also with their adult children, and how years of unspoken issues influence the lives of those around them.
The divorce announcement is not a spoiler. It's the inciting incident of the play, with the idea introduced in the very first scene, as Bill, played by Joneal Joplin and Nancy, played by Sarah Burke, sit down to dinner what appears to be a familiar, mostly wordless ritual. Lack of communication becomes a major theme in this story, as the couple's adult sons, Jared Joplin as Ben and Cassidy Flynn as Brian, along with Ben's pregnant wife Jess, played by Bridgette Bassa, react to the news in a somewhat explosive manner. Obviously, the "kids" aren't happy, and the brothers determine to stick around until they can convince their parents to change their minds, or at least explain themselves, which they don't seem ready to do at first, even to each other. What ensues is a series of difficult revelations and not a few surprises, some more shocking than others, as the truth of the long-standing strain in the marriage is revealed, along with its effect on their sons, including Ben's relationship with Jess, who has her own frustrations with her husband's apparent lack of sensitivity. Brian, meanwhile, deals with the fact that he doesn't seem to be taken seriously by his family, and deals with commitment issues of his own while he deals with the revelations about his parents and his role as "the emotional one" compared to his more "practical" older brother.  
The play also deals with issues of aging, changing views of gender roles in marriage over the decade--especially in expectations for women--the concepts of parental influence on children, and parental roles in the lives of their children as they grow up start their own independent lives and relationships. The characterizations are strong, the story is well-structured, and the pacing is timed with precision, with just enough time given to the more important revelations, the various surprises having a suitably strong impact.
The cast here is excellent, led by long-time St. Louis actor Joneal Joplin as wannabe stand-up comedian Bill, and Burke as the initially reserved Nancy. The interplay between these two provides much of the drama, as well as a good deal of the humor, and both performers adeptly reveal layers of their characters' personalities as needed. There are also strong performances from Jared Joplin--Joneal's real-life son--as the more emotionally reserved, practically minded older son Ben, and Flynn as the conflicted, more expressive younger son Brian. Bassa, as Ben's wife Jess, a family therapist, is a strong presence as well, trying to help her husband's family deal with their new situation while also dealing with tensions in her own marriage and expectations for the upcoming birth of her child. There's also excellent support from Carmen Garcia as Carla, a rival for Bill's affections, and William Humphrey in a brief but memorable scene as Tommy, a man Brian brings home for an intended romantic liaison.  The ensemble chemistry is dynamic and credible, contributing much to the overall dramatic and comedic impact of the show.
The production values are superb, with a detailed set by Dunsi Dai that believably recreates a unit in a retirement community. The costumes by Renee Garcia suit the characters well, and Michael Sullivan's lighting contributes much to the mood of the production. There's also impressive sound design by Amanda Werre, and effective use of music when needed, especially in the last moments of the show, in which the chosen song couldn't be more perfectly selected.
"Grand Horizons" is another strong showing from the relatively new Moonstone Theatre Company. It's an insightful, sometimes whimsical look at marriage, family, and most of all, the importance of communication and true intimacy in relationships. It's a great turn from a stellar cast and technical crew.
Performances of "Grand Horizons" continue at the Kirkwood Performing Arts Center until April 2. For more information, visit moonstonetheatrecompany.com
Related Articles