Theatre Reviews
Theatre Reviews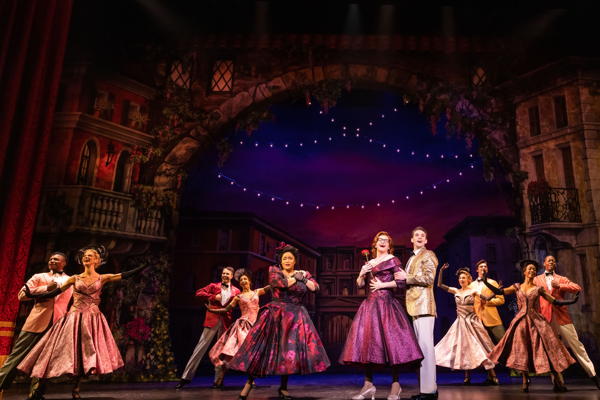 A somewhat disappointing opening night for 'Tootsie' at the Fox
By Chuck Lavazzi
"Tootsie", the musical, by David Yazbek and Robert Horn, premiered on Broadway in 2019 and garnered multiple Tony nominations winning Best Book and Best Leading Actor. If you've seen the 1982 film "Tootsie", you know the basic plot. Talented but temperamental actor, Michael Dorsey, can't get a job in television so he reinvents himself as Dorothy Michaels and lands a role on a soap opera. He falls in love with the leading lady and comedy ensues. Of course, that was Dustin Hoffman and Jessica Lange in the movie.
The plot of the musical "Tootsie" is a little different. Instead of trying to get a job in television, it's on Broadway. And instead of a t.v. soap opera it's, you guessed it, a musical, within the musical.
Opening night at the Fabulous Fox of this national tour of "Tootsie" felt more like a dress rehearsal. The spot light in particular was having a lot of trouble finding its mark. The show wasn't helped by the lack of energy of Drew Becker as Michael/Dorothy. His Dorothy does not convince me that she would be cast in the musical entitled "Juliet's Curse" at the center of the plot. On a more positive note, love interest Julie Nichols, while a somewhat weakly drawn character, is performed by Ashley Alexandra with strength and a beautiful voice. Standouts are best friend Jeff, played by Jared David Michael Grant, and ex-girlfriend Sandy, played by Payton Reilly. Both Grant and Reilly have you rooting for them from the start and they are the most watchable of all the characters. Their songs "What's Gonna Happen" (Sandy) and "Jeff Sums It Up" (Jeff) steal the show.
There are some fun big Broadway numbers that show off the terrific ensemble including "I Like What She's Doing", "Unstoppable", and "The Most Important Night of My Life". Choreography by Denis Jones is excellent and takes some humorous stabs at Bob Fosse which I find very funny. Additionally, there are some definite laugh out loud moments when various characters discover the Michael/Dorothy duality. The set by Christine Peters works well as do the costumes by  William Ivey Long. What the book does well is address the issue of a man taking a job away from a woman especially in 2023 (or 2018 when the book was written). "Being a woman is no job for a man" proclaims Michael to which the opening night audience applauded. What the book fails to do is give us a protagonist that we really care about. Or maybe Mr. Becker was just having an off night.
"Tootsie" at the Fabulous Fox runs through April 2nd. For tickets and information go to the Fabulous Fox website.
Related Articles