Theatre Reviews
Theatre Reviews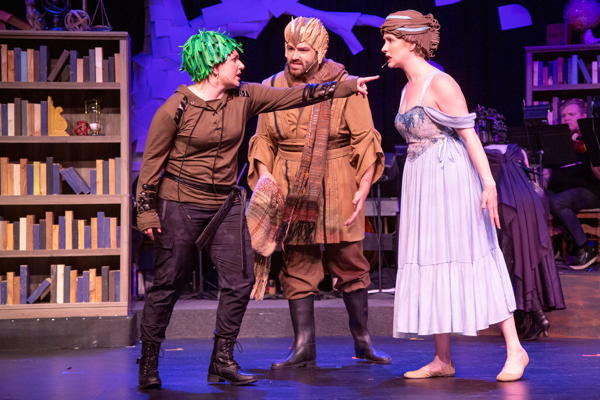 Into The Woods at Stray Dog Theatre: Fixing what isn't broken
By Chuck Lavazzi
As part of their 20th Anniversary season, Stray Dog Theatre has proudly opened Stephen Sondheim's extraordinary musical "Into The Woods." The original 1987 Broadway production secured Tony Awards for Best Score, Best Book, and Best Actress in a Musical for Joanna Gleeson's performance as The Baker's Wife. The musical has been such a hit that it continues to be in regular rotation in most theatres today. With a fascinating book by James LaPine that reinvents classic Brother's Grimm fairy tales, this masterpiece raises a number of questions: what happens after happily ever after? Does the end truly justify the means? What is the difference between "nice" and "good"?
While this musical has become a standby for schools and community theatres, it remains extremely difficult to pull off successfully. SDT's current production, packed with local talent, takes a number of risks in putting their own spin on things— some paying off, and some not quite coming together.
The play follows multiple story lines at once, most of them familiar to modern audiences: a servant goes to a ball and loses her shoe, a boy named Jack climbs a beanstalk and meets a giant, a woman combs her long hair from a tower, and a young girl in a red cape skips through the forest to her grandmother's house. The innovation in Sondheim's musical is the way in which a separate tale has been added that intertwines with the rest: a poor Baker and his wife, unable to have a child, are visited by a wicked witch. She reveals that she placed a curse upon the Baker's father many years ago, which has passed down to him, and is the reason for their inability to conceive. She promises to reverse the curse if they go to the woods and collect items she needs for a potion. As all of these fairy tale characters wander into the nearby woods, their journeys intermix, for better or for worse.
Director Justin Been has put a new angle or two on this classic musical. Alongside co-scenic designer Dominic Emery, he has re-evaluated the typical forest setting and exchanged it for something new: an apothecary-like library packed with trinkets and leather-bound books, hearkening to a time gone by. A large tree made of loose paper is rooted in the very back of the stage, under which sits the very modest orchestra. This set is crisply lit by designer Tyler Duenow.
Tower Grove Abbey's stage is slightly too small for the large ensemble numbers, but Been makes up for this by using the entire theatre as a playing space, with actors occasionally walking through the aisles or performing along the foot of the front row. Add in the robustness of the music, which fills the space to abundance, and it manages to feel as though the musical was written for this space exactly.
The "concept" of this production proves difficult to describe, as the closer one looks at it, the more inconsistent it becomes. At its core, Been is viewing this musical through the lens of the "storybook". Instead of the audience being projected into the world of these fairy tales, a mysterious man begins the show by opening a book, from which characters burst forth. The fairy tales have come to us, playing out their realities among the Narrator's bookshelves. This concept, in and of itself, is rather charming.
The aesthetic begins to get fuzzy once props, costumes, and wigs are added to the mix. Designed by Eileen Engel, the cast is almost completely costumed in what you may think of as "classic" fairytale garments—but tossed in are a small handful of contemporary items like neon tutus and a bright red plastic grocery basket for Little Red. Because this anachronistic approach is not consistently adhered to, the few modern pieces stick out as "random for the sake of being random." What are Rapunzel's lavender Doc Martens trying to tell us?
Sarah Gene Dowling has crafted exquisitely unique wigs for the show that give the characters' hair a papery, two dimensional look, as if lifted from a picture in a children's novel. And truly, they are works of art. Every wig has its own distinct personality and informs us about the character. The design is innovative, and all are gorgeously executed. However, because they do not match anything else onstage, these too are fighting for attention. Some characters, such as Cinderella, are costumed with a simplistic color scheme that blends nicely with their wig, and from far away she looks like an illustration—a wonderfully clever effect. It is with characters like Jack and his mother, whose hair is an eccentric bright green that can be found nowhere else in the production, that the wigs become distracting.
If the design of the costumes, makeup, props, hair, and set were more cohesive, Stray Dog would have succeeded in creating a unique identity for this classic show. Hopefully, the wigs can be set aside for future productions—and hopefully, Dowling continues to be given opportunities to create original items for local productions.
One thing is absolutely consistent—the orchestra is incredible. Directed, conducted, and led on piano by Leah Schultz, the orchestra consists of Mo Carr, Chuck Evans, Steve Frisbee, John Gerdes, Lea Gerdes, Mike Hansen, Ian Hayden, M. Joshua Ryan, and an alternating Marie Brown and Paul Rueschhoff on cello. This is an extremely small group, considering how effortlessly they fill the space. Each instrument in the score is represented by only one musician, but all players hold their own and make it easy to forget that the band is so minimal.
The cast is also pared down as far as it can be, with some actors playing up to three characters. Jonathan Hey doubles as the Narrator and the Mysterious Man, two characters that are similar in their mischievous inclinations. Jennifer Clodi balances Cinderella's Mother, Little Red's Grandmother, and also voices the Giant. Cinderella's Father, The Wolf, and the Prince's Steward are all wonderfully portrayed by Michael Wells. Drew Mizell and Sarah Polizzi, as a pair, are cleverly double cast as Cinderella's wicked stepsisters and the unnamed Princes—a casting decision that was both crafty in concept (as the two sets of characters are complimentary in their flamboyance and arrogance) as well as execution. Mizell and Polizzi prove they are quite up to the task of juggling multiple roles, performing with colorful, distinctive physicalities that draw clear distinctions between their characters. Madeline Black presents a fabulously formidable presence as Cinderella's Stepmother, and Laura Lee Kyro rounds out the supporting cast as Jack's Mother.
The Princes and wicked stepsisters aren't the only roles that Been has gender-bent in casting. Jack the giant-slayer is played by actress Shannon Lampkin Campbell, who taps into his naivety and eagerness delightfully. Other principal players include Grace Langford as a spit-fire of a Little Red Riding Hood, Maggie Nold as a kind and graceful Cinderella, and Tyler Luetkenhaus as the Baker with Margaret Stall alongside him as the Baker's Wife.
Jennelle Gilreath-Owens is perfectly up to the challenge of playing The Witch, who switches from old hag to young and glamorous midway through the production. The transformation happens onstage in an instant, which requires some form of difficult stage magic to pull off successfully. Been has opted to address this by covering Gilreath-Owen in a large hooded cape that masks her almost completely, and simply removing the cape in a puff of smoke for the big reveal. What could have been an ingeniously straightforward solution turns sour once you realize just how much stage time the Witch spends as her ugly, masked counterpart—she is a core part of the very long opening number, plays a number of plot-altering scenes with the Baker and his wife, and also performs a full duet that introduces her daughter Rapunzel. The face covering is absolutely brutal during her solo song, "Stay With Me," a heartbreaking number in which the Witch implores her daughter to understand the dangers of the world, and to see how holding her prisoner has been an act of love. Gilreath-Owens gives an exquisite vocal performance, but the audience is robbed of a deeply human moment of connection between a mother and her daughter, as all that can be seen for the duration of the two-minute song is her chin and red lipstick—the pair scarcely even look at one another. This actress is simply too good to have a sack over her face for half of the show.
Across the board, this production is beautifully sung. Sondheim's music is already demanding for musicians, with his cunning changes in key and time signature, and he makes equally high demands of his singers in terms of range, diction, and singing style. Though Langford is much older than the Little Red is written to be, her crystal-clear belt in "I Know Things Now" makes clear that her casting is well earned. Rapunzel does not have the most stage time in this show, but Dawn Schmidt's soprano voice is perfectly suited for her iconic trills. Other vocal highlights include Wells' solo as the Wolf, "Hello Little Girl", and Nold's gentle opening of "No One Is Alone".
Sondheim's lyrics are just as tricky as his music, and this is where the trouble can so often be in productions of his shows. Actors are given very little time to articulate complex, stream-of-conscious lyric lines. It requires performers to be extremely in control of their bodies, so that every movement supports these microscopic changes in thought. In the case of Stray Dog's production, the gist of the musical numbers and scenes have been captured enthusiastically, but some of the acting lacks nuance.
The staging of many of the solo songs seems more concerned with moving the actor around the stage excessively (i.e. vaguely—where is this character going? Why are they moving?), as opposed to allowing them to anchor somewhere and truly communicate with the audience. Some stillness could have provided songs like "On The Steps of the Palace" and "Moments in the Woods" with much-needed focus.
Unfortunately, this ensemble falls prey to a common pitfall: adding jokes to the show without taking the time to fully craft them. The trouble comes when it is obvious that an actor is just being goofy for a quick laugh, but their behavior is completely unrelated to the story or the intent of their character. Or, a joke may be clever, but it was clearly never addressed in rehearsal, so not all the actors onstage are even aware that it is happening. Comedy is known to be significantly more difficult than drama, and it is painfully obvious when a bit has just been cobbled together. This production is bursting with vibrant, enthusiastic artists, and it's wonderful to see that they have taken the time to truly "play" in the rehearsal process, but this production could have used a rehearsal strictly for polishing the comedy. Much of the added humor veers on being "meta" and comes dangerously close to looking like the company is making fun of the musical, instead of trying to add to it.
Stray Dog Theatre's production of this very difficult musical is packed with strong local performers, and transports the audience to another world. Though inconsistent in aesthetic and not as polished as SDT is certainly capable of making their plays, it is always exciting when a company re-examines an old standby like Into The Woods and asks the very brave question, "what if?"
Performances of Stray Dog's  "Into the Woods" continue through April 22nd at Tower Grove Abbey at 2336 Tennessee. More information is available at their web site.
Related Articles