Theatre Reviews
Theatre Reviews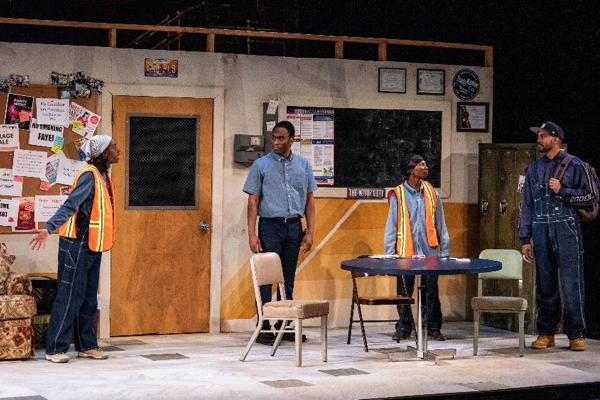 'Skeleton Crew' at the Black Rep is a must see
By Joanne Fistere
Dominique Morisseau's play "Skeleton Crew" premiered on Broadway in 2022 and was nominated for several Tony awards including Best Play.  It is the third part of Morisseau's Detroit Project after "Paradise Blue" and "Detroit '67". "Skeleton Crew", set in Detroit in 2008, revolves around three auto factory workers and their supervisor navigating rumors that the factory would be closing within the next 12 months.
The Black Rep's production of "Skeleton Crew" is a beautifully written play, brought into epic harmony by a great director and a flawless cast. This is one of those shows that reminds me why I love theatre. Velma Austin as Faye commands the stage before uttering a word as she enters the break room, where all of the action takes place. She sits at the center lunch table casually lighting a cigarette and blatantly blows smoke at the sign above stating in no uncertain terms "No Smoking, FAYE". And thus begins our story.
From that moment on we know we are in good hands with Faye, the senior-most factory worker and union rep. We soon meet fellow line workers, a very pregnant Shanita, compellingly played by Carmia Imani, and Dez, as portrayed with perfect defiance by Olajuwon Davis. Rounding out this make-shift work family is floor supervisor Reggie, whose inner conflict is interpreted convincingly by Brian McKinley. Tensions rise when Reggie confides in Faye that the factory will close within the next year but she needs to keep that information confidential.
Under the finely tuned direction of Geovonday Jones the pace of the play is just right. Each character's journey, conflict, and ultimate resolution are all relatable and beautifully acted. I laughed, I cried, at times I held my breath. The scenic and video design by Margery and Peter Spark give the perfect sense of a factory. Sound designer Lamar Harris, lighting designer Jayson Lawshee, and costume designer Marissa Perry, all complement each other to create the exact right stage picture.
Morisseau's script is so well written that the characters are deeply known to each and every one of us. This a beautiful story of human heart that is universal. It speaks to the core of what it means to work hard for something and then have that something inexplicably taken away. It also speaks to what it means to have family outside of the one we are born into and the sacrifices we are willing to make for each other. You have only a few more chances to see this show, it's a great one, folks.
The Black Rep presents "Skeleton Crew" through April 16th at the Berges Theatre at COCA in University City. For tickets and information go The Black Rep website.
Related Articles