Theatre Reviews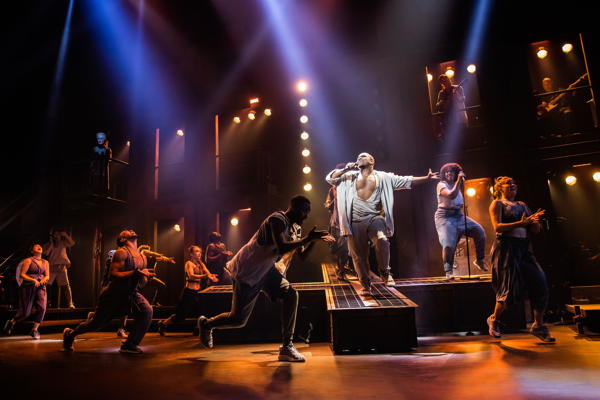 'Jesus Christ Superstar' at the Fox could use your prayers
Written by

Joanne Fistere
"Jesus Christ Superstar" opened on Broadway on October 12, 1971. The rock opera, with music by Andrew Lloyd Weber and lyrics by Tim Rice, started out as simply a concept album and became a theatrical revolution triggering Broadway's British invasion of the 70's and 80's that married rock and musical theater. The Fabulous Fox is completing its Broadway 2022-23 season with the 50th Anniversary Tour of "Jesus Christ Superstar" and there are all sorts of bells and whistles, but mostly microphones… lots and lots of microphones, too many microphones in every possible combination.
There is some terrific talent in this cast; Grant Hodges's basso profundo as Caiaphas is spectacularly menacing, Elvie Ellis as Judas captures the character's inner conflict and ultimate demise beautifully, and Brett Hennessy Jones as Simon is wistful and joyous. Jack Hopewell as Jesus is a "jack" of all trades singer/musician/mic-tamer. Faith Jones as Mary is understated and lovely and her trio of Soul Singers (Savannah Fisher, Lydia Eku, and L'Oréal Roaché)
all hit just the right notes.
Costume and set designer Tom Scutt adds some eerie touches with ominous masks on, you guessed it, mic stands carried by the Romans. His minimalist set works well though placing the small rock band of five upstage in shadow boxes is a bit reminiscent of "Hollywood Squares". Lee Curran's lights serve the production well keeping it properly lit but savoring the dark mood throughout.
Multiple award-winning director Timothy Sheader borrows from "American Idiot", "Rent", and "Hamilton" within the first ten minutes of this reimagining of the Weber/Rice classic. I could only think of the "Hamilton" poster when Jesus raises his fisted mic in the midst of his loving disciples. Regarding the aforementioned microphones, everyone is passed a mic to sing their part in a song, or enters with a mic stand as part of their staging, or mics are handed off on stage throughout a song. (By the way, this cast would KILL in any sort of Broadway relay race, but I digress.)  Choreography by Drew McOnie is at a constant manic fever pitch and adds no theatrical build or storytelling. The concept of the "microphone-ography" limits the talents of those truly gifted singers. Its cleverness is a way to hide the lack of skill for directing actors to make human connections to tell the story.
The show starts out on one very loud, very "in your face" note, and stays there for the entire ninety minutes. There is no actual character development apart from Judas, whose story it is after all. There is spectacle upon spectacle but none of it makes any real sense or seems to have any purpose.
In 1970 when Andrew Lloyd Weber first wanted to mount "Jesus Christ Superstar" he said no producer wanted to put "the worst idea in history" onstage. This reiteration might not be the worst, but it's certainly not the best. Thankfully the glorious score still holds up beautifully. I may have been in the minority on opening night as, per usual for Fox shows, the requisite standing ovation followed the curtain call.
"Jesus Christ Superstar" at The Fabulous Fox runs through May 21st. For information go to The Fabulous Fox website.
Related Articles