Theatre Reviews
Theatre Reviews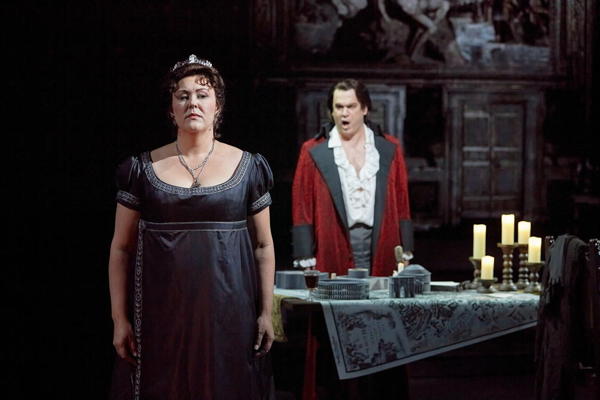 Opera Theatre's "Tosca" is a stunner
By Chuck Lavazzi
Opera Theatre of St. Louis's new production of "Tosca" by stage director James Robinson delivers a voluptuous experience visually, vocally, orchestrally and theatrically.
This Puccini opera tightly focuses on the roles of Tosca herself, Mario her beloved, and Scarpia, their mutual nemesis. This fast-paced tale of politics, ambition and love toggles between soaring orchestral passages and character-building arias. It's those arias that are the hallmarks of "Tosca," as well as Puccini's richly rewarding score. Under the direction of Daniela Candillari, the orchestra delivers a soundscape that is exuberant, energetic and rapturous.
The role of Tosca is one of Puccini's gifts to dramatic sopranos, and Katie Van Kooten, making her Opera Theatre debut, delivers a resonant, complex character with an impressive register of emotions. At the end of Act II, she murders Scarpia after enduring his many abuses. Standing over his body, Van Kooten releases a fury that pulls herself and audience deep into this cathartic moment.
Singing Scarpia, one of opera's the most famous villains, is Hunter Enoch, also making his Opera Theatre debut. Enoch delivers his bad-guy as one who can manipulate the other characters as deftly as he can chew the scenery. His double aria with Tosca is an engaging, masterful set piece. But it's his soliloquy that orgasmically ends the first act that is a highlight of this production because it reaches Scarpia's metaphorical and visual climax.
Robert Stayley delivers his Mario as warm, strong and slightly rakish, especially in the first act. Stayley has tremendous chemistry with both Van Kooten and Enoch. His delivery of "The Stars Were Shining Brightly" is heart-wrenching and noteworthy for his nuanced blending of sorrow and pride.
Visually, this "Tosca" is stunning and makes effective use of video projections, designed by Greg Emetaz. They are integrated seamlessly with the opulent set and costume design by Allen Moyer and beautifully augment the characterizations and plot, especially in the moment when Tosca falls to her death.
"Tosca" continues at the Loretto-Hilton Center at Webster University through June 25. Performances are sung in English with projected English text. For more information, visit the Opera Theatre web site.
Related Articles