Theatre Reviews
Theatre Reviews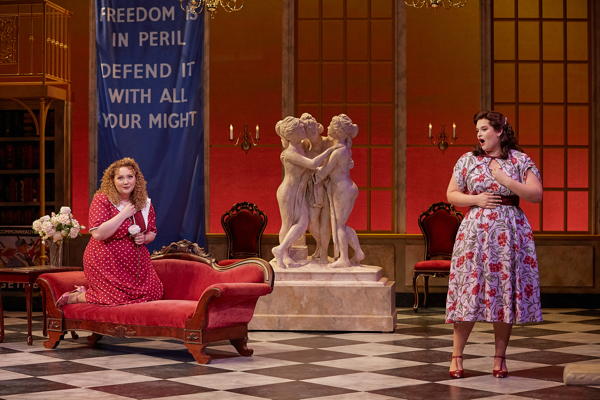 Opera Theatre's 'Così fan tutte' is at war with itself
By Chuck Lavazzi
Opera Theatre of St. Louis's new production of Mozart's last and arguably most controversial opera "Così fan tutte, ossia La scuola degli amanti" (roughly "All women are like that, or the school for lovers") is the fifth in the company's history and the third that I have seen. The last two (in 1997 and 2012) were a bit disappointing but I had high hopes for this latest version, based on the insightful program note by director Tara Branham. They were not, sadly, fulfilled.
The cast of Così fan tutte
Photo: Eric Woolsey
A quick look at the story of "Così" shows why this can be a difficult piece to present to a contemporary audience. Two army officers, Ferrando and Guglielmo, are so convinced of the faithfulness of their fiancées—Dorabella and her sister Fiordiligi, respectively—that they accept a bet from their cynical philosopher friend Don Alfonso that the women can't be seduced. Don Alfonso convinces the boys to go away on a mock military expedition and then return in disguise and attempt to seduce each others' fiancées. The usual complications result, helped along by the wily maid Despina. All ends happily, more or less, but only after the disillusioned officers are forced to admit, in the words of Sherlock Holmes, that "women are never to be entirely trusted—not the best of them."
Even in Mozart's day the story was seen, as Julian Rushton writes at Grove Online, as a "heartless farce clothed in miraculous music" and the opera was not widely performed until the second half of the last century. Ferrando and Guglielmo seem to take an almost sadistic delight at undermining the sisters' fidelity and display an ugly braggadocio when they do. The "happy ending" in which the couples are reconciled is unusually abrupt and clumsy for Mozart (who usually could be counted up for elegant finales like the one he delivers at the end of the opera's first act). Attempts to stage it in a way that undercuts the reconciliation have proved no more convincing than the original.
In the program, Branham acknowledges the libretto's "problematic gender stereotypes," but appears to grasp one of the opera's major themes. "Life and love continue," she writes, "as the experienced Despina and Don Alfonso know all too well. Love will continue to complicate matters for the rest of their lives… Lead with compassion for those experiencing life for the first time, and remember that love is beautiful even when it challenges everything we've ever known."
Inexplicably, none of that keen understanding ever makes it to the stage.
L-R: Angel Romero, John Chest
Photo: Eric Woolsey
A major issue is the decision to set the piece in World War II Britain. Given that "Così" was composed during the Austro-Turkish War of 1788–1791, the idea isn't a bad one, but Branham makes it the commanding visual image of the work rather than a background element and plot device as it was for Mozart and his librettist Lorenzo Da Ponte. In the process, key social and power relationships are undone.
Ferrando and Guglielmo become new volunteers instead of professional officers. Don Alfonso is transformed from an old friend and mentor to a recruiting officer. Dorabella and Fiordiligi are changed from somewhat spoiled aristocrats to Red Cross volunteers, their wily maid Despina becomes an Army nurse, and the sisters' household somehow becomes a hospital ward. When Ferrando and Guglielmo enter in disguise they are wounded American sailors instead of the comically exotic foreigners (think Saturday Night Live's "wild and crazy guys") of the original.
Mozart's opera takes place in a seaside villa far removed from the war. In this version, everybody is in the Army now. It's W.S. Gilbert's topsy-turvy world, and it's a mess.
The saving grace of this production is the high quality of the performances by the cast. As Ferrando and Guglielmo, tenor Angel Romero and baritone John Chest are as effective in their comic posturing as they are in their anger and despair as they realize their conquest campaigns have been just a bit too successful. Chest makes Guglielmo's Act II aria simultaneously criticizing and praising women ("Donne mie la fate a tanti"/"Ladies, you treat so many this way") a comic gem and Romero infuses "Fra gli amplessi" ("Very soon now"), the lyrical duet that finally melts  Fiordiligi's heart, with such anguish that it's not hard to see why he finally wins her over.
L-R: Megan Moore, Murella Parton
Photo: Eric Woolsey
Soprano Murrella Parton is an utterly convincing Fiordiligi with a spectacular voice to match. "Come scoglio" ("Like a rock"), the famous Act I aria in which she heroically rebukes the advances of the disguised Ferrando and Guglielmo, is a triumph of vocal art. Mozart's music is challenging, with massive octave-plus leaps and florid decoration, but Parton's opening night performance was so impressive that it literally stopped the show. Fiordiligi is the one character who genuinely grows in stature during the opera, and Parton made sure that we saw and heard that.
Dorabella emerges sadder but wiser as well, fully coming to terms with her unbridled sensuality. Mezzo Megan Moore communicates that quite effectively in her second act aria "È amore un ladroncello" ("Love is a little thief"). Her rich voice matches Mozart's sophisticated instrumentation perfectly.
The role of Despina comes to us straight from the commedia dell'arte tradition: the clever and cheerfully sensual maid who runs rings around her employers. Soprano Vanessa Becerra's comic timing and vocal flexibility serve the part well, making it easy to ignore the absurdity of that uniform. Her impersonation of the fake doctor in Act I, whose fake magnetic therapy miraculously saves the disguised Ferrando and Guglielmo from their fake suicide attempt, is brilliant stuff. And that's despite the fact that the "magnet" gag (originally a parody of the notorious quack Franz Mesmer) makes no sense in a 20th century setting.
Vanessa Bacerra and magic magnet
Photo: Eric Woolsey
Baritone Hugh Russell, last seen on the OTSL stage in 2017 as the tragically simple-minded Noah Joad in "The Grapes of Wrath," demonstrates his musical and dramatic range here as the cynical Don Alfonso. He's funny and ingratiating and handles the character's patter numbers with aplomb.
Conductor Jeri Lynne Johnson shows a deep understanding of Mozart's complex musical structure and delivers a perfectly balanced reading of the score. Her performance of the overture was so good that I was able to largely ignore the onstage pantomime in which Don Alfonso bizarrely turns the sisters' home into a recruiting center. Under her direction the ensemble of St. Louis Symphony Orchestra members plays with all the finesse I have grown accustomed to hearing during the SLSO's regular season.
So: are the musical values of this "Così" exemplary enough to compensate for a wrong-headed directorial concept? In my view, I'm sorry to say, the answer is no. Mind you, there is plenty of slapstick stage action—some of it in scenes where it doesn't belong—so if that is your thing you might find this entertaining. Many of the audience clearly did on opening night. Otherwise I'd say you can give this one a miss.
Opera Theatre of St. Louis's "Così fan tutte" runs through June 23rd at the Loretto-Hilton Center on the Webster University campus. Performances are sung in Andrew Porter's superb English translation with projected English text. For more information, consult the OTSL web site.
Related Articles