Theatre Reviews
Theatre Reviews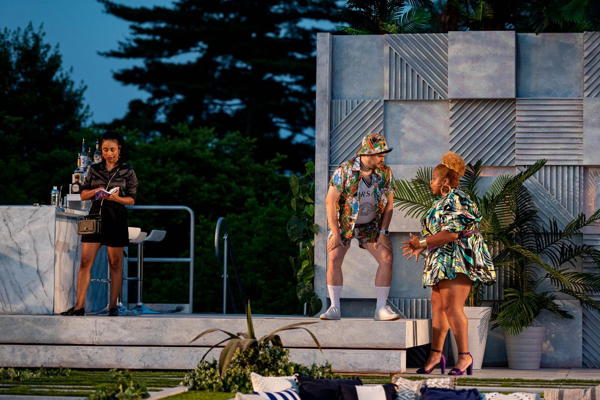 St. Louis Shakespeare Festival's "Twelfth Night" frolics under the Forest Park stars
By Chuck Lavazzi
St. Louis has a supply and demand problem. The supply of theater and music performances outstrips the ability for most of us to take full advantage. This makes we wish that the various arts organizations would share their calendars better and even out the supply. It's within this overabundance that the St. Louis Shakespeare Festival is presenting its production of William Shakespeare's  "Twelfth Night," a whirlwind of mistaken identities, comedic chaos, and love's playful game, where laughter and disguise conceal the true desires of the heart.
Two of the best things I've attended in the past month are Opera Theatre of St. Louis's "Road to Freedom" performance and this fresh production of "Twelfth Night." Not only were they both meaningful professional entertainments, they were also free, and exceeded the expectation that we "get what we pay for." They both provided experiences that would have been worth the full price of a ticket.
If the name Shakespeare triggers bad memories of a high school essay assignment, this production of "Twelfth Night" can change that. Shakespeare's comedies are the gateway drugs into all of his plays, and "Twelfth Night" probably rules above them all because of themes of immigration, exile and personhood. This production effectively uses disguises as the characters learn to love the essence of each other, regardless of their appearance. It's further enhanced by its presentation under the stars in Forest Park's Shakespeare Glen and replicates what audiences might have felt in Shakespeare's time while attending the open-domed Globe Theatre in London.
Director Lisa Portes clearly wants the audience to have fun with the casting and cross-dressing of modern, celebrity-inspired characters – all set on a stage that as much Miami Beach as it is Miami Vice. There are no spoiler alerts for a play that's more than 400 years old, but there are in the way Portes has adapted it with a strong and effective Latin influence. It's more fun to experience her approach than to listen to my explanation, except to say that this production puts the shake in Shakespeare.
The cast, especially Estaban Andres Cruz as Feste, Ricki Franklin as Dame Toby and Ryan Garbayo as Malvolio, prove that the old Bard can still bust a move. This is helped by the music performed by the onstage band, Clave Sol, and costume design by Danielle Nieves that mashes Gloria Gaynor with Bob Mackey. Keying off the "Miami Vice" vibe, Gabriela Saker as Viola/Cesario plays a deliciously long-suffering Tubbs to Felipe Carrasco's Crockett (aka Orsino).
"Twelfth Night" continues at Forest Park through June 25. For more information, visit the St. Louis Shakespeare Festival web site.
Related Articles