Theatre Reviews
Theatre Reviews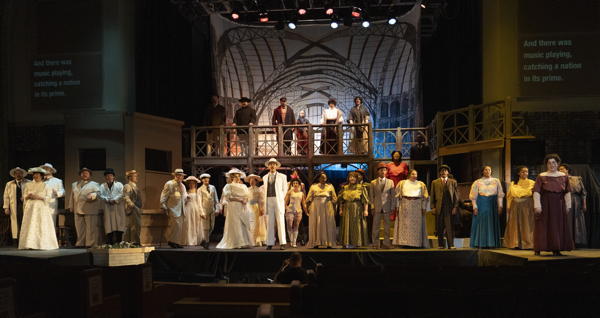 A magnificent "Ragtime" at Union Avenue Opera
By Brian Brick
The Union Avenue Opera closes its 2023 season with an amazing, compelling, thoroughly enjoyable production of the Tony-Award winning musical "Ragtime," book by Terrance McNally, music by Stephen Flaherty, and lyrics by Lynn Ahrens.
A solid cast of 49 brings to life this musical examination of what America represented, to three different groups of people, in the early 20th century. Yet the issues raised are as relevant today as they were during that ragtime era.
The magnificent ten-minute opening number, "Ragtime", literally overflows the stage as we see the cast, and the protagonists of the show's three main story lines. First we meet the upper class citizens of New Rochelle - explorers, tycoons, believers in so-called meritocracy and progress - and yet within one nuclear family some fissures are already straining. The initial genteel melody lines of the opener give way to a more rhythmic, ragtime syncopation motif as we meet a second group, of African-American musicians in Harlem, led by an irresistible charmer, Coalhouse Walker Jr., who will soon face life-altering prejudice and violence. Then the opener again incorporates another melodic change as we encounter impoverished European Jewish immigrants, including a man (Tateh) and a little girl, fleeing the old world for the promises of a better life in America. The blending of these three musical styles perfectly captures the different realities that await as their American dreams become starkly different realities.
The ten minute opener is perfectly sung by the ensemble, with marvelous solo turns by many of the featured performers, including outstanding singers Nyghél J Byrd as Coalhouse Walker Jr., Jazmine Olwalia as Sarah, the mother of his child, Marc Shapman as Tateh, and Debby Lennon as Mother, the wife in the New Rochelle family who proves to perhaps be the most sane and humane character in all of the tumult to follow. I wanted to jump to my feet applauding this vibrant, powerful, exhilarating intro!!
The show quickly establishes multiple plot lines, bringing together our three groups: Mother finds a newborn baby left in the garden by Sarah, her neighbor's servant - and Mother takes in Sarah and the child, as her husband (Father) sails to the North Pole. Tateh struggles to provide for his little girl. Coalhouse searches for Sarah. Chance encounters are sung of, as ships pass in the night (in the beautiful song "Journey On"), as they wait for trains in search of a better life (the sweet "Nothing Like the City"), and when Coalhouse regains his Sarah (the touching duet "Wheels Of A Dream"). Tateh consoles the little girl with a wistful ballad, "Gliding", about ice skating away gracefully, leaving all their troubles behind.
Another great ensemble song, the sorrowful yet hopeful "Till We Reach That Day", brings the first Act to a close - and features an amazing solo by Rose Fischer as the character known simply as Sarah's Friend. Ms. Fischer took my breath away as her voice soared above the wonderful chorus singers!
Act II starts off with chaos, as Coalhouse reacts to subtle and overt racism he encountered by turning to violence against the white establishment. He is later joined by Mother's Younger Brother, an explosives manufacturer, which further fractures the decaying state of their New Rochelle family. Escape is sought in Atlantic City, where Tateh has re-invented himself as a film director. The play ends with a hostage stand-off at the Morgan Library. Tragedy is the dominant note.
The second act is overall less powerful than the first, although it brings us a beautiful duet of hope from Mother and Tateh, "Our Children", an incredible love song by Coalhouse and Sarah, "Sarah Brown Eyes", and a defiant finale from Coalhouse, "Make Them Hear You".
The performances remain fine throughout, although when singers are stationed atop the second tier of the stage, dialogue and verse can be difficult to hear. And I'd be remiss not to mention the fabulous costumes designed by Teresa Doggett for this huge cast - seemingly each of the three ensembles subtly-color-coordinated making it easy to follow the action. The single stage set, designed by Patrick Huber, worked perfectly for every one of the various locales.
This production reminds me of "Les Miz," bravely tackling universal questions of rights, privileges, morals and equality, through complex characters and stunning music, ensuring its continued relevance to theatre-going audiences for years to come. What a wonderful, entertaining, intelligent evening!
"Ragtime" is at the Union Avenue Opera through August 26th, with performances Friday and Saturday at 8 pm. Tickets and other information are available at the Union Avenue Opera web site.
Related Articles