Theatre Reviews
Theatre Reviews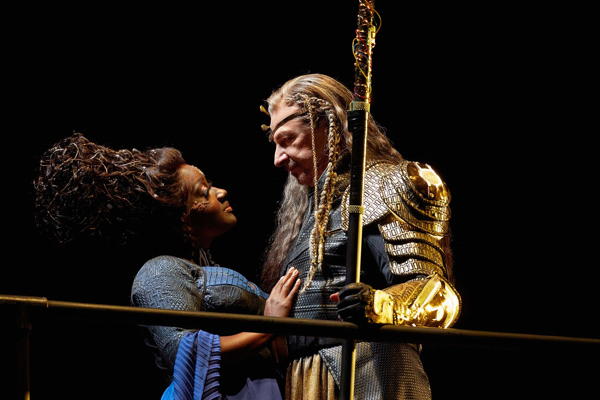 Seattle Opera celebrates sixtieth birthday with superbly sung "Das Rheingold"
By Chuck Lavazzi
by Benjamin Torbert
Celebrating the company's sixtieth anniversary, Seattle Opera's opening night presented a music drama by Richard Wagner, this time "Das Rheingold." (12-20 August 2023; I saw all four performances but focused on 16 August). Though Brian Staufenbiel's semi-staged production struggled to cohere at times amid an onstage orchestra, a mesmerizing cast presented an outstandingly sung, well-acted and entertaining rendering of this prelude of "Der Ring des Nibelungen." This cast surely qualifies among the finest in the company's six decades.
Not too long ago, Wagner operas in consecutive seasons at SO wouldn't have qualified as newsy; the company earned the nickname "America's Bayreuth," for its painstaking dedication to presenting Wagner's works under the leadership of Glynn Ross and later Speight Jenkins, including one of the most celebrated productions of "Der Ring des Nibelungen" in history, the so-called "Green Ring" directed by Stephen Wadsworth, appearing quadrennially from 2001 through 2013. In non-Ring seasons, late summer frequently saw one of Wagner's other six canonical works as well. Wagner fans from all over the United States and abroad traveled to the Emerald City. In the current funding environment, that degree of commitment to fully staging classical music's most resource-thirsty composer now lies in the valley between very difficult, and impossible. For five seasons succeeding Jenkins, general director Aidan Lang's planning directed the high opportunity cost of presenting Wagner and the dollars elsewhere in the operatic repertory. Wagner fans mourned.
Current general director Christina Scheppelmann restored the composer to his North American home with a shimmering, excellently sung "Tristan und Isolde" last autumn. As she regularly notes, fundraising Wagner became much harder after the Met and Seattle weren't the only ones in North America regularly attempting it. But she departs Seattle for La Monnaie/DeMunt in Brussels in 2024-25, and the audience must necessarily wonder about Wagner's future in the Pacific Northwest. The tenuousness of Seattle Opera's Wagner brand certainly elicits gratitude for any fully staged opera taking place; in a summer of bad news for classical music, topped by the Mostly Mozart Festival shuttering and the Metropolitan Opera Guild and Opera News evaporating, it's a blessing for the band to be back together in Seattle one more time.
The week's performances of "Das Rheingold" included diverse virtues, but like last season's "Tristan und Isolde," the production led with singers singing, a jaw-droppingly talented and accomplished cast. "Rheingold" demands fourteen principle artists, a dozen appearing in multiple scenes and all but one in Scene IV. There's nowhere to hide a so-so voice; even supporting roles with the fewest lines receive exposed, artistically spot-lit moments. Scheppelmann assembled an all-star and soon-to-be-star lineup, throughout.
Legendary Wotan, bass-baritone Greer Grimsley, headlined the roster. In Seattle alone, I've treasured his "Ring" performances thrice before; more than anyone in North America, he has owned the three Wotan/Wanderer roles since James Morris retired them. In his later sixties, he retains nearly all the power and health his voice displayed two decades hence. His accustomed stentorian oomph appeared immediately in Scene II, greeting day with Fricka. While Wagner undermines the gods' surety at many orchestral junctures and employs Loge as a fourth wall-breaker, clueing in the audience on impending doom, Wotan must operate with complete certitude. Grimsley's thorough inhabitation of the role communicated Wotan's full-bore confidence and misplaced invulnerable stance. His cedar timbre warmed the hall from his entrance through Wotan's last oration regarding his ill-gotten new castle, "Abendlich strahlt der Sonne Auge." Wotan rates as a lousy, thieving, mendacious leader, but if Grimsley were your general, you'd run through a wall for him.
With such a sky god, "Rheingold" requires a sky goddess to counterbalance him, and mezzo-soprano Melody Wilson not only complemented her veteran castmate perfectly but sang every line of Fricka's music with exquisite beauty. Too often, Fricka barks through "Rheingold" and "Die Walküre," ill-positioning a role with lots of legato as a waystation to Richard Strauss' screechier Klytaemnestra or Herodias. Not Wilson: with seamlessly connected head and chest voice, she caressed each expression of concern for Freia with her ruby timbre. Her stage intelligence transformed Wotan and Fricka's relationship—excessively combative in many productions, even before the marriage deteriorates in "Walküre"—as she snuggled Wotan, playing with Grimsley's lengthy mane and bringing humor to Fricka's inquiry about whether this Ring could command a husband's fidelity. Scenes II and IV work so much better when Wotan and Fricka actually like each other.
Two goddesses attempt to check Wotan before he wrecks himself, and as Erda, Denyce Graves performed her showstopper "Weiche, Wotan" with gravitas and poise despite the worn estate in which we presently find this beloved singer's instrument. Making her belated Seattle Opera debut this week, Graves worked around a worrying tremolo and some flat intonation in the prima, and pushed less and sounded more secure as the week progressed, delivering effectively her message to Wotan about his executive overreach and its existential threat to the entire world, bathed in a earthy green projected strikingly out into the auditorium. Themes of ecological disaster become inescapable in contemporary encounters with the "Ring," richly explored in the 2001-13 Seattle cycles; in this production nature seems a memory, in video projections and in Erda's verdant aura. The audience loudly appreciated Graves' performance as oracle of disaster.
The remaining gods excelled too. Fricka's siblings Freia, Froh, and Donner are all supporting roles uttering relatively few lines, but Wagner features Froh and especially Donner memorably in the score, and SO continued their luxury-casting with all three. Damsel-in-distress Freia receives the least to work with, little past cries for help, but soprano Katie van Kooten, also debuting in Seattle and fresh from a mellifluously sung Tosca in Saint Louis, made the most of Freia's music with supple tone and a golden top reminiscent of a young Deborah Voigt. As Froh, tenor Viktor Antipenko repeated his success as Melot in Seattle's "Tristan und Isolde" last year, with a bright sound, well situated for the role of Lohengrin in particular. Veteran Verdi baritone Michael Chioldi rarely sings as short a role as Donner, but Wagner gave him an absolute banger in the finale with "Heda, Hedo" and he delivered with vocal heft, wielding a sweeping, oversized hammer.
The gods, chiefly Wotan, interface with earthly and subterranean life mostly through an intermediary, demigod of fire, the trickster Loge, to which Frederick Ballentine afforded his weapons-grade charisma and unique tenor sound. Peripatetic and hyperkinetic, he embodied fire. Opera fans and singers alike complain about generic sounds issuing from American conservatories and universities, but you cannot mistake anyone else for Ballentine, who managed Loge's maddeningly difficult terrain in the passaggio with aplomb. He drew multiple laughs from the audience that weren't even subtitle-driven, and his interplay with each interlocutor furthered the drama. "Das Rheingold" might have been called "Loge's Frenemies." It's been a great summer for Ballentine; his intense, spot-on Sam Polk in OTSL's "Susannah" was as memorable as this Loge.
Earthly laborers, the giants Fasolt and Fafner, enjoyed more foregrounding in this production than usual, installed downstage right atop the empty orchestra pit, magnified by a visible camera and projected to thrice life size on a screen at the gods' right. Seattle debutant, bass Chen Peixin made the most of Fasolt's more lyrical writing, especially in his high range as he extolled Freia's beauty, and indicating that, unlike Alberich, he might actually consider feminine consent. Kenneth Kellogg's gruffer Fafner rang true as well, his no-nonsense declamatory tone underlining the character's pragmatism about power and disdain for love. If you're familiar with the story, Fafner's murdering Fasolt doesn't surprise, but his method did shock, garroting his brother with a swiftly unpocketed length of rope and kicking his corpse into the pit, as did the gods' scant attention paid thereto.
Also well-cast were Alberich and his foils, brother Mime, and lust-targets Woglinde, Wellgunde, and Flosshilde. Suffering from respiratory distress early in the run, baritone Michael Mayes started slowly and vocally warmed up remarkably thereafter. He played Alberich as deserving scant sympathy. Instantly grabby towards the Rhinemaidens, he whipped Mime and the Nibelungen relentlessly with a thick orange cord. He delivered most stridently both his departing curse on his Ring and, while he still had it, his multiple proclamations that with the Ring, he could take both mortal and immortal women by force. Sometimes Alberich plays pathetic; Mayes made him scary. His brother Mime, ably portrayed by character tenor Martin Bakari, communicated pathos with a secure yet anxious sound, under fraternal abuse. The Rhinemaidens leaned more playful than mean in their teasing of Alberich, throwing into relief the disproportionality of his incel rage. Their ensemble wasn't always balanced, as Jacqueline Piccolino's rather larger and brighter instrument as Woglinde outshone Shelly Traverse's Wellgunde and Sarah Larsen's Flosshilde, but Larsen's delivery of the "renunciation of love" motive popped, and their nicely-blended return in the finale highlighted the folly of the gods, who cannot concur on anything but survival.
That last stanza of the libretto clarified difficulties in the production, which placed the orchestra onstage, the gods mostly on a catwalk above the winds and brass, Erda on an instrumental soloist's podium by the conductor, and the Rhinemaidens and Nibelung dwarves smack in the vacated orchestra pit. On one hand, thank goodness anyone can produce Wagner, and if it had to occur thus in a venue with a small pit at the production's 2016 debut in Minnesota, so be it. On the other, Wagner purposely submerged the orchestra at Bayreuth, not only deepening the pit but covering it; his leitmotivic orchestra anticipates Freudian understanding of the subconscious. So when the Rhinemaidens punctuate the evening with "Traulich und treu ist's nur in der Tiefe: falsch und feig ist was dort oben sich freut! / Tender and true it is, only in the Deep: false and cowardly is all that rejoices above" and the orchestra is above them, it subverts Wagner's game. Oddly parallel, fans spent the 2010s complaining about Robert LePage's maximalist staging of "The Ring" at the Met, in which the multimillion-dollar "machine" set obstructed the cycle's intimate scenes. Here, semi-staged with cherries on top, "Rheingold" suffered the same problem more frugally—the orchestra was physically in the singers' way.
Conductor Ludovic Morlot handled that challenge masterfully, reining in the large orchestra and privileging the singers acoustically. Even in [singerless] scenic transformations, the orchestra didn't overwhelm the hall, and all night they acted as true accompanists; somehow, we could hear singers on the catwalk and among the orchestra just as well as those placed out front in the pit. The clock counted Morlot's tempi nearly Levine-slow, but they didn't seem ponderous at all; one appreciates an unrushed orchestral intro and outro, "Heda, Hedo," and other big numbers given space to breathe.
Director Brian Staufenbiel's concept lies in Blade Runner territory, that time when the boundary between humans [plus Norse gods?], and artificial intelligence becomes blurred. But David Murakami's projections made sense only sometimes and didn't really interweave biology and circuitry coherently. Wotan and Fricka awoke standing up, behind a small scrim displaying a huge microchip; when Wilson cajoled him to arise, Grimsley's 6′+ frame was already erect. The electro-fiery dragon in Scene III and the encroaching rainbow bridge in Scene IV pleased the eye, but Valhalla resembled a decayed or arsoned Mont-Saint-Michel. I found the projection of the giants distracting; perhaps it would have seemed less so had similar theater not taken place already with Alberich, who first appeared as an enormous eyeball spying the Rhinemaidens and departed their river with an amplified, echoing cartoon-supervillain cackle. More felicitously, Erda's set piece proved visually stunning, Graves emerging slowly through the orchestra, the hall bathed in green light seeming to emanate from her person, enveloping the audience and drawing us into her apocalyptic warning.
Costuming and makeup made the most impact in the staging; I'd pay money to see Mathew LeFebvre's costumes in a museum. Graves and Ballentine's costumes were yoked visually with abundant antennae, of roots in Erda's case and flame in Loge's—Ballentine was one of the best-outfitted singers I've ever seen in theater, partly owing to Ashlee Naegle's hair and makeup design. Wilson's Fricka enjoyed a royal blue gown with dramatically long avian sleeves and a Nefertiti-esque column of hair, and Grimsley's Wotan costume was dressed with golden LEDs shared with his spear. In a beta fashion, Bakari's Mime was distinguished from alpha Alberich's standard-issue steampunk, by a beetle-ish getup backed by a fuel-less jetpack. The Giants looked like cyborgs; the Rhinemaidens flowy and fishy in empire-waisted pale blue gowns, apparently unencumbered by the directorial concept.
Mild reservations about the staging aside, Seattle Opera threw itself a rewarding sixtieth birthday party, characterized by top-shelf singing, and deeply appreciated by four sellout audiences. Soothing balm for those who hear the "twilight of the gods" motive in their ear as bad news emerges in classical music. Wagner lives yet in the Pacific Northwest.
"Das Rheingold" will be broadcast on Seattle's Classical KING 98.1 over the air and on the Internet on 16 September 2023.
Related Articles