Theatre Reviews
Theatre Reviews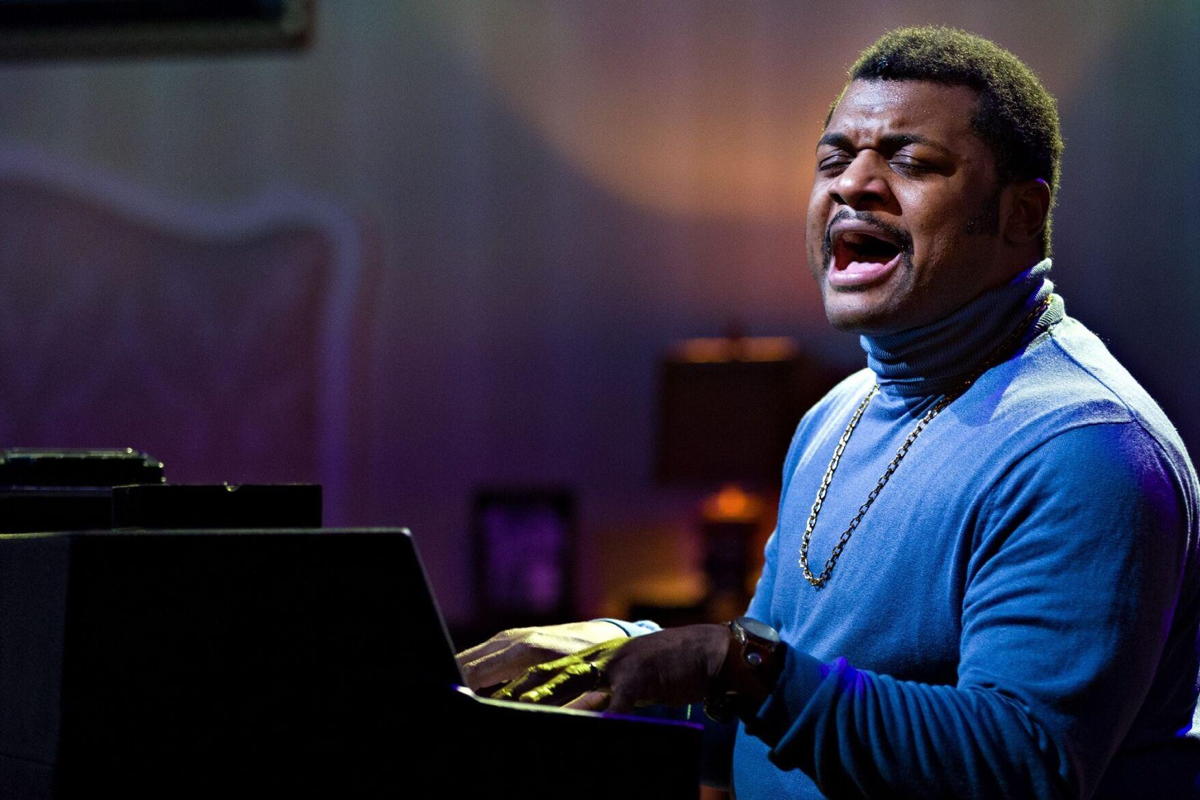 The Rep's "Twisted Melodies" is a transcendent theatrical experience with a St. Louis connection
By CB Adams
The easy way to recommend "Twisted Melodies," the current production of Repertory Theatre of St. Louis, is to play the local angle. This compelling one-person play about the final day of the legendary soul singer Donny Hathaway was written by and stars Kelvin Roston Jr., who began work on the play in 2015 while he was an intern at The Black Rep. St. Louis can claim both Hathaway and Roston as native sons.
But there's so much more to recommend this show than cultural boosterism. It's like those special Sunday services when you step out and realize you didn't just attend – you were churched. Roston leads you through the ever-tightening Gordian knot of Hathaway's music and mental illness.
As the lights dim after the searing final minutes, you know you've been more than entertained by this biographical play – you've been immersed in a capital T Theatrical capital E Experience.
Roston has performed "Twisted Melodies" to acclaim in St. Louis, Chicago, Washington D.C. and the Apollo Theater in New York City. And by performed, I mean acting and singing. Those other productions were prologue to the vitality, pathos and empathy that Roston delivers during this production at The Rep.
In the program, Director Reggie D. White expresses his hope that "Twisted Melodies" will leave the audience aching for Hathaway's legendary music yet with a sense of healing. That's a tall order, but he delivers on that hope and promise, even if you aren't familiar with Hathaway's popular songs such as "The Ghetto," "This Christmas" and "Someday We'll All Be Free."
"Twisted Melodies" uses simple elements to convey a complex story, and this approach is carried through with Tim Mackabee's thoughtful set design, which evokes the 1979 hotel room where Hathaway spent his final day. The  set exudes quality and restrained attention to detail. Restrained, that is, until Xavier Pierce's lighting design, G Clausen's sound design and Mike Tutaj's projections begin to mirror Hathaway's chaotic state of mind. These elements are nothing short of brilliant, especially during the climax in the last minute – it's disorienting and unexpected.
Do not let the tragic arc of "Twisted Melodies" dissuade you from seeing it. Hathaway's enduring musical legacy and Kelvin Roston's impassioned homage provide a hopeful ending. You'll know you've been theater-ed.
"Twisted Melodies" continues its run through October 22 the Catherine B. Berges Theatre at COCA. For more information, visit repstl.org.
Related Articles