Theatre Reviews
Theatre Reviews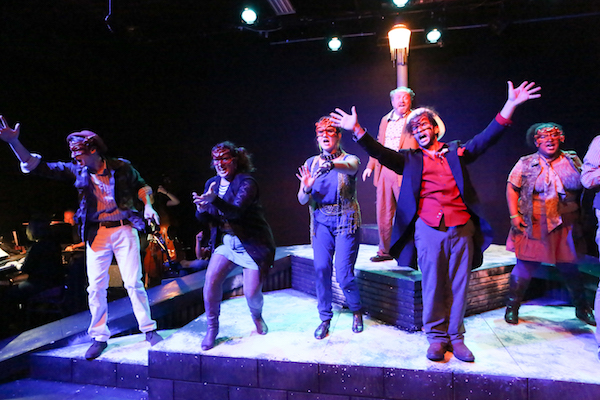 Layered with dark comedy and song, 'Celebration' trips pleasingly along its tale of love, lust and life
By
Tom Jones and Harvey Schmidt, the creative team behind Celebration, as well as the beloved musical The Fantasticks, seem to speak almost exclusively in allegory and metaphor. Their shows tackle big issues, like life and death and love and propagation of the species, but they do so through personal stories of intense focus, ritual, and ceremony. By weaving meaning into every prop and pause, they entreat audiences to stay involved.
Ultimately, their musicals become a sort of deconstruction and laying bare of the elements that make life so fantastic and worth living. New Line Theatre, in its visual and titillating production of Celebration, embraces the conceit with skill and fluidity. The story pits old against new, real versus fake, and money versus love. They're typical stories, told in atypical fashion as the fading year rings in the new and revelers flit to and fro.
William Rosebud Rich, in a naturally exaggerated performance by Zachary Allen Farmer, is nearing the end of his life. Wealthy beyond even his imagination, he is fundamentally dissatisfied with the excess of living excessively. Nothing in his world is real -- not his hair, or garden flowers, or relationships with the entertainers hired for his amusement -- therefore, he feels nothing.
The mysterious Potemkin, a mischievous and sprightly Kent Coffel, promises to make the old man feel again, and we immediately question his motives. He sets about using the naïve if not quite innocent Orphan, a genuinely sympathetic Sean Michael, and Angel, the naughty but nice and always compelling Larissa White, to put his plan to action. Real feelings spring up between teasing songs and sensuous dances, eliciting real fear in the young couple. The entire room seems to undulate with lust and desire, and the two initially choose against each other. Even with all his magic, Potemkin cannot stop the march of time or the changing of the guard from old to young.
The central themes of the story are neatly covered with the excess of cheap theater, and it works spectacularly. We see a girl who believes she wants to be somebody no matter the price, until she sees the price, and a boy who believes that being a nobody doesn't mean he has no value. Looming over them is Rich, desperately hanging on to the allusion of his youth and seeking to replenish himself vampire-like, through Angel.
The choreography and costumes have a flashy Bob Fosse feel to them, and the songs have a bump and grind sway, giving the show a slightly disconcerting backdrop. Farmer, Michael, and White excel in the vocal runs, with strong voices and successful interpretations filled with motivation and emotional context. White gets a star turn as Angel and she commands the stage, at once ferocious then playful, by turns vulnerable and determined. Her voice is particularly well suited for the role, completing her character in a spot on performance that shines.
There's a good deal of "talk-singing" in this show, wherein the vocalist must carefully control instinct to deliver exposition, and Farmer and Coffel provide excellent examples of achieving this necessary balance. Coffel also demonstrates deft showmanship and a flare for suspense in his role, directing our attention to important moments and setting each scene with a flourish.
Todd Micali is delightfully impish as the mischievous and manipulative lead reveler, a sly assistant to both Rich and Potemkin. The ensemble also includes Colin Dowd, Sarah Dowling, Christopher Lee, Nellie Mitchell, Michelle Sauer, and Kimi Short, and it is appropriately difficult to distinguish one from the other as they move and think as one. The effect is visually striking and works well, particularly when accompanied by Scott L. Schoonover's gorgeous masks and Sarah Porter's always on-point costumes.
Directors Scott Miller and Mike Dowdy-Windsor have a clearly defined vision for a show that's not crisply constructed, and their approach and staging benefit the production. Rob Lippert's smart set design features multiple levels and plenty of space for choreographer Michelle Sauer's period-influenced dances and poses. The band, led by conductor/pianist Sarah Nelson, is tight and synchronized with the tempo and emotion of the show. They keep the pace up while setting the tone and timbre of the show. All the details fit together well and the effect is marvelous, creating the atmosphere of an exclusive party at a decadently fading disco.
The songs are showy and catchy and the dialogue witty, allowing lead actors White, Farmer, Michael, and Coffel to shine. A little quirky and weird, Celebration, running through October 22, 2016 at New Line Theatre, is a delightfully provocative musical gem filled with intentional pomp and theatrical circumstance.
Related Articles