Theatre Reviews
Theatre Reviews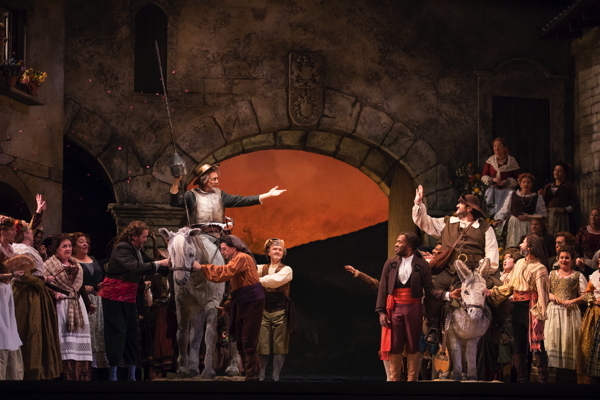 At Lyric Opera of Chicago, a charming 'Don Quichotte' invokes our better angels
By
Powerful, moving performances and a strong sense of whimsy highlight a beautiful production of Jules Massenet's last big hit, Don Quichotte, at Lyric Opera of Chicago.
When Jules Massenet wrote his operatic treatment of poet Jacques Le Lorrain's play Le chevalier de la longue figure (very freely adapted from Cervantes' Don Quixote) in 1909, both he and his style of composition were on the way out. Two years after the opera's highly successful 1910 premiere in Monte Carlo, Massenet would be dead of abdominal cancer and his poplar, romantic style would soon be eclipsed by revolutionaries like Stravinsky, impressionists like Debussy and Ravel, and serialists like Berg.
But fashionable or not, Don Quichotte has proved to be enduringly popular over the last century and is still produced often enough to come in at number 140 worldwide on the Operabase list for the 2014/15 season. The current Lyric production, which originated with San Diego Opera in 2009, does full justice to Massenet's colorful score and librettist Henri Cain's gentle, elegiac version of the tale of the Knight of the Woeful Countenance.
The characters of the Don and Sancho are essentially unchanged from the originals in this treatment but aside from the famous battle with the windmills, the story is radically different. Instead of being a figment of the Don's imagination, Dulcinea (now Dulcinée) is a very real and very wealthy beauty who is pursued by many suitors and bored with them all. Amused by the Don's absurd attempts to woo her, Dulcinée send him on a quest of sorts to retrieve a pearl necklace stolen by Ténébrun, a local bandit.
Disarmed by the Don's nobility, Ténébrun gives him the necklace. But when the Don returns the necklace to Dulcinée and proposes to her, he's mocked by her party guests and gently rebuffed by her. Broken in spirit and health, he retreats to the mountains where, tended by the faithful Sancho, he has one last hallucination of Dulcinée's voice calling him to the heavens as he expires.
The role of Don Quichotte was first sung by the legendary Russian bass Feodor Chaliapin, and many of history's great bassos have taken it on since. When Lyric first presented Don Quichotte in 1974, for example, the role was sung by Nicolai Ghiaurov. This time around, the man behind the Don's spiky hair and beard is Ferruccio Furlanetto, who has made something of a career of the part, playing it to great acclaim all over the world.
His is a gentle and even bemused Don Quichotte, confident in his folly and passionate in defense of his core values of honesty, compassion, and generosity. His complete immersion in the character and his powerful voice -- solid even in its lowest notes -- make his performance the solid foundation on which this fine production is built.
Baritone Nicola Alaimo is Sancho, a role which has more dramatic depth than you might expect. When his heartbroken master is mocked by Dulcinée's party guests, it's Sancho who rises to his defense in the passionate "Riez, allez, riez du pauvre ideologue" ("Laugh, laugh at this poor idealist"), excoriating the crowd for their heartlessness. While Mr. Alaimo is very affecting here and in the Don's death scene, he's equally adept at the comedy of the first and second acts.
Mezzo Clémentine Margaine rounds out the principal cast as a languid Dulcinée, as disappointed with her easy life as she is amused by it. Like Mr. Furlanetto and Mr. Alaimo, she has a voice that easily fills the Lyric's large house.
Tenors Alec Carlson and Jonathan Johnson are Dulcinée's adult suitors Juan and Rodriguez while soprano Diana Newman and mezzo Lindsay Metzger have the "pants" roles of her juvenile admirers Pedro and Garcias. These are primarily comic parts and they do a fine job with them. Bradley Smoak, who St. Louis audiences will recognize from his many appearances at Opera Theatre, turns in a nice cameo as Ténébrun.
The members of Michael Black's chorus sing and act their roles with great skill and Sir Andrew Davis conducts with his customary authority.
"Like children," observes director Matthew Ozawa in the program book, "when we open a book we are given permission to use our imagination to create a new world." And in fact, this Don Quichotte opens with a small boy alone on stage reading the Don's adventures in a huge book. As he turns the pages, the story comes to life around him in the bright storybook colors of Ralph Funicello's sets and Missy West's costumes. The literary concept is carried out as well in the quotes from Cervantes's novel that are projected on a scrim at the beginning of each act. Even when their stories are radically altered, it seems, Don Quixote and Sancho Panza stubbornly remain true to their essential selves.
As his dramatic arc passes from simple comedy to pathos and eventually tragedy, Don Quixote's dedication to kindness and mercy is a reminder that our natures do have better angels, if only we would pay them more heed. Like Pushkin's "holy fool" or Shakespeare's clowns, the Don's folly shows those around him the way to wisdom, if they have eyes to see and ears to hear.
Lyric Opera's production of Don Quichotte runs through December 7 at the opulent Civic Opera house in the Chicago Loop.
Related Articles