Theatre Reviews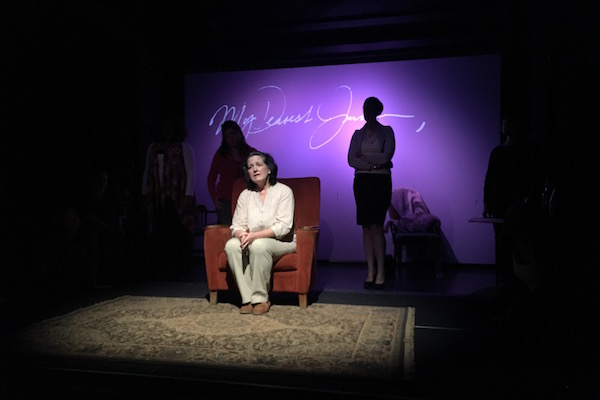 'To the New Girl' gives a comic, occasionally dark, voice to the women scorned 
Tesseract Theatre Company steps into a romantic minefield just before Valentine's Day with its production of Samantha Macher's To the New Girl: Sound Advice for my
Former Husband's Wife or Mistress. The sharply pointed show is a mostly humorous look at love from the perspective of women who've been left, in one way or another, by their spouse. 
In the often laugh-out-loud funny show, ten women share their reactions to, and ways of dealing with, the fact that their husband no longer prefers their company. The stories are deeply personal, sometimes embarrassing, and often teeming with anger and frustration, no matter how boldly or subtly it's articulated. Rejection, abandonment, lingering love, and profound emotions are present throughout, but these feelings are artfully conveyed with a predominantly light touch. 
Under the solid direction of Katie Palazolla, the ensemble defines each character's edges in quite believable fashion. The betrayal each character feels is at once universal and personal. Not all of the women are particularly likeable, and some will undoubtedly make you at least a bit uncomfortable; but most will make you laugh, along with the characters, at the comic ways they deal with their truth and address their future.
Palazzola keeps the pace quick and the transitions minimal, ensuring the audience stays engaged from piece to piece. The capable ensemble features Rae Stassi, Jan Niehoff, Elizabeth Rajchart, Taleesha Caturah, Charity Faith Hope, Marie Kelly, L'Oreal Stevenson, Bre Love, Ashley Netzhammer, and Dorothy LaBounty. The performances in To the New Girl are uniformly strong and each actor kept me interested and involved in their story. 
There are women who exude sympathy and recognition from the moment they step on the stage.  The woman who can't conceive and is determined to be a positive presence in her husband and his girlfriend's child's life. The young bride so reliant on her husband for her self-esteem that even a small temptation is devastating. The woman whose husband no longer recognizes her as his lover due to dementia and has found romance at his care facility. These stories pull at your heartstrings; each character's pain, insecurities, and fears are so apparent and fresh.
Then, there's the long-suffering Jewish grandmother who realizes her husband's much younger Irish Catholic "soul mate" has freed her to live for herself. The lothario junky's pregnant girlfriend, who simply wants to tell her daughter a better story. The teacher who's been replaced by the 18-year-old student she hired to walk her dog while she was out of town. While these stories are decidedly not original and somewhat too cleanly resolved, there's plenty of truth in them.
Finally, there are the women who may trigger "what would I do" moments for the audience. The not-so-naïve young fetishist who can't believe anyone else would accommodate her boyfriend's whims. The devout young wife of a minister who realizes her life will be significantly more comfortable if she negotiates terms for sharing her husband with his male lover. The successful woman offering a bonus to her nanny for her husband's philandering advances. The angry woman who wants to kill her husband's new mistress, claiming a motivation that's filled with mercy, not revenge. Though they may make you squirm, their stories are as affecting as the others. 
In terms of Macher's script, I prefer the stories where characters make definitive choices over the few that are too neatly resolved or feel good with their conclusion. It was too easy to get distracted during the few stories that felt overly clichéd or transparent, even when they were well performed. The set is simple, but comfortable, important considerations as the majority of the actors remain on stage, listening in on each successive story. Director Palazzola frames the show well, creating a final tableau that is compassionate, thoughtful, and noticeably absent a single character. 
What we're left with in To the New Girl, running through February 12, 2017 at Tesseract Theatre, is individual stories. With a significant yet familiar tale, each woman confronts contemporary notions of marriage, fidelity, love, and compromise, while supporting the other women without comment. Not all of the characters are likeable, not all of the stories are comforting, but at least a few are likely to tug at familiar heartbreak. Emotionally satisfying and funny, the cumulative effect is of a silent but substantial audience, teeming with stories of their own.  
Related Articles