Theatre Reviews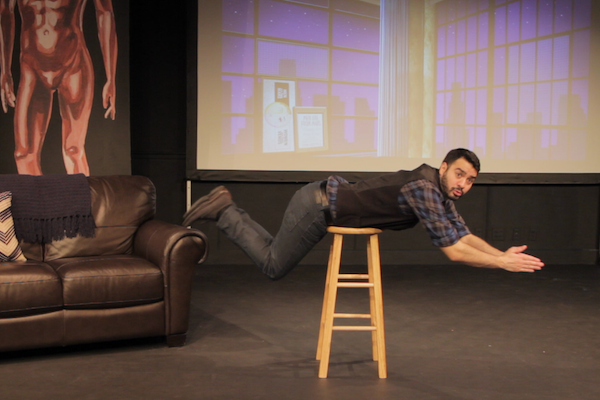 Comedian Amadeo Fusca keeps the relationship advice light and funny in 'Men Are from Mars, Women Are from Venus'
Actor and comedian Amadeo Fusca brings his own anecdotes and raw energy to Men are from Mars, Women are from Venus, a surprisingly entertaining one-man show on love, compromise, and the battle of the sexes. Fusca is quick to establish a rapport with the audience and always looking for a new and clever angle, essential traits to keeping material that could easily bore and plod moving at a fast, engaging pace.
The adapted script by Eric Cobble traces the various stages of courtship, but the actor's stories are personal, seemingly drawn from real life, and dependent on real-world believability. The show, much like the book of the same title by John Gray, aims to help men and women get along better by pointing out common differences in our approach to life and relationships, then providing suggestions for improving said relationships. The book, released in the early 1990s, frankly feels somewhat dated, and the structure makes the show come across more like an entertaining lecture. There are even a couple of video addresses from Gray integrated into the performance. While this lends authority to the title and information, I'd prefer to hear Fusca's interpretation of the material and leave Mr. Gray to his writing.
An established comedian, Fusca's ability to connect and interact with the audience, while providing a never-ending stream of semi-embarrassing stories about his courtship of and marriage to his wife Sarah, is fantastic and well honed. He never misses a beat or the opportunity to drop in a quick local reference, showing he's as aware of the St. Louis Blues' playoff situation as he is fond of toasted ravioli and gooey butter cake. He engages in glib banter with the audience and circles back to reference them just enough to let you know he was genuinely listening. Fusca shines in the moment, coming across as down to earth and heartfelt. The story gets lively, the laughter a little louder, and the audience becomes invested.
Fusca intersperses information from Gray's books with the kind of personal stories that evolve into but aren't quite comedy routines. The longer format, with a more detailed set-up and less bombastic punch line, works quite well in the context of the show, as does Fusca's spirited approach. Though the framework does give an instant touch point for contemporary audiences, Gray's tone will likely appeal more to those in their mid-40s and beyond. Whereas the author is stiff and a bit patronizing, Fusca doesn't hesitate to put himself in his place, owning up to his mistakes with humorous detail. Fusca's stories and personal experience are critical to the show's success and his warmth and sense of open, mutual respect helps bridge the book's generational gap.
As an observer, I find Fusca's embrace of Gray's principles interesting. He seems too young to have been influenced by the book's initial release, and I wonder why he latched on to this particular tome from the era's preponderance of self-help and do-it-yourself manuals. While there's plenty of science intoned, the strictly heterosexual, gender traditional structure simply feels out-of-touch with modern romance. The theme proves an easy launch pad for Fusca's well-crafted storytelling, but honestly, much of the advice that's shared is common sense and not unique to Gray's writing. Then again, at least this show isn't based on "The Rules." 
Fusca is always on, making friends from front row to back, and letting you know that it's perfectly ok with him if you laugh out loud at his foibles. Just remember, he's going to back those up with some common sense tips and practical advice aimed at happier relationships. Men are from Mars, Women are from Venus continues through May 7, 2017 at the Playhouse at Westport Plaza. Judging from the audience I saw, the subject matter will appeal most to well-established couples. That shouldn't dissuade you from attending, however. Anyone who's been in a serious relationship can appreciate the humor in the show, and Fusca's timing and charisma are worthy of much broader reach.
Related Articles