Theatre Reviews
Theatre Reviews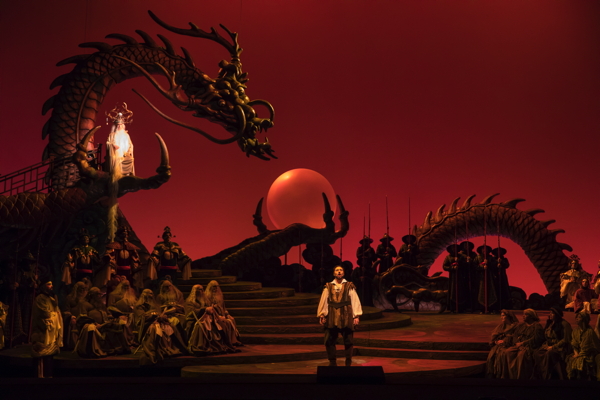 Lyric Opera of Chicago presents a stunning 'Turandot'
By
Turandot is one of the most popular and, in many ways, most controversial of Puccini's operas. Left unfinished at the time of the composer's death in 1924, it has never been given a fully satisfactory finale. At the opera's premiere, in fact, legendary conductor Arturo Toscanini stopped the performance after the last note actually composed by Puccini, turned to the audience, and said, "At this point the Master laid down his pen."
These days, the common practice is to move on to a triumphal final scene, assembled from Puccini's sketches by Franco Alfano, in which Turandot declares her love for Prince Calàf and everyone more or less lives happily ever after.
In the program for the Lyric Opera of Chicago's exemplary production of Turandot, which runs through January 27th, 2018, director Rob Kearley talks about the many challenges a stage director faces in dealing with this theatrically compelling but often bizarre work, including the question of that final scene. He finally decided to go with Alfano's finale, despite acknowledging that it "cannot be said to represent the master's vision" and that it "leaves one feeling compromised." Sometimes, I imagine, the weight of history is just too great.
Which makes a certain amount of sense, as the oppressive presence of the dead hand of history is part of the subtext (intentional or not) of the opera. Based on an old Persian fairy tale as retold by Italian playwright Carlo Gozzi, Giuseppe Adami and Renato Simoni's libretto tells the story of the misandryst Chinese princess Turandot. In revenge for the torture and murder of her ancestress, Turandot forces her many suitors to answer three riddles to win her hand. Failure means death, and as the opera opens the body count is already fairly high, but Turandot seems unwilling (if not unable) to escape her past.
Witnessing the execution of the latest loser, Prince Calàf falls instantly in lust with Turandot despite warnings from his blind father Timur, the slave Liù (in unrequited love with Calàf), and palace functionaries Ping, Pang, and Pong. He answers her riddles, poses one of his own, and finally wins her, generating his own share of death and misery along the way.
That's the Cliff's Notes version, anyway. Wikipedia has a far more detailed synopsis. The bottom line, though, is that Turandot and Calàf are two of the more appalling characters in operatic literature. The former is clearly unhinged; the latter a callow youth determined to possess his lust object regardless of who gets hurt (quite literally, in Liù's case) in the process. Puccini's music redeems them somewhat, but ultimately Turandot's story is a fairly unpleasant business, which is why Alfano's happy ending feels so false.
Despite all that, the Lyric Opera production delivers plenty of musical and theatrical excitement. That finale is still creepy, but it's also undeniably thrilling. Such are the contradictions of Art.
The role of Turandot is difficult for many reasons. She doesn't sing a note until the second scene of Act II, at which point she needs to quickly dominate the stage. In the next act, she has to completely change from cold autocrat to swooning lover after a single forced kiss from Calàf. It's a hell of a challenge, but soprano Amber Wagner, whose big, rich voice enhanced Lyric's Tannhäuser two years ago, is more than up to it. When she describes the horror that made her the avenging angel she has become (the aria "In questa reggia" in II, 1), she's riveting, while her sudden defrosting in the next act feels equally real. That's no small accomplishment.
Tenor Stefano La Colla makes Calàf's obsession with Turandot as credible as possible, and does so with a solid-gold voice. He gives the character the irresistible energy that he needs. I do wish he hadn't decided to break character to bow to the audience after "Nessun dorma," though.
The commedia dell'arte trio of Ping, Pang, and Pong might have been nothing more than comic relief in the hands of lesser composers and librettists, but Puccini and company added a layer of complexity to them in their second-act trio, in which they lament their service to the homicidal Turandot and long for bucolic homes. Baritone Zachary Nelson (Ping) and tenors Rodell Rosel (Pang) and Keith Jameson (Pong) have voices that blend beautifully and bring out the pain that coexists with the trio's sarcastic humor.
Every Puccini opera has a suffering heroine. In the case of Liù that means both romantic yearning and physical torture. Italian soprano Maria Agresta Agresta (who will be replaced in January by Janai Brugger) makes an auspicious Lyric debut in this role, turning in a performance of lyrical beauty and passion. Also making his first appearance at Lyric, tenor Josh Lovell cuts an imposing figure as Emperor Altoum and bass Patrick Guetti is nicely menacing as the Mandarin who reads Turandot's decree at the beginning of the opera.
Andrea Silvestrelli shines in the small but important role of the deposed king Timur. I had just seen him the night before as the stern Nourabad in Lyric's Pearl Fishers, and the contrast between them demonstrated his range as an actor.
The chorus and children's chorus carry much of the narrative weight in Turandot, especially in the vast blocks of exposition that constitute the first act. Chorus Master Michael Black can be justifiably proud of their remarkable work here, as they sing with overwhelming power and precision. Bravi, all.
Sir Andrew Davis leads his massive forces, including the offstage brass, in a reading of the score which, while tending to favor slower tempi in many places, nevertheless delivers all the drama one could wish.
I can't complete this review without heaping praise on Allen Charles Klein's opulent and evocative sets and costumes. Originally designed for the Dallas Opera, they create a compellingly surreal atmosphere. Vividly suggesting a semi-mythical China, the set is dominated by a rather deranged-looking dragon and a massive scrying globe. I had a Lord of the Rings flashback when Turandot's massive eye suddenly appears in it in Act I. The elaborate costumes, with their massive, flowing sleeves and striking colors, complete the effect. Masks and makeup inspired by classical Peking opera add to the overall impact.
Mr. Kearley's direction pulls this all together to create a theatrical experience of stunning power. Yes, all of Puccini's unsolvable problems are still there--as, I expect, they inevitably must be--but this all works so well that it ultimately doesn't matter. If you want to understand why this flawed masterpiece continues to appeal to audiences, make your way to Lyric Opera of Chicago before their Turandot orders her last execution on January 27, 2018. You won't regret it.
Related Articles