Theatre Reviews
Theatre Reviews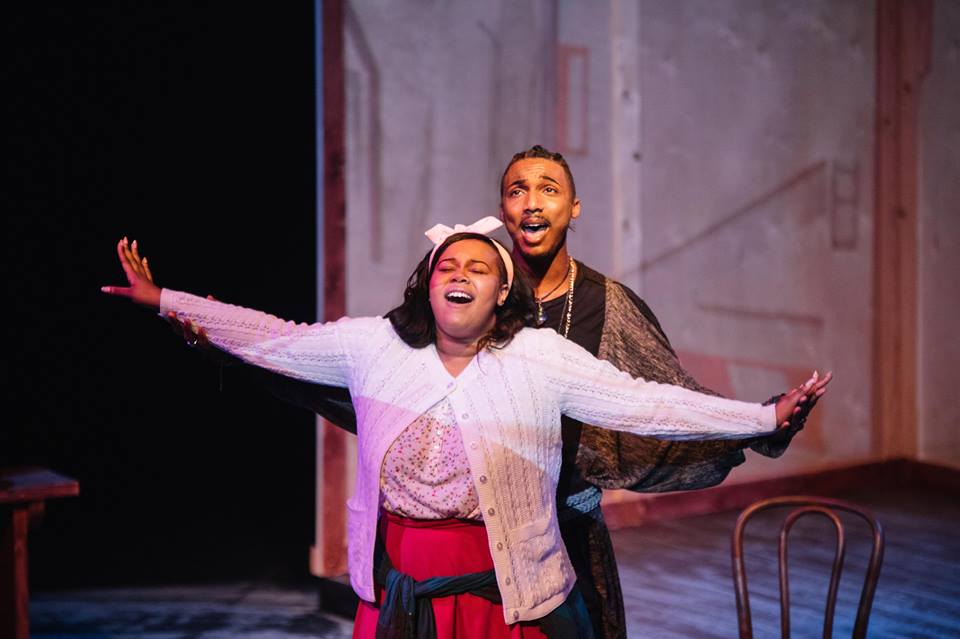 'Beyond the River: moving forward' is a hopeful reminder that we must learn from our past and aspire to be more
By
Collaborators Tre'von Griffith and Lauron Thompson-Cosby look to history to create a warm, nurturing tale about a young woman seeking to learn her place and purpose in life. Beyond the River: moving forward is an entertaining and evocative production that presents history with an eye to the future. Mya lives with her Aunt B and Uncle Chuck in a small house that's comfortable, but worn. She tries her best to behave and keep her chores up, but the spritely DreamCatcher is making her sleep more exhausting than her waking hours.
The one act show moves at the pace of the Mississippi in springtime, gathering so many bits and pieces of stories together. The story of the oppression and struggles black Americans face is told in several short scenes that place Mya and DreamCatcher in the midst of history. With a tone that's intentionally optimistic and a sensibility that's full of spirit, intelligence, and the will to succeed, we journey through time with Mya.
Brianna Brown, as Mya, and Golliday, as DreamCatcher, capably lead a strong ensemble cast that also includes Sieglinda Fox-Fletcher, Byron Keaton, Dre Williams, Alex Jay, and Felicia Campbell. The storytelling is full of personality, history, and motivation and each actor fully commits. Choreography and movement with purposeful stamping and marching, punctuate the more naturalistic scenes. They are accented by the vocal call and response of church and political rallies, and the play comes together more like a tapestry woven with many threads. Golliday moves with hypnotic intention complemented by a grateful, playful sensibility. As Mya the beacon of light and hope that permeates the fabric, Brown shines in the center of it all.
Eventually, Mya meets several iconic characters that represent cultural archetypes: the inventor, the mogul, and the mediator. Along with the strong, nurturing black female represented by Aunt B and the doting and wise but broken Uncle Chuck, many stereotypes are celebrated for their positive qualities. These individuals are there to guide and inspire Mya and she enthusiastically responds to their encouragement. Even DreamCatcher has a positive, empowering purpose. It's an interesting juxtaposition against several scenes that show hatred, fear, and purposeful misunderstanding and this is where Griffith and Thompson-Cosby's work really hits a mark.
Though the intention and characterizations are strong, the story arc itself may benefit from a little work. Mya's purpose and journey feel a bit vaguely defined, if there's intention in that choice, the intention needs to be more strongly conveyed. At the moment, as wonderfully expressive and interesting as she is, there's a sense of something missing, and a more forcefully or directly stated resolution may help the audience embrace her even more. The potential for a strong call-to-action is also present in the well-crafted collage. Beyond the River: moving forward is an entertaining, intellectually and emotionally stimulating story, and can easily emphasize a message without stepping on a soapbox.
The simple set is complemented by excellent use of various media, some of which are instantly familiar to audience members and others that are revealed more slowly or need more discovery to fully understand. The balance of live action, projected imagery, and audio is quite pleasant and well controlled with seamless transitions. Each element adds substance to the creative approach as lessons from the history of African-Americans are brought to life. Icons are personified and offer sound advice and encouragement for the future while visuals from history surround Mya, grounding and supporting her.
Tre'von Griffith and Lauron Thompson-Cosby are creating something powerful with their thoughtful, intentionally forward-looking productions. The two are part of an emerging group of visual and performing artists working to combine storytelling and other media to create new expressions of theater. Though the primary story arc could use some focus and clarity, Beyond the River: moving forward, which ran February 2 – 4, is thought provoking and hopeful, but never hides from unpleasant truths. Instead, the show looks to turn those lessons into a better future.
Related Articles