Visual & Performing Arts
Visual & Performing Arts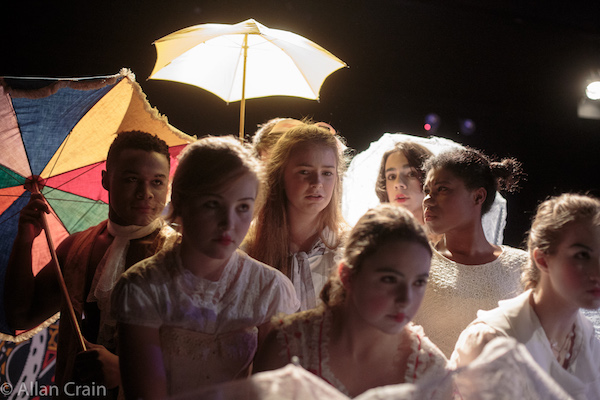 The St Lou Fringe Festival kicks off with a little something for everyone
By
After four years of increasing buzz and success, as well as a bit of national attention for the quality and variety of performances, the fifth annual St. Lou Fringe Festival is poised for another successful run. Beginning this weekend and continuing through August 27, 2016, the festival presents a diverse mix of visual and performing arts designed to inspire, encourage, and celebrate the artists and their audiences. This year's festival is not simply about enjoying the shows, but also exploring the arts. In addition to more than 100 performances from 33 artists and companies, there are multiple opportunities for creative self-expression throughout the festival grounds and programming.
Families looking for one last summer adventure will want to consider the Fringe Family event, starting at 2pm this Saturday in the Kranzberg Center for the Arts. Admission is $10 per family for an afternoon of interactive art and fun that includes a family improv class, crafts, face painting in the lobby, and a 30-minute production of The Diary of Anne Frank that's suitable for all audiences. Families with teenagers might even want to stick around to catch master illusionist Keith Jozsef perform his Unspeakable Acts or the dance performance Finite/Infinite.
Another activity for festival attendees is the open stage at the festival box office. For as little as $1 anyone can take their turn in the space provided to put on a spontaneous Fringe show. All are welcome to try out a new song, test their comedy chops, or emote in grand fashion. (Some families may want to stop by and try out a little of the improv they learned during Fringe Family.) 
Fans of previous festivals will be delighted to see some of their favorite local companies appearing at the Fringe, including familiar festival faces and a number of new acts from St. Louis and around the company. The Midnight Company, because why not?, R-S Theatrics, and Tesseract Theatre Company are all presenting works. There are a number of independent performers, including Jane Paradise, Ashley Hicks, and Sahara Sista SOLS to name just a few. A few of the shows are getting buzz already, based on rehearsals and previews. Among the most frequently mentioned are Count Time! The Life and Times of Patricia Prewitt, which was previewed at the Grand Center Theater Crawl; Boomerang Babies; Big Hair, Big Dreams: The Mini Donald Trump Musical; and The Selkie.
Seasoned theater veterans looking for the next big thing might want to check out the "choose your own adventure" comedy Or What You Will, Part Deux or the microtheatre performances. New this year, the microtheatre series consists of five 20-minute shows, presented in an intimate 13-seat space. In addition to scripted theater, the two-weekend festival showcases improv, dance, sketch comedy, performance poetry, cabaret, illusion and mentalism, though I've likely left something off the list. 
An important part of the St. Lou Fringe's mission is to encourage variety, diversity, and open exploration of art through performance and exhibits. Not every show is suitable for all tastes or audiences. Consult the festival guide, available at the box office and performance venues, for short descriptions of each show as well as audience warnings and considerations. 
As with every Fringe Festival, each show is under an hour, and 100% of the ticket price goes to the performers, with a $2 festival fee that supports St. Lou Fringe's operations and productions, as well as its continuing mission. There are also a number of festival pass packages available. To streamline ticketing, attendees can purchase tickets online at ticketleap.com, at each venue (with cash or via smartphone), and at the Fringe Box Office. St. Lou Fringe is as social as it is theatrical, so plan to tweet and share photos as well as joining performers, festival staff, and other patrons at the After the Fringe series late nights after the shows. 
The St. Lou Fringe Festival runs August 19 through August 27, 2016. Each weekend includes a different line up of shows and events, and performances are under an hour in length, enabling theatergoers to sample a variety of art in a short time. With shows scattered throughout the Grand Center Arts District, most festival attendees will find it easy and convenient to park once and walk between venues. Attendee's will want to dress comfortably, it's August in St. Louis after all, though there are plenty of opportunities to grab a meal or beverage in Grand Center.
Related Articles