Cabaret
Cabaret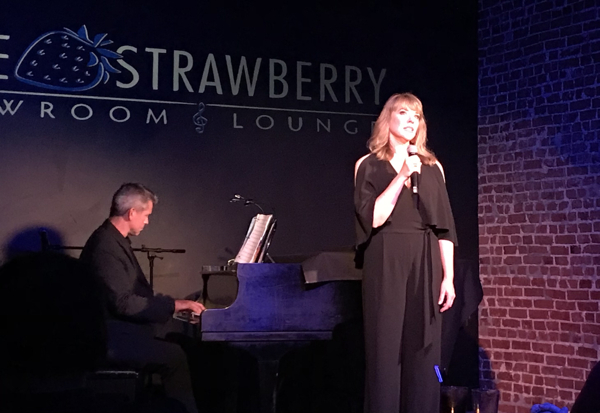 Review: The return of Emily Skinner and John Fischer to the Blue Strawberry is cause for celebration
By
When I reviewed Emily Skinner's last appearance at The Blue Strawberry in January 2020, I described it as "a show that did everything right and nothing wrong…it was simply nonpareil."  Having seen her new show, "A Broad with a Broad, Broad Mind," at the Strawberry last Friday (September 17th), I'm tempted to just file the serial numbers off last year's review and plagiarize it.
Emily Skinner
Because, despite a Plague Year of enforced idleness, Skinner and her pianist, music director, and long-time friend John Fischer were just as brilliant as they were last January. Skinner still has a powerful and versatile voice that she can use to belt or purr as the material demands. Her acting skills, honed from years on the musical theatre stage (she most recently appeared here as Matron "Mama" Morton in "Chicago" at The Muny in August), remain impressive. And her choice of material was just as wide-ranging and artfully assembled.
That's not to say there weren't differences this time around. Inspired by Skinner's experience as a performer who couldn't perform for over a year, "A Broad with a Broad, Broad Mind" was both more bawdy and more reflective in places than her "Broadway My Way" show last year. And this time around, Fischer got a chance to sing with her, most notably and hilariously in "Schadenfreude" (from "Avenue Q"). Here, and in many other moments during the evening, their rapport and easy camaraderie made their work together a joy to behold.
The placement of "Schadenfreude" in the show also demonstrated the meticulousness with which the set list has been assembled. It followed hard upon a beautifully tender rendition of Billy Barnes' "(Have I Stayed) Too Long at the Fair," with its rueful reflection on what happens when the music stops and the piper has rendered his invoice. The opening lines of "Schadenfreude"—"Right now you are down and out and feeling really crappy / And when I see how sad you are it sort of makes me happy"—offered a perfect way to make an abrupt transition back to comedy that also made dramatic sense. It was smart and it worked.
There were many other wonderful moments like this in the unfailingly entertaining package that is "A Broad with a Broad, Broad Mind." There were so many, in fact, that I will limit myself to highlighting just a few that I found particularly delightful.
Let's start with the opening and closing numbers by Sir Elton John: "The Bitch is Back" and "Thank You for Being a Friend." Performed with unabashedly campy joy, complete with silly eyeglasses, they were the perfect bookends for the show. There was also more fun than you can shake a stick at ("if that's your idea of a good time," to quote Groucho) in Skinner's "Stumble Along" (from "The Drowsy Chaperone"), which she introduced by noting that "in the last ten years I have played three raging alcoholics. And I don't even drink."
John Fischer and Emily Skinner channel
Sir Elton
I loved the simple tenderness of Fred Rogers' "It's You I Like" (introduced on "Mr. Rogers' Neighborhood" in 1984) and the perfect combination of lubriciousness and regret in Rodgers and Hart's "Bewitched" (a.k.a. "Bewitched, Bothered and Bewildered") from "Pal Joey." Skinner used the suggestive lyrics from the 1940 original ("horizontally speaking, he's at his very best") along with a few I didn't recognize, possibly from one of the revivals. In any case, it lived up to her advance billing as her "favorite sexy standard."
And speaking of sex, let us rejoice that Skinner once again gave us a Mae West song, done in a way that perfectly captured West's style and vocal delivery. This time it was West's pointed attack on censorship "That's All Brother, That's All." West's original recording of it is a treasured part of my LP collection
Wrapping everything up was Susan Werner's "May I Suggest," with its inspiring reminder that "this is the best part of your life."  Skinner introduced it as "something for you to consider in your week ahead," but I'd broaden that to say it's something consider every day that remains to you. As Walt Kelly's Porkypine once noted, "The best break anybody ever gets is in bein' alive in the first place. An' you don't unnerstan' what a perfect deal it is until you realizes that you ain't gone be stuck with it forever, either."
I called Emily Skinner's appearance here last year a "knockout". So was this. Thanks to Jim Dolan for bringing her back again.
Cabaret, jazz, and other music events continue at The Blue Strawberry on North Boyle. Currently the club requires proof of vaccination and masking, except when eating or drinking, and tables are spaced far enough apart to inspire confidence. For more information, visit the Blue Strawberry web site. For information on Emily Skinner's upcoming appearances, check out her web site.
Related Articles