Classical
Classical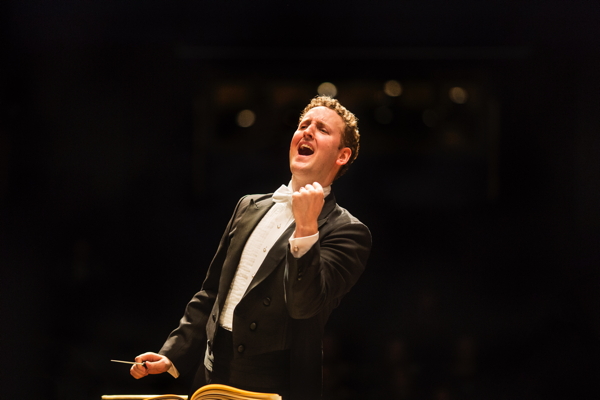 Review: A vivid evocation of London highlights a mostly British program by the SLSO
By
It has been a few years since my wife and I have been to London, but I feel like we took another visit there Friday night (November 23) with that wonderfully evocative performance of Vaughan Williams's "A London Symphony" by the St. Louis Symphony Orchestra under the baton of guest conductor Michael Francis.
[Find out more about the music with my symphony preview.]
A native of Great Britain and a former double bass player with the London Symphony Orchestra, Mr. Francis presumably knows well the city that inspired Vaughan Williams and, in fact, his short pre-performance talk was both entertaining and enlightening. It hadn't occurred to me, for example, that the march theme in the final movement might have been inspired by the sight of British troops marching off to war, but given that the work was first performed in 1915 it makes sense.
Vaughan Williams went to some lengths to point out that while "A London Symphony" was suggested by London it was not literally descriptive of it. "The title A London Symphony, he wrote, "may suggest to some hearers a descriptive piece, but this is not the intention of the composer. A better title would perhaps be 'Symphony by a Londoner'". Even so, I can't hear it without thinking of both my visits to the city itself and the misty paintings Monet did of it (and which the composer likely knew).
Performances of "A London Symphony" usually run around 45 minutes, but Mr. Francis's take on the piece was so well paced and compelling that it seemed to fly by. This was one of those performances during which I took almost no notes because I was so swept up in the experience. It was as though Vaughan Williams were speaking to us directly, without an intermediary.
The high quality of the orchestral playing had something to do with that, of course. The string sound was solid as always and there were notable solos by Cally Banham on English horn and Beth Guterman Chu on viola. The trumpets under Associate Principal Thomas Drake and the horns under Principal Roger Kaza were also in fine form.
The concert opened with an equally vivid reading of Elgar's "In the South (Alassio)," a lavish, sweeping tone poem that is the composer's love letter to Italy in general and in particular to the Italian Rivera town where he and his wife were vacationing in the winter of 1903-1904. The leaping opening theme, which Elgar described as "Joy of living (wine and macaroni)," bubbled with good cheer, the lumbering march inspired by "strife and wars" was suitably ominous, and the evocation of the Neapolitan popular song in the central viola tune was rendered beautifully by Beth Guterman Chu.
Joshua Bell
Mr. Francis conducted with big, fluid gestures that mirrored the wide dramatic range of his interpretation. This was a bold and varied performance that perfectly captured the many moods of this colorful work.
Sandwiched between these two large-scale works, Bruch's 1866 Violin Concerto No. 1 felt like a piece of more modest charms, but no less appealing for all that. It's warm, heartfelt, and utterly irresistible music, and it got an intense and very physically demonstrative interpretation from superstar violinist Joshua Bell.
Mr. Bell made his Carnegie Hall debut performing the Bruch concerto with the SLSO back in 1985 at the tender age of 17, so Friday night's performance had a special resonance. It was certainly an exuberant one, in which the space set aside for the soloist at the conductor's left seemed barely able to contain Mr. Bell's extroverted approach. The music combines virtuoso flash with heartfelt emotion, and Mr. Bell found plenty of both in his technically flawless presentation. Multiple curtain calls led, inevitably, to an encore: a short, flashy selection from John Corigliano's score for the 1998 film "The Red Violin."
The concert repeats tonight at 8 pm and Sunday at 3 pm (November 24 and 25). Next weekend, John Storgårds conducts the St. Louis Symphony Orchestra and pianist Ingrid Fliter Friday at 10:30 am and Saturday at 8 pm, November 30 and December 1. The program consists of Mendelssohn's Piano Concerto No. 1 and Bruckner's Symphony No. 9. All performances take place at Powell Hall in Grand Center.
Related Articles