Classical
Classical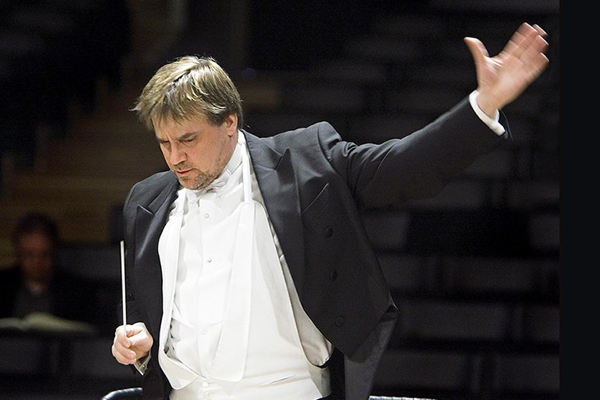 Review: Dazzling Mendelssohn and powerful Bruckner with Fliter, Storgårds, and the SLSO
By Chuck Lavazzi
Beginnings and endings. A young man's first big piano concerto and an old man's last symphony. Both got splendid performances last Saturday (December 1st) by the St. Louis Symphony Orchestra under guest conductor John Storgårds.
[Find out more about the music with my symphony preview.]
The young man's work was the Piano Concerto No. 1 by Felix Mendelssohn, first performed in 1831 with the composer himself at the keyboard. It was a bit radical for its time, dropping a lot of the empty virtuoso display common in keyboard concertos back then and merging the traditional three movements into one continuous whole, with trumpet fanfares separating the individual sections. Now none of that seems especially daring, so it's just a rattling good time, especially when done as well as it was Saturday night.
Mr. Storgårds is a conductor who seems to be very comfortable with a wide variety of music. Over the years he has given local audiences insightful performances of works by (among others) Tchaikovsky, Ravel, Bartok, and Beethoven. Now we can add Mendelssohn to that list.
He and soloist Ingrid Fliter gave us a Mendelssohn First that boasted a fiery, dramatic first movement, a poetic second, and a joyful third. Ms. Fliter had plenty of virtuoso flair, especially in the galloping Presto finale, along with lyrical passion in the brief but touching Andante second movement.
Ingrid Fliter
Photo by Gary Houlder
In an interview in the symphony program, Ms. Fliter talks about how she tries "to become the character I believe the composer was thinking of." You could both hear and see that Saturday night, as both her face and body language changed with the moods of the music. It was a thoroughly committed and gratifying performance. The enthusiastic applause that followed brought her back for an equally fine encore: Chopin's haunting Nocturne No. 20 in C-sharp minor. It was an ideal counterpoint to the playful spirit of the Mendelssohn.
The rest of the evening was taken up with that old man's symphony--specifically, the Symphony No. 9 by Anton Bruckner. Left unfinished at the time of the composer's death, the Ninth is usually performed these days in its incomplete, three-movement form, although in recent decades there have been several well-researched attempts to reconstruct the fourth movement from Bruckner's sketches. Mr. Storgårds and the orchestra performed the 1951 Nowak edition of the three-movement version.
And what a stunning performance that was! With a running time of around an hour, the Ninth is, even in incomplete form, a pretty massive undertaking. It demands stamina from the players and a firm grasp of Bruckner's complex musical architecture from the conductor. It got both Saturday night.
In Bruckner's music you can hear both great, heaven-storming power and quiet mystery. Time seems to act differently in a Bruckner symphony, with each movement incorporating so much emotional depth that it can feel both shorter and longer than the clock indicates. The conductor needs to give full value to the work's many moods while still creating a sense of a coherent, unified whole. I felt that Mr. Storgårds did that consistently and compellingly. The big climaxes in the outer movements had striking power. The demonic hammer blows of the Scherzo contrasted perfectly with the eerie otherworldliness of the movement's middle section. And the final brass chorale of the Adagio third movement was pure ethereal beauty.
The orchestra played brilliantly for Mr. Storgårds, with a robust string sound and heroic work by the massive brass section: nine horns, four trumpets, five trombones, and tuba. Four of the horn players (Cara Kizer, Young Kim, Daniel Katzen, and Tod Bowermaster) also doubled on Wagner tubas, which are so important in the final moments of the Adagio. Bruckner also gave the flute and oboe a number of touching solo passages. Principal Flute Mark Sparks and Principal Oboe Jelena Dirks did them full justice.
I don't think Bruckner's symphonies get the attention they deserve. "Their shapes are ambiguous," writes Tim Munro in his program notes, "supported by obsessive repetition, jolted by sudden shifts, halted by unexpected silence. Their harmonies are strange, floating from the known into the unknown." They ask a lot from the audience but I think they give a lot in return. It's always good to see them on the program.
Next at Powell Hall: Matthew Halls conducts the St. Louis Symphony Orchestra and Chorus Friday and Saturday at 8 pm and Sunday at 3 pm, December 7-9 in Handel's "Messiah". Performances take place at Powell Hall in Grand Center.
Related Articles