Classical
Classical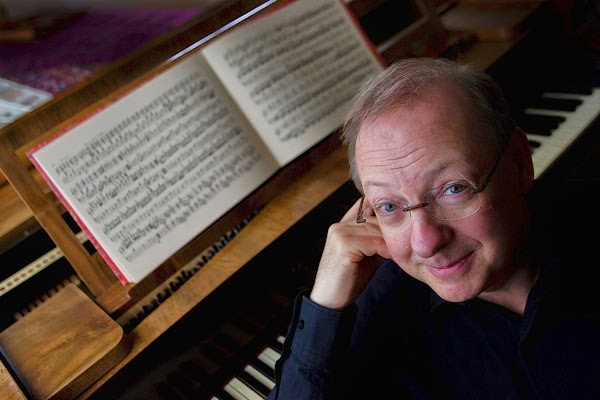 Review: Nicholas McGegan brings springtime to Powell Hall
By Chuck Lavazzi
Judging from the weather forecast, spring is apparently just around the corner. Judging from the sunny and breezy St. Louis Symphony Orchestra program Sunday afternoon (March 1), it had already arrived.
[Find out more about the music with my symphony preview.]
Nicholas McGegan
Photo by Steve Sherman
Addressing the audience before the concert, guest conductor Nicholas McGegan noted that all three works on the program were "young men's music": Haydn's Symphony No. 31 (1765, age 32), Beethoven's Piano Concerto No. 2 (1795, age 25), and Schubert's Symphony No. 5 (1816, age 18). And, indeed, all three works radiate the confidence and exuberance of composers who probably felt (correctly or otherwise) that they had long and promising careers before them. They got correspondingly confident and exuberant performances from Mr. McGegan and the band.
When Haydn wrote his Haydn's Symphony No. 31 in D major, he was only a few years into what would prove to be a long and lucrative career as music director for the rich and powerful Esterházy family. Prince Nikolaus Esterházy was an enthusiastic music lover and hired Haydn to direct his court orchestra. The band had just brought its horn section back to full strength, and Haydn celebrated with a symphony that not only featured that section prominently but even included what Mr. McGegan referred to as "the call of the Austrian Post Office" as a theme in the first movement--hence the "Hornsignal" nickname that has become attached to it.
Haydn didn't just give the horns a large role, though. He also wrote small but important bits for the flute and oboes in the first and third movements, a duet for the Concertmaster (principal violin) and cello in the second movement, and capped it all with a final movement that included long solos for the principal cello, flute, violin, and bass as well as for the horns and oboes. One is left with the impression that Haydn was proud of the abilities of his players and wanted Prince Nick to see what he was getting for his money.
This was, needles to say, a golden opportunity for the principal players of the SLSO to show off their skills, and they did not disappoint. Sunday we got uniformly excellent playing from Principal Flute Mark Sparks, Second Associate Concertmaster Celeste Golden Boyer, Principal Cello Daniel Lee, Principal Bass Erik Harris, and Cally Banham and Tamara Winston on oboes. The five horn players under Principal Roger Kaza sounded like pure gold in all four movements--a good thing since, with an orchestra sized about the way it would have been in Haydn's day (around 20-25 players total), the horn section was the dominant voice.
As he has so often in the past, Mr. McGegan led a performance that was bracing and radiated an irresistible sense of joy. He is, as I have noted often in the past, a man who clearly loves what he is doing and communicates that affection to the audience. He's also one of those conductors who appear more interested in shaping phrases than in keeping time, relying instead on his musicians to keep in synch with only the periodic reminder from the podium. With this band, his confidence is entirely justified.
Seong-Jin Cho
Up next was the Beethoven concerto. It carries the number two because, while it was actually his first essay in the form, it was the second to be published. The concerto shows a cheerful insouciance that belies the composer's later reputation for what Stuart Isacoff, in his lively "A Natural History of the Piano," describes as "ferocious, string-snapping outbursts." This is music that dances and dreams, but never storms.
Working closely with Mr. McGegan, this weekend's soloist, young (b. 1994) South Korean virtuoso Seong-Jin Cho, captured all of the work's many moods to perfection and showed a remarkably wide range of expression and tonal variety. This was perhaps most apparent in the first movement cadenza, where he showed an ideal mix of virtuoso display and artistic sensitivity. The Adagio second movement was especially impressive, showing the kind of subtlety of tone color and dynamics that I associate with the work of the late Walter Gieseking.
The fact that this was the first time he had played the work in public just made his performance that much more impressive.
It all went down very well with the audience, who were rewarded with an encore: the Adagio second movement from the Piano Sonata No. 12 by Mozart. Given that encores are more usually stand-alone pieces, often quite flashy, this was a bold and, in my view, very successful choice. He made a similar choice on Saturday night, with the second movement from Beethoven's "Pathetique" sonata.
The Shubert Fifth concluded the concert with the brightest sunlight of the lot, despite some passing clouds in the Andante con moto second movement. Schubert was a master songwriter (he wrote over 600 in his short three decades on this planet), so it's not surprising that the work abounds in "ear worms" and, especially in the first movement, toe-tapping rhythms. Mr. McGegan's perfectly balanced reading let us hear the joy and occasional drama of this enchanting work.
It's been a few years since I really listened to the Shubert Fifth, so I had forgotten how prominent the flute is in nearly every movement. Kudos to Mark Sparks for his fine work Sunday afternoon.
Next at Powell Hall: Stéphane Denève conducts The St. Louis Symphony Orchestra, along with saxophonist Timothy McAllister on Friday at 10:30 am and 8 pm and Saturday at 8 pm March 6 and 7. The program consists of Honegger's "Pacific 231," John Adams's "A Short Ride in a Fast Machine," Guillaume Connesson's saxophone concerto "A Kind of Trane," Roussel's Symphony No. 3, and Ravel's "Bolero." Performances take place at Powell Symphony Hall in Grand Center.
Related Articles