Classical
Classical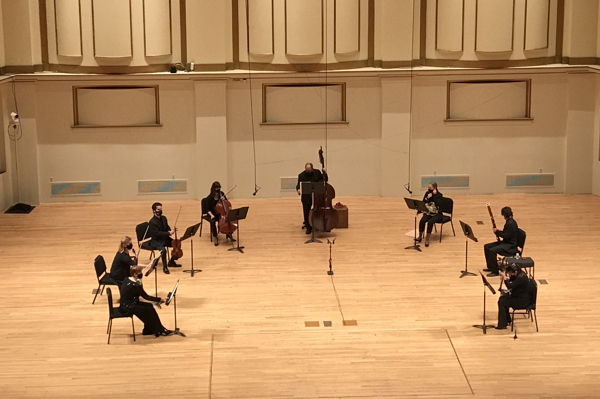 Review: A lively mix of old and new at the SLSO chamber music festival
By Chuck Lavazzi
The St. Louis Symphony Orchestra's (SLSO) chamber music festival kicked off its second and final week on Wednesday, November 5th, with a sharply contrasting pair of works: Caroline Shaw's "Ent'racte" (first performed in 2011) and almost all of Schubert's 1824 Octet, first performed in 1827.
[Find out more about the music with my symphony preview.]
The reason we're not hearing all of the Schubert work is that it's very big, ambitious, and can take an hour or more in its complete form. Since concerts in this series are designed to run around an hour, the SLSO opted to drop one of the six movements to make room for the Shaw piece.
Given the quality of Wednesday night's performance, I doubt that mattered to anyone.
Make no mistake, the Schubert Octet is a work of symphonic proportions that makes major demands on most of its players, especially the first violinist, clarinetist, a horn. Violinist Alison Harney and clarinetist Tzuying Huang sang Schubert's melodies with gratifying soul and skill, both in their solos and their many duets. Victoria Knudtson had a few issues with the horn part, mostly in the first movement, but more than made up for them with some perfect solo passages, including a tricky and very exposed one in the second movement.
L-R: Alison Harney, Angie Smart
Jennifer Humphreys, Christian Tantillo
Cellist Jennifer Humphreys displayed a smooth, sonorous tone in the Andante - variations movement and there was fine work as well by second violinist Angie Smart, Jennifer Humphrey on viola and Andrew Gott on bassoon. Ronald Moberly provided a solid foundation on double bass, and also appeared to be cuing the other musicians at the start of each movement from his highly visible position in the center of the ensemble.
The entire group sounded just fine, in short, and made a strong impression when they all played together, especially in the more energetic first and last movements, with their dramatic introductions.
The evening opened with the Shaw "Ent'racte," which is essentially a virtuoso study in just how much sonic variety a person can get out of a string quartet. There are some eerie harmonics, creative use of pizzicato and, at one point, something that sounded rather like an amiable conversation among a quartet of cats. It asks a lot from the players, but the quartet of violinists Alison Harney and Angie Smart, violist Christian Tantillo, and cellist Jennifer Humphreys were more than an equal for the challenges of this fascinating twists and turns of this music. It's gets a lot of mileage out of a short theme that, to my ears, called to mind the work of 16th-century British composer Thomas Tallis. That gave it a kind of timeless quality—both ancient and modern at the same time.
The SLSO's chamber music festival continues through this Sunday, November 8th, at Powell Hall in Grand Center. Audience size for all these concerts is limited to 150 for each performance and tickets can only be purchased by calling the SLSO box office at 314-534-1700. Only two tickets can be purchased per household. Information on the SLSOs COVID-19 safety protocols is available at the orchestra's web site.
Related Articles