Classical
Classical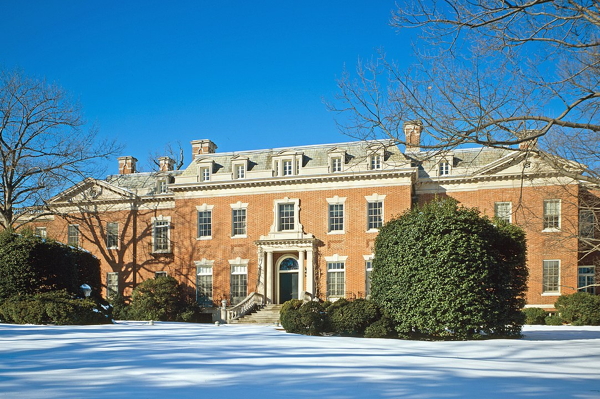 Symphony Preview: Seconding that emotion
By
To what extent does a composition reflect the emotional state of its composer? Judging by the three pieces Stéphane Denève and the St. Louis Symphony Orchestra (SLSO) will perform in the third in the series of 2021 digital concerts (streaming March 11 through April 10), the answer is often unclear.
Dumbarton Oaks music room
By Jack E. Boucher,
National Park Service
Public Domain, Link
Let us follow the King's instructions to the White Rabbit in "Alice's Adventures in Wonderland" and "begin at the beginning" with a look at the first work on the program, the Concerto in E-flat major, "Dumbarton Oaks," by Igor Stravinsky. Written on commission for Robert Woods Bliss and Mildred Barnes Bliss in 1937 and '38 and first performed in May, 1938 at a private concert at their Dumbarton Oaks estate in the Georgetown neighborhood of Washington, D.C., this chamber concerto is a sprightly and even cheerful homage to the Brandenburg Concertos of Bach. Listening to it for the first time, you might think it came from a happy period in the composer's life.
You would, however, be dead wrong. In 1937 Stravinsky's wife Katya died of tuberculosis, followed shortly thereafter by his eldest daughter Ludmilla. The composer himself was unable to conduct the concerto's premiere because he was hospitalized for five months with the disease, during which time his mother died.
So, no, not a happy time. Indeed, Stravinsky would later describe it as "perhaps the most difficult time of my life." And yet, the music that emerged from these tribulations is a lighthearted and bracing 20th-century pastiche of Bach's Brandenburg Concerto No. 3 that never descends to anything like outright imitation. As the composer recalled later:
I played Bach very regularly during the composition of the concerto, and I was greatly attracted to the Brandenburg Concertos. Whether or not the first theme of my first movement is a conscious borrowing from the third of the Brandenburg set, however, I do not know. What I can say is that Bach would most certainly have been delighted to loan it to me; to borrow in this way was exactly the sort of thing he liked to do.
No doubt, although I expect Bach would have found the astringent harmonies and constantly changing time signatures a bit weird.
The concerto follows the general format of its 18th-century inspiration, with two fast movements framing a slower Allegretto second movement. Themes are tossed back and forth among the members of the small ensemble like the ball in a fast-paced game of tennis and there's even a very traditional fugue at the end of the first movement. The score directs all three movements to be played attacca (without pause), separated by only a few series of more solemn chords to signal a break in the emotional tone, but judging by some of the recordings on YouTube conductors often take a pause between movements anyway. The entire piece runs around 12 to 16 minutes. It's fun to hear but difficult to play, and will give all the musicians a chance to test their mettle.
George Walker
You can preview the Concerto on YouTube with a synchronized display of the score (but also, alas, with intrusive commercials) or, if you're willing to sacrifice the score for a commercial-free experience, check out this excellent video by Houston's River Oaks Chamber Orchestra.
Up next is the "Lyric for Strings." written in 1946 by American composer George Walker, who died just two years ago at the age of 96. Walker was first African-American to graduate from the prestigious Curtis Institute and the first African-American composer to be awarded a Pulitzer Prize—part of a string of "firsts" in a long and distinguished career. Unlike Stravinsky's concerto, the "Lyric" directly reflects a personal tragedy in the composer's life. "The piece, writes Ricky O'Bannon in program notes for the Boston Symphony, "was originally titled Lament and is dedicated to Walker's grandmother who died the year prior."
It does share a distinctly contrapuntal texture with the Stravinsky piece, but that's the extent of the similarity. The "Lyric for Strings" is both sadly moving and uplifting at the same time. I defy anyone to come away from this seven-minute gem without a lump in the throat.
In his informative program notes for these concerts, Tim Munro writes that the last live SLSO performance of this work was in 2010. But there's also a 2020 video of the piece on the SLSO YouTube page in which former SLSO resident conductor Gemma New leads nine members of the symphony strings in a powerfully moving rendition at the Soldier's Memorial downtown. It's part of the orchestra's ongoing "Songs of America" project and if you haven't watched this video series already, I strongly encourage you to do so.
Aleksey Sofronov (1859-1925)
The concluding work this weekend is the longest one on the program (around a half hour) and also the most famous: the Serenade for Strings in C major, Op. 48. Like the Stravinsky Concerto it, too, pays homage without imitation to an composer of a bygone era, but in Tchaikovsky's case it's Mozart. Tchaikovsky loved Mozart's music. "Mozart does not overwhelm or stagger me," he wrote in an 1883 letter to his patroness Nadezhda von Meck, "instead, he captivates me, gives me joy and warmth. When I listen to his music, it is as if I am doing a good deed. It is difficult to convey what exactly his beneficial influence on me consists of, but it is undoubtedly beneficial, and the longer I live, the closer I get to know him, the more I love him."
No surprise, then, that there's a Mozartean elegance to the Serenade, as you can hear in this recording. The popular Valse second movement, while unabashedly Romantic, nevertheless dances along with a grace Wolfgang Amadeus would have admired. Even the somewhat melancholy third movement, marked Élégie: Larghetto elegiaco, never becomes entirely earthbound.
That said there are elements of sadness that show up throughout this generally engaging and captivating work. That's because, as Mr. Munro points out, the Serenade is not only "filled with easy, joyful moments that leave listeners humming the tunes while dancing out the door" but is also "a passionate musical love letter to a distant beloved." Specifically, it's a letter of farewell to the composer's long-time servant and lover Alyosha Sofronov, who was about to leave for military service.
If that's news to you, it's probably because commentators on Tchaikovsky's music have, at least in the past, had a tendency to gloss over the composer's homosexuality. Do a Google search on the Serenade, for example, and you'll find that, even today, Mozart's name can be found everywhere. But Sofronov's? Not so much. Or at all, really, outside of the occasional blog post.
Which brings us back to the original question of how much a composer's emotional state (including their sexual orientation) is reflected in their music. Aside from obviously autobiographical works like Richard Strauss's "Symphonia Domestica" or openly documentary works like Shostakovich's Symphony No. 11 ("The Year 1905"), the answer is perhaps best left up to the listener. YMMV ("your mileage may vary") as they say on social media.
The Essentials: SLSO Music Director Stéphane Denève conducts Stravinsky's "Dumbarton Oaks" Concerto, George Walker's "Lyric for Stings" and Tchaikovsky's "Serenade for Strings" via on-demand streaming video from March 11 through April 10, 2021. The concert was originally scheduled for performance before a live audience last November but was cancelled at the last minute because of a regional rise in COVID-19 cases. For details on this and other 2021 digital concerts, visit the SLSO web site.
Related Articles