Classical
Classical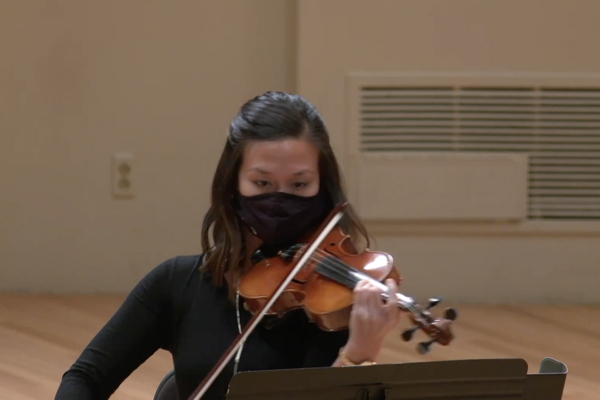 Review: Getting up close and personal with the St. Louis Symphony strings in the digital concert series
By Chuck Lavazzi
The pandemic forced the St. Louis Symphony to cancel its regular season but for one brief shining moment last fall they were able to present chamber music concerts in Powell Hall by operating at less than 3% capacity and instituting strict health measures. The experiment had to be called off in November when COVID-19 cases began to rise again, but not before a large number of concerts were presented and recorded in HD audio and video. The symphony is now offering six of those recordings for on-demand streaming through May 22nd.
L-R: 

Xiaoxiao Qiang

, Andrea Jarrett,
Jennifer Humphreys, Jonathan Chu in "Strum"
The second concert in the digital series offers Mendelssohn's Octet along with shorter works for string quartet by a pair of contemporary women of color: Jessie Montgomery's "Strum" and three movements from Gabriela Lena Frank's "Leyendas: An Andean Walkabout"
The result is a high-energy hour of music with videography that gets you up close and personal with the performers—something you can't get at a live concert in Powell Hall. And it's a big benefit with small-ensemble pieces like these.
The concert begins with the bubbling exuberance of Montgomery's "Strum". Employing a wide variety of techniques, the string players pluck, strum, and bow in ways that call to mind everything from Appalachian folk tunes to guitar rock. As performed by violinists Xiaoxiao Qiang and Andrea Jarrett, violist Jonathan Chu, and cellist Jennifer Humphreys, it dances its way merrily and expertly off the stage and into your heart.
L-R: Jessica Cheng, Asako Kuboki,
Andrew Francois, Alvin McCall in "Leyendas"
Next are the selections from Frank's "Leyendas". Each movement is a mini tone poem reflecting some aspect of Peruvian history or culture. "Chasqui" represents Incan messenger runners with rapid runs and pizzicati suggesting fleet-footed speed. "Toyos" uses gliding melodic lines interspersed with plucked strings to evoke the Andean panpipe. And "Coqueteos" pays homage to the guitar-strumming Peruvian troubadours known as romanceros with grand, sweeping gestures that suggest with the open sensuality of the Argentinian tango.
This time the quartet consists of violinists Jessica Cheng and Asako Kuboki, violist Andrew Francois, and cellist Alvin McCall. Fine players all, they bring out all of the many moods of this music.
The concert closes with Mendelssohn's Octet, written when the composer was only 16 and nearly half-way through his life. Although only around 30 minutes long, it's music of symphonic proportions.
The Mendelssohn Octet
The two string quartets from the first half of the concert combine here to deliver a dynamic and well-balanced performance that allows solo lines to be plainly heard while still projecting all the required power in the large ensemble moments.
Special applause is due Xiaoxiao Qiang in her performance of the difficult first violin part. You can hear the power of her playing and see her commitment to the music in her many close-up shots.
I saw and reviewed this concert for KDHX last October.  Revisiting it now with HD video and surround sound, I found myself thoroughly impressed by the results.
Indeed, in some ways the video format actually improves the experience by providing a sense of intimacy that wasn't available in the vastness of Powell Hall. Brief introductions to each of the works by, respectively violinist Andrea Jarrett, cellist Alvin McCall, and violinist Jessica Cheng add personal notes and are both interesting and informative.
The video runs just over one hour and is available through February 27th. More information is available at the SLSO web site.
Related Articles