Classical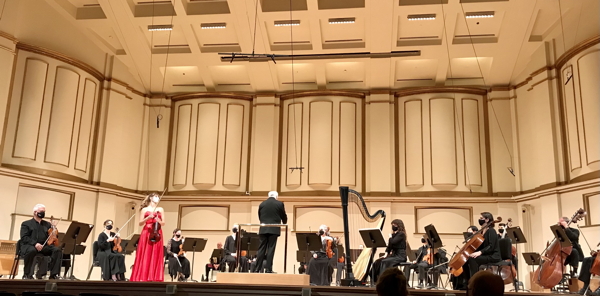 Symphony Review: Springtime for Slatkin and the SLSO strings
Written by

Chuck Lavazzi
Virtuosity both individual and collective was on display in the concert last Friday, April 23, as SLSO Conductor Laureate Leonard Slatkin led the orchestra in works that, as Mr. Slatkin noted in his spoken introduction, are really hard to play: Britten's "Variations on a Theme of Frank Bridge" for string orchestra, Ravel's "Tzigane," and Ginastera's "Variaciones concertantes."
[Find out more about the music with my symphony preview.]
Leonard Slatkin and the SLSO strings
The three works in question have more in common than their technical difficulty, however. All three are also examples of the popular musical form theme and variations, in which a simple theme becomes the basis for increasingly elaborate changes and transformations. They are otherwise three very different pieces, having originated in three different countries and embracing three very different musical styles.
The concert opened with a tribute by the young Benjamin Britten to the life and work of his teacher and mentor Frank Bridge (1879-1941). Written in only three months in 1937 when Britten was just starting to make a name for himself, "Variations" is both a brilliant work of musical architecture and an exciting showpiece for the string ensemble.
Mr. Slatkin and the SLSO strings delivered a wonderfully varied and technically brilliant realization of Britten's genius Friday night. There were fine individual performances, to be sure, such as Concermaster David Halen's incisive solo in the acerbically satirical "Bourée classique" fifth variation, but on the whole this was yet another excellent demonstration of the depth of talent in the SLSO string pool. You could hear that the week before in Associate Conductor Stephanie Childress's killer rendition of Respighi's "Ancient Airs and Dances," and you can hear it on-line through May 8th in Music Director Stéphane Denève's "The Heart of the Matter" digital concert.
This has been, in short, a great spring for strings.
Speaking of great string playing, Assistant Concertmaster Erin Schreiber knocked everyone out with her impassioned and nuanced performance of the next work on the program, Ravel's "gypsy" pastiche "Tzigane." Inspired by dazzling bit of Roma-esque improvisation by Hungarian-born classical violinist Jelly d'Arányi, "Tzigane" is rather like Sarasate's "Zigeunerweisen" on steriods. It demands emotional commitment in the long, soulful a cappella opening as well as serious technique in the many virtuoso passages that follow.
Erin Schreiber
Ms. Schreiber has demonstrated her mastery of her instrument many times in the recent chamber music series and she did it once again Friday night. She did it again Friday night, wearing a flowing bright red gown and playing her characteristic dark red violin with fire and finesse. The standing ovation she got was honestly earned and well deserved.
The concluding work, Ginastera's 1953 "Variaciones concertantes," is essentially a "concerto for orchestra"—a work in which each section of the ensemble gets an opportunity to take the spotlight. The SLSO performed this vital and entertaining piece in 2014, and many of the soloists from back then reprised their excellent work Friday night. That includes (but is not limited to) Andrea Kaplan in the "Playful variation for flute," Scott Andrews in the "Scherzo for clarinet," and Beth Guterman Chu in the "Dramatic variation for viola."
In the "Variation for oboe and bassoon," Principal Bassoon Andrew Cuneo and oboist Xiomara Mass sounded like a pair of old friends in easy conversation. Allegra Lilly played the main theme with elegance, her harp imitating the "open strings" of a strummed guitar in a duet with the smooth cello of Melissa Brooks, and David Halen once again dashed off the rapid-fire "Perpetual motion" variation with the kind of apparent ease that comes only with serious work.
Mr. Slatkin wove all these strands together into a seamless tonal tapestry that felt perfectly balanced and was capped by an energized run through the final variation based on the malambo, a dance form that originated with Argentine gauchos and which crops up in other works by Ginastera.
Next at Powell Hall: Stéphane Denève returns to conduct Richard Strauss's "Serenade for Winds" and Mozart's "Gran partita" serenade Friday at 11:30 am, Saturday at 7:30 pm, and Sunday at 3 pm, May 1-3. Only 300 tickets will be sold for each performance, and strict health protocols will be in place. For more information, visit the SLSO web site.
Meanwhile, the SLSO's digital concert series continues with on-demand performances of "The Heart of the Matter," through May 8; and a concert from last fall's chamber music series featuring works by Debussy, Ravel, and the mightily underrated Germaine Tailleferre through May 22.
Related Articles