Classical
Classical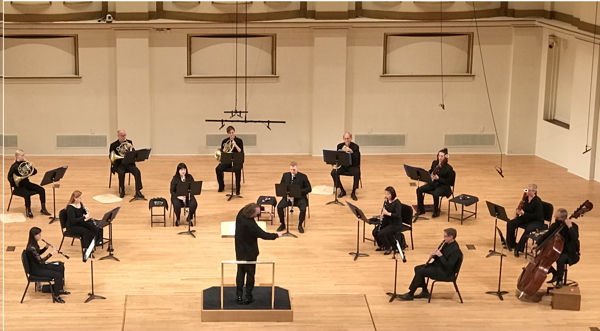 Symphony Review: Favorable winds in a concert of serenades by the SLSO
By
We had our share of rain here last weekend (April 30 – May 2), but inside Powell Symphony Hall the forecast was consistently sunny and breezy as Stéphane Denève and members of the St. Louis Symphony Orchestra (SLSO) winds performed a thoroughly engaging pair of serenades by Mozart and Richard Strauss.
[Find out more about the music with my symphony preview.]
In a reversal of the usual musical cliché, the Strauss Serenade for Winds in E-flat major, op. 7 that opened the concert Saturday night is the short and pithy one, while Mozart's Serenade No. 10 in B-flat major, K. 361 (370a) is the symphony-length work with seven entrancing movements. Both got exceptionally well-crafted performances by Maestro Denève and his musicians, beginning with a pleasant trip through Strauss's musical terrain.
Stéphane Denève conducts the Strauss Serenade, Op. 7
Written when the composer was a lad of 17 who had yet to graduate from high school, the Op. 7 serenade has often been called a surprisingly mature-sounding work. Presumably that's a reflection of the mood of quiet contemplation that can be heard in some of the composer's much later work. Scored for a 13- member ensemble (three pairs of flutes, oboes, clarinets, and bassoons, four horns, and either contrabassoon or double bass) the work got a warm and welcoming treatment from Mr. Denève that neatly balanced the calm outer sections with the more stormy B-minor interlude in the middle.
It's as if a serene sunset were briefly interrupted by a sudden squall that subsides into a euphonious horn chorale before returning to the more contemplative mood of the opening. Principal Horn Roger Kaza and his fellow players Julie Thayer, Tod Bowermaster, and Victoria Knudtson truly distinguished themselves here and in the Mozart that followed.
Speaking of which: Mozart was only a few years older than Strauss when he wrote the Serenade No. 10. The composition date is a bit obscured by the fog of history, but it probably dates from around 1781—almost exactly a century before the Strauss serenade. Equally obscure is the nickname the work has picked up over the centuries, "Gran Partita" (literally "Large Suite"). Someone other than Mozart scribbled it on the manuscript, and it has clung, like a stubborn barnacle, over the years.
It not hard to understand why, though. At around 45-50 minutes and boasting a 13-piece orchestra (like Strauss's serenade, but with two basset horns instead of flutes) the piece is over twice the size of the conventional aristocratic garden party wind band of the late 18th century. Everything about it is, for its time, larger than life, from the opening Largo—Allegro molto that feels more like an opera overture, to the theme and virtuoso variations of the sixth movement and the high-stepping Finale seventh movement.
Mr. Denève's interpretation was appropriately grand and expansive without ever getting within even hailing distance of stodgy. The first Menuetto was dignified and graceful—aristos gliding in the garden—with a bubbly, bucolic trio featuring Scott Andrews and Tzuying Huang on clarinets and Ryan Toher and Jane Carl on the larger and lower-pitched basset horns. The second Menuetto got a good-humored treatment that suggested the servants dancing in the cellar—more openly jolly with a Ländler trio that brings in a bit of brisk Tyrolean air.
Anyone who has seen Peter Shaffer's play "Amadeus" in any of its multiple stage revisions or its 1984 film adaptation will recognize the exquisite Adagio third movement as the music whose beauty drives poor Salieri to distraction. Here in the real world, Erik Smith has called the Adagio "the loveliest of all movements written for wind instruments." It was easy to believe both, given the lovely treatment of this music by oboists Xiomara Mass and Cally Banham (usually heard on English horn), along with Mr. Andrews, Ms. Huang, Mr. Toher, and Ms. Carl.
The Thema mit Variationen gave everyone a chance to show off a bit, including bassoonists Andy Gott and Felicia Foland, along with the redoubtable Erik Harris providing a solid foundation on double bass, just as he did in the Strauss. Mr. Denève followed that attacca (without pause) with a frolicsome Finale (to steal a phrase from Benjamin Britten) that brought everything to a happy conclusion. To quote Caitlin Custer's program notes on that last movement: "Serve the coffee, gather the coats, get the guests on their way!"
Next at Powell Hall: Stéphane Denève returns to conduct a program of music that "connects with our inner child," featuring Prokofiev's "Peter and the Wolf," Stravinsky's "Pulcinella" ballet suite, and settings of Czech poet Adolf Heyduk's "Songs My Mother Taught Me" by Antonín Dvořák and Charles Ives, as arranged by contemporary American violinist/composer Michi Wiancko. Performances are Friday at 11:30 am, Saturday at 7:30 pm, and Sunday at 3 pm, May 7-9. Only 300 tickets will be sold for each performance, and strict health protocols will be in place. For more information, visit the SLSO web site.
Meanwhile, the SLSO's digital concert series continues with on-demand performances of "The Heart of the Matter," through May 8; and a concert from last fall's chamber music series featuring works by Debussy, Ravel, and the mightily underrated Germaine Tailleferre through May 22.
Related Articles